Market Recap:
The market has been strong this week and continued higher on Wednesday. Most of the bounce for the market was from international success that helped spur American markets higher. China was moving higher on Wednesday as China's Trade Balance bounced back after a weak March reading to over $16B. Exports rose 14%, beating expectations of 8-10%. That news, combined with a combination of positive news for Europe, helped get markets moving. Europe was looking better after Poland made a key rate cut for interest rates, speculation that the ECB would buy bad loans in Southern Europe, and Germany's Industrial Production beat expectations were released. The American markets did not have much to react to Wednesday at home, and markets followed news developing outside of our borders. China's Trade Balance was likely the market moment for the week, and its positive reading will definitely allow for more upside in the market.
The Dow Jones (NYSEARCA:DIA) increased 49 points while the S&P 500 (NYSEARCA:SPY) rose seven points.
Stocks To Trade:
Today, we are looking at a bullish position in NetApp (NASDAQ:NTAP) and Mondelez (NASDAQ:MDLZ) and a bearish position in Lennar (NYSE:LEN).
We definitely like the looks of NTAP right now, and we believe the stock has solid upside into earnings and moving forward. NTAP has solid value right now with a future P/E at 14. Despite its 25+ current P/E, NTAP is expected to have very strong growth over the next two years, and we believe the stock can be one of the tech gems of the rest of the year and next year. We look for value with future P/E under 15 and price/sales under 2.5. NTAP's price/sales ratio sits at 2.0. Yet, the company is expected to see growth of 9% in sales next year along with 10-12% earnings growth. Both levels are quite solid especially considering shares are not expensive. What will spur this growth?
NTAP designs and manufactures network storage devices, which is a strong growth market. Further, NTAP has been able to gain share in the data market by building reliable and easy-to-use data storage. While competition continues to remain very strong in data storage, NTAP is one of the cheapest options in the industry and yet has one of the most reliable stories in the industry. Of all data storage device companies with a market cap of $2B or higher, NTAP is expected to grow the most in 2013-2014 outside of Sandisk (SNDK). The knock on NTAP has been that the cloud services will continue to become a commoditized business that will need the best software and hardware.
Yet, we believe that the pie for enterprise hardware spending will continue to grow that will not create any near-term issues for NTAP. Global IT spending is expected to grow 4% every year through 2016, according to Gartner. With more and more companies sprouting up in emerging markets, companies moving onto the cloud, and the IT world continuing to innovate, we believe that data storage will continue to be a consistent growth market. Further, as companies continue to move towards the cloud, companies will continue to upgrade and add-on to increase efficiency and raise bottom lines.
NTAP, additionally, continues to benefit as the leader in flash data storage. Flash storage is the future of data centers, and NTAP is on the cutting edge of flash. The company has continued to add flash to their portfolio, and we believe that NTAP is well positioned in the industry. We believe the stock looks ready to break out into earnings and like them for a potential move into earnings and through the rest of 2013. The company has lagged due to misses at EMC (EMC), VMware (NYSE:VMW), and IBM, who all have major data storage coverage. For NTAP, that lowers the bar significantly. The question is not what happened in Q1, but what can happen the rest of the year. IBM and EMC both noted that they were still bullish for the year, which will allow NTAP to get less scolded if they follow the same path as these. Risk is low into earnings; reward could be very solid.
We like getting involved on a break of $36.50, targeting a move to $38 then $40.
Trade: NTAP, Long
Entry: Above $36.50
Targets: $38 and $40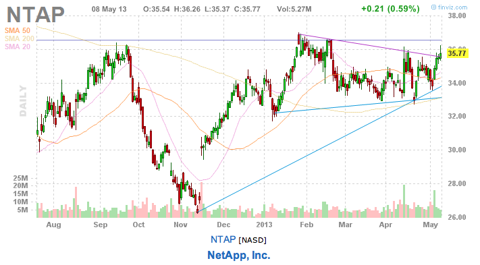 Another stock we like right now is Mondelez. MDLZ, the spin-off from Kraft (KRFT), focuses on the snack food and beverages that Kraft produces. The enticing part of MDLZ is its international footprint as well as its consumer staple makeup. Some of MDLZ's products include Chips Ahoy, Oreo, Ritz, Triscuit, Wheat Thins, Cadbury, Tassimo, and Philadelphia Creme Cheese. MDLZ is more diversified than Hershey (NYSE:HSY), and it has great potential in international markets as it continues to increase its international footprint.
The company released earnings under its new name Wednesday. The company reported EPS at 0.34 with $8.74B. Expectations were for 0.34 EPS with $8.66B in revenue. The company, additionally, raised its FY guidance above consensus estimates. The company noted a rebound in 2H 2013 as coffee prices have held top line growth in check. MDLZ is a great addition to your portfolio because it will have low beta, offers a slight dividend that should grow, and has international growth potential.
MDLZ is currently trading with a beat of 0.55, and as we enter a period of the market that seems quite extended, we like MDLZ. In the next two years, MDLZ is expected to see 4.5 - 5.5% organic revenue growth in each year. Earnings are expected to grow by 10-15% in both years. Earnings should grow, as part of the KRFT decision to separate businesses was to allow each company to focus on different lineups of products to increase efficiency and margins. Value is a bit rich with the future P/E sitting north of 17, but price/sales sits at 1.7. Due to lower margins, consumer staples sometimes have higher P/Es. The key to MDLZ's success though will be global market growth. We believe the company's footprint in Latin America, Southeast Asia, and India will help MDLZ continue to churn out solid growth. The early reaction by the market was not strong, as the stock had moved well into earnings. We like this pullback as a buy point.
Pick up MDLZ to add to your long-term portfolio. It offers low risk, a good dividend, and is one of the most exciting growth consumer staples.
Trade: MDLZ, Long
Buy Point: Buy on support at $30
Targets: $32, $35 (will take some time to get here)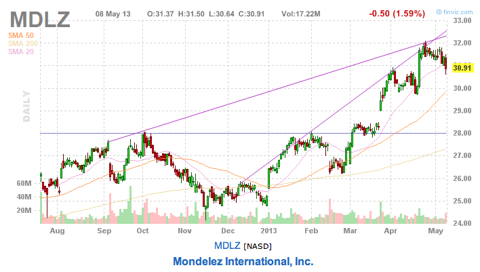 One stock we do not like right now is Lennar. In fact, we believe the housing industry is due for some near-term correction in the midst of a long-term rebound. LEN, for example, has increased nearly 50% in the last year. While that increase was due as housing companies were in the basement bargain bin, shares might see some steadying in prices as a lot of the growth in housing is now starting to be priced into shares. What a lot of investors will point to is that there is still value in LEN shares. LEN's future P/E, though, is still over 18, which does not point to value. Beta sits at 1.8, which means if any signs of a slowdown in the housing recovery occur or even in the market, housing stocks could see sizable corrections. We believe, at this time, LEN's future growth has been priced in appropriately. We recently reiterated a Sell rating on LEN with a price target at $36 in our long-term analysis.
Here were some comments from that report:
Contrary to the progress the housing market made over 2012, the first three months of 2013 have not been as optimistic. While in many areas the demand for housing is there, Jerry Howard, CEO of the National Association of Home Builders explains the problem, "The home builders themselves are worried about their ability to provide the housing in a lot of instances". Why this worry? There is an overall lack of land, labor, and credit that are preventing homes to be built. Costs of materials, especially lumber, which have skyrocketed, are frustrating small and mid-sized builders that cannot keep up with these elevated prices. LEN finds itself in a market that is still not fully recovered and now has to battle rising material prices. Even though they have performed well during 2012 there is not enough opportunity for LEN to outperform the market.
Additionally, when it comes to residential construction companies, LEN lags many of its competitors:
Profitability:
| | | |
| --- | --- | --- |
| | Q1-Q3 2012 | Q1 - Q3 2011 |
| Operating Margin | 7.8% | 3.4% |
| Gross Margin | 11.0% | 6.4% |
| Return on Equity | 22.2% | 3.5% |
LEN has increased all of its profitability margins YoY. They increased the operating margin from 3.4% to 7.8%. Their gross margin increased f rom 6.4% to 11.0%. The largest increase in profit margin was in ROE from 3.5% to 22.2%.
DHI also saw increases YoY in profit margins across the board. Their operating margin increased from 0.3% to 5.6%. Gross margin increased from 16.9% to 19.8%. Again, ROE was the largest increase from 2.7% to 30.8%. NVR, Inc. (NYSE:NVR) also saw profitability increase in operating margin from 7.0% to 8.9%, gross margin from 18.7% to 19.3%, and again the largest increase was ROE from 8.3% to 12.7%. Meritage Homes Corporation (NYSE:MTH) saw profitability ratios increase in operating margin from 0.2% to 4.6%, gross margin from 16.4% to 18.3%, and ROE again the largest increase from -4.3% to 17.8%. Lastly, RYL sees profitability ratios increase in operating margin from -3.9% to 3.9%, gross margin from 13.8% to 21.5%, and ROE's large increase from -10.7% to 8.5%. All competitors in the residential construction market saw increases in profitability margins confirming the notion that the market is improving. LEN is the only company that merely maintained their gross margin instead of increasing. LEN mostly follows the trends for profitability in the market but is the weakest.
Value:
| | | |
| --- | --- | --- |
| | Current | Industry Average |
| P/E | 11.7 | 0.0 |
| Future P/E | 16.0 | N/A |
Let's compare P/E and future P/E to the competitors. As discussed briefly earlier, LEN is showing an 11.7 P/E and an increase in future P/E with 16.0. LEN is undervalued with negative growth prospects. DHI has a 7.9 P/E and a 14.5 future P/E. NVR has a 28.7 P/E and a 13.2 future P/E. MTH has a 13.8 P/E and a 13.5 future P/E. Finally, RYL has a 44.6 P/E and a 12.4 future P/E. While companies like NVR and RYL have high P/Es and are overvalued, LEN's valuation accounts for current and future profits, so the increase seen in the future P/E indicates that the company will lose money YoY.
Right now, we believe it is time to sell LEN if you have been holding and wait for a pullback of 15-20% or more signs that the housing recovery can continue.
Market Outlook:
Thursday, the market will get the most important data point for the week in Initial Jobless Claims. Employment numbers were solid last week as jobless claims dropped to a multi-year low and the unemployment rate continued to decline. At the same time, though, claims need to stay low. Hiccups in employment will not be positive for the market, and it is likely the only thing that could derail the market's solid move up that is occurring right now. We do get some important earnings Thursday morning from Dean Foods (NYSE:DF), DISH (NASDAQ:DISH), and Sony (NYSE:SNE). It should continue to be a light week, though, for the market so do not expect any major moves unless something unexpected occurs.
Charts courtesy of finviz.com.
Disclosure: I have no positions in any stocks mentioned, and no plans to initiate any positions within the next 72 hours.
Business relationship disclosure: The Oxen Group is a team of analysts. This article was written by David Ristau, one of our writers. We did not receive compensation for this article (other than from Seeking Alpha), and we have no business relationship with any company whose stock is mentioned in this article.