I have been vindicated on my Nvidia (NASDAQ:NVDA) call thus far, and I believe that the risk/reward on this name is still compelling from a long-term perspective as I believe that the company's world-class graphics architectures, potentially compelling modem technologies, and progress on a custom processor core named "Denver" could significantly enhance the intrinsic value of the company. That being said, I think there may be an interesting short-term trading opportunity ahead of the upcoming earnings report scheduled for May 9th, especially in light of a number of key trends and catalysts that I see ahead.
The Short Interest: They're Getting Cocky
In a raging bull market, you don't actually need a particularly high short interest as a % of float to see a pretty decently sized squeeze. ARM Holdings (NASDAQ:ARMH) shareholders saw their investments surge 20%+ post earnings on a decent beat thanks to what had been an increasing short interest leading into the report. So as far as I'm concerned, it's the direction and velocity of the short interest that really determines whether the stock could see a nice move post-earnings.
With Nvidia, we're seeing the shares appreciate quite nicely, but we are also seeing that the short interest is increasing: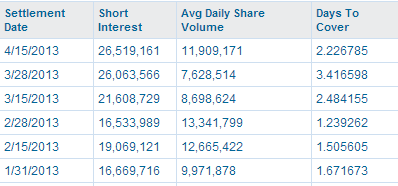 So, there's an interesting opportunity here. This short interest trend implies that there is some real confidence out there that the recent rally is unsustainable. However, I believe that at this point there still is quite an asymmetric risk/reward profile that highly favors the longs.
There Is A Legitimate Story Here
If one looks at Intel's (NASDAQ:INTC) share price, it seems that the general consensus is that the PC "funk" hit a trough last quarter and that investors are once again optimistic that things will improve significantly Y/Y during the back half of the year. Nvidia is still fairly levered to the PC space, albeit at the high end (less vulnerable to tablet/phone cannibalization, but offset slightly in the near term by integrated graphics improvements...although games are always requiring more graphics horsepower), so recovery there removes some pressure from the shares.
Further, the high performance computing space ("HPC") is growing like crazy, with top supercomputer vendors like Cray (NASDAQ:CRAY) openly showing support for high performance co-processors from both Nvidia and Intel. There is a bit of shift in the competitive dynamic here as Nvidia has now gone from a space in which it commands 90%+ market share (against rival AMD (NASDAQ:AMD)), to a space in which Intel will try to gain some real share with its Xeon Phi products. I do think Intel gains non-trivial share, but I believe that the secular growth of HPC, and perhaps having two suppliers helps the concept of GPU/GPU-like HPC co-processors gain more widespread adoption as well, will help fuel dramatic, high margin revenue growth for the company for the years to come.
Next, given the results for Q4 and Q1, it appears that the Quadro business (professional graphics) bottomed several months ago, and growth there should resume. This is more high margin, high quality business for Nvidia. Augmenting this is the deployment of "Grid", which could make some serious in-roads in the enterprise space, although it is too early to try to quantify potential sales here.
Finally, while it is somewhat disappointing that Tegra sales are projected to be flat for 2013, the move to delay Tegra 4 by a quarter to pull in Tegra 4i by a couple of quarters is likely to prove to be the correct one, as the real volume is in the integrated apps processor/baseband market. Nvidia, with Tegra 4i, becomes one of the "elite" applications processor vendors with Tegra 4i with the trifecta of strong modem, CPU, and GPU technology. The Street will easily forgive a flat 2013 for Tegra if 2014 looks good.
The Play(s)
For traders not interested in owning the stock long term, but looking to perhaps make some money off of the uptrend strengthening, buying the May 18, 2013 $15 calls, selling for $0.09/contract may be an interesting opportunity. Not including commissions, you reach breakeven when the stock hits $15.09, and you profit nicely from each move up from there. This requires very little capital outlay, but should we return to 2012's $16+ highs following the report, they could be extremely lucrative. Of course, if the rally fizzles, they become worthless.
For long-term investors perhaps looking to buy more shares cheaper or collect premium trying, selling the September 21 $13 strike puts for $0.71/contract might be an interesting move. Best case, they expire worthless, worst case, you're stuck buying the shares at $12.29, which I believe is an excellent price for this stock. The drag is that you've got capital tied up for four months. There's not enough premium in the near-term puts to really recommend selling any.
Conclusion
Nvidia is a superb company, and as a long-term investor, I couldn't be happier with how the future looks, so I'm going to sit tight on my shares and let the Nvidia "buyback monster" continue to augment the already perma-bull macro environment for gains. But for those of you looking to play a potential squeeze, the $15 May 18 calls look pretty good. I might just pick up some myself with some of the dividends that I've not reinvested!
Disclosure: I am long INTC, NVDA. I wrote this article myself, and it expresses my own opinions. I am not receiving compensation for it (other than from Seeking Alpha). I have no business relationship with any company whose stock is mentioned in this article.
Additional disclosure: I am short ARMH.