Background:
Founded in 1987, Select Comfort (NASDAQ:SCSS) operates in the specialty segment of the U.S. mattress industry. The company is the exclusive manufacturer and retailer of the Sleep Number bed, which allows individuals to adjust the firmness and support of each side at the touch of a button. Sleep Number beds are offered in four series: Classic, Performance, Memory Foam, and Innovation. And with a price range of $699 to $4,399, these beds are intended to target 30-54 year-old, above-median-income consumers who are health focused. As of year-end 2012, Select Comfort had 410 retail stores and 2,791 employees, and generated annual sales of $935 million.
Unlike traditional mattress manufacturers, which primarily sell through third-party retailers, over 96% of Select Comfort's net sales are through its company-controlled distribution channel, with 89% of sales coming from company-owned retail stores. Management believes the nationwide vertically integrated business model allows the company to have better control on pricing, cost, and customer experience. To continue growing the business, Select Comfort focuses on the following:
Increase awareness for both brand and stores
Develop local markets
Robust product and service innovation
Industry:
There are nearly 500 manufacturers in the U.S. bedding industry, with the four largest manufacturers, Serta, Sealy (ZZ), Simmons and Tempur-Pedic (NYSE:TPX), representing approximately 66% of the dollar value of the mattress market in 2011, while the 15 largest manufacturers accounted for approximately 86% during the same period, according to Furniture Today. Select Comfort was ranked the fifth largest mattress manufacturer and the third largest U.S. bedding retailer for 2011, with a 4.7% market share of industry revenue and 1.5% market share of industry units.
The U.S. mattress industry has historically been correlated with the overall economy and housing market. According to ISPA, over the 5-year, 10-year and 20-year periods ended 2012, the value of U.S. wholesale bedding shipments increased at compound annual growth rates of 2.6%, 3.2% and 5.2%, respectively. Though the industry has experienced stable growth over the long run, the recent recession in 2008 and 2009 marked the first and greatest multi-year decline in the past 20 years. Demand improved subsequently, especially in the specialty mattress category, which has grown from 21.7% of the overall U.S. mattress industry in 2009 to 29.4% in 2011.
Recent Performance:
The recession of 2008-09 made a severe impact on Select Comfort, as the company saw double-digit sales decrease two years in a row as well as negative earnings and cash flows. As a result, its stock price hit an all-time low of $0.19. On the verge of going under, management closed stores, laid off employees, focused on lower-priced beds, and decided to pull out of partner retail stores across the country in favor of driving more customers to company-controlled stores. These initiatives paid off, and Select Comfort staged a phenomenal turnaround, growing sales by 72% and net income by 130% during the three-year period ending 2012. Investors quickly bid up the stock price to an all-time high of $34.38 in April 2012.
Select Comfort continued to deliver robust growth in 2Q2012 and 3Q2012; however, 4Q2012 results showed signs of a slowdown. As reported EPS missed the consensus estimates by $0.10, the company's stock saw a single-day drop of 18% on January 25, 2013. The sell-off was further exacerbated when management announced that February 2013 sales missed internal goals. Share price fell another 16% to $17.28. As of May 2, 2013, the stock price rebounded back to $21.02; however, it's still 39% below its 52-week high of $34.38.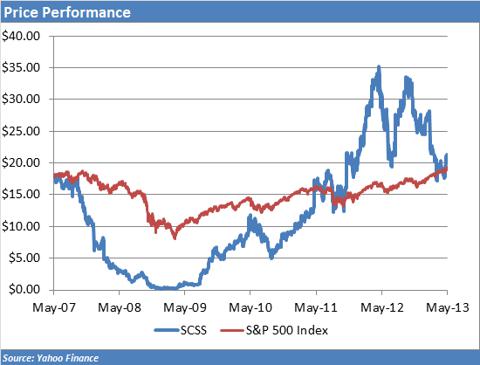 Financial Summary:
In the past three years, Select Comfort has grown sales at CAGR of 20%, outpacing its 10 year CAGR of 11%. Because sales grew at a faster pace than its COGS and operating expenses, we saw consistent improvements in gross margin and leverage in operating expenses. And thanks to its vertically integrated, direct to consumer business model, Select Comfort has the highest gross margin among its peers. While we expect the uptrend in average unit prices to support gross margin improvement in the near future, operating expenses will likely increase and stay elevated due to higher media, R&D, and D&A expenses. With the increase in operating expense offset by a decrease in COGS and each other, we believe Select Comfort's EBIT margins will remain above peer average.
Operating cash flow rebounded in FY2009 to $63 million, compared to $3 million in FY2008, and grew at a double-digit annual pace since then. After extinguishing almost all outstanding debt in FY2009, Select Comfort increased capital expenditure in each subsequent year while keeping its cash balance above $70 million. The excess cash flow has also allowed the company to repurchase 1.14 million common shares in FY2012 at a cost of $30 million. The company has $176.7 million left in its share repurchase program, and it currently does not plan to initiate dividend payments.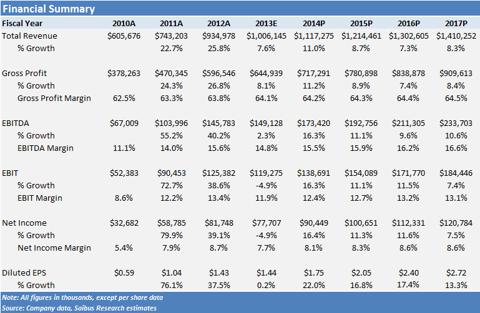 Recent Quarter (Q1 2013):
The quarter's results were said to be adversely impacted by significant changes in media buying strategy. Net sales decreased 2% to $258 million, compared to $262 million in 1Q2012, with company- controlled comparable sales declining 9% YoY. Operating income, adjusted for the non-cash impact of the 2012 CEO transition, decreased to $34.8 million, compared with $39.9 million in 1Q2012. Adjusted operating income margin was 13.5%, compared to 15.2% a year ago. The YoY decrease included a 200 bp increase in sales and marketing expenses and a 50 bp increase in R&D expenses, partially offset by a 70 bp improvement in gross margin and a 20 bp decrease in G&A expenses. Adjusted EPS (excluding CEO transition charges) were $0.41 per share, a 9% decrease compared to $0.45 in the 1Q2012.
FY2013 Guidance:
After witnessing slowdowns in the previous two quarters, management made a large downward revision to its FY2013 guidance during the 1Q2013 earnings call. Below is comparison among the previous guidance, current guidance, and our estimates. We believe Select Comfort will experience a flat 2Q2013, and resume growth in 2H2013. Although the operating margin is under pressure due to higher expenses and lower sales outlook, we expect the company to finish the year with an EPS of $1.44, which is at the higher end of its current guidance.

Strengths and Opportunities:
Management's Focus on Identifying Issues
Sales slowed in the last two weeks of 4Q2012 as well as in February 2013, and management was quick to identify the causes. Through customer surveys, the company found that the 2012 year-end weakness was caused by uncertainty around the fiscal cliff. In addition, Select Comfort's media advertising efforts seemed to be facing issues as of late. After reporting unsatisfactory results with media advertising since October of 2012, management said the 1Q2013 underperformance was caused by poor advertising results amid the company's media buy transition. Plans to improve media buying was then announced, and we believe the active approach in addressing issues and taking corrective actions will help the company climb out of a temporary sales slump. Although the negative trend is worrisome, it is comforting to know that Select Comfort did not underperform the industry. According to ISPA and consistent with Select Comfort's report, mattress wholesales saw YoY decreases of 6.4% and 6.7% in December 2012 and February 2013, respectively.
Target Markets
Select Comfort redefined its target customers in 3Q2011 from 45 to 65 years old, $50,000 and above annual income earners to 30 to 54 year-old, $75,000 and above annual income earners. We believe the new target supported the company's recent growth, especially in average unit price. As the graph below illustrates, confidence among those making $75,000 or more is in an upward trend and remains resilient despite fiscal uncertainty and tax increase.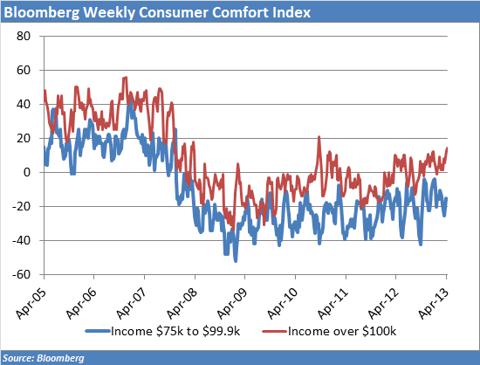 Low Awareness and High Potential
During FY2012, Sleep Number's national unaided brand awareness increased from 15% to 21%. While 21% was a historical high for the company, it remained well below key competitors. Given the low awareness and the fact that Select Comfort only has 5% market share, we see plenty of room for future growth as management continues to focus on building brand awareness.
Favorable Trend in Specialty Mattresses
Housing recovery is favorable to the bedding industry, and we believe the growth in non-innerspring purchase will continue to outpace traditional mattress. According to ISPA, sales of mattresses with prices higher than $2,000 grew at a CAGR of 18% from 2009 to 2011, while those with prices less than $2,000 grew at a low single-digit rate. During the same period, non-innerspring beds, which are generally priced higher, grew market share from 21.7% to 29.4% of the overall U.S. mattress industry. Select Comfort operates in the non-innerspring segment, with an average unit price (including base and attachment) of $3,050 in FY2012. The macro environment in recent years was certainly favorable to the company; in addition, successful marketing and cheap financing both contributed to the company's growth. ISPA forecast U.S. mattress unit shipment to increase 2.3% in 2013 and 4.5% in 2014. Values of these shipments are forecast to grow by 6.3% and 8.5%, respectively, in those years. Select Comfort has consistently outperformed the industry growth in the past three years, and we expect the outperformance to continue.

Seven Years since Peak Unit Sales
Data from ISPA suggests that U.S. mattress unit sales have not recovered to its peak in 2005. Given that mattresses typically have a life span of seven to ten years, we believe there is a pent-up demand for bed replacements, which will be another headwind to mattress sales.
Weaknesses and Threats:
Difficult to Increase Prices
Unless Select Comfort creates more innovative products and add-ons, it will be increasingly difficult for the company to increase average unit price. Introduced in 2010 and with prices starting at $1,399, the FlexFit adjustable base was a big driving force of average unit price in the past two years. However, we expect the increase in attach rate to moderate in FY2013, adding pressure to average unit price increase. The company recently introduced the DualTemp layer as a new add-on product ahead of the summer to offer a cooling option. But at only $1699.99, it's unlikely to have a significant impact.
Signs of a Slowdown
While management attributed the recent sales slowdown to a misstep in media buying strategy, we feel the industry could be facing short-term challenges. It is uncertain how much would the payroll tax increase and the sequester affect consumer confidence and spending in the near future. Because the mattress industry is highly cyclical, Select Comfort's financial performance is very sensitive to the state of the U.S. economy. Several recent economic releases have already pointed to a slowdown in growth, and if the trend continues, Select Comfort's performance and stock price will be adversely affected. However, we expect the Federal Reserve to step up its security purchases if a slowdown is apparent, thus lowering the downside risks.
New Competition
Select Comfort faces ongoing competition from nationwide brands as well as local manufacturers. As specialty mattresses gain popularity, many traditional innerspring brands have entered the segment to capture market shares. On the other hand, alternative products such as gel mattresses and plant-based foam mattresses were created by smaller manufacturers to carve out niche markets. Select Comfort has been the leader in air beds; however, the company's most notable competitor, Tempur-Pedic, is making a move into this space. On January 28, 2013, the long-time memory foam mattress maker Tempur-Pedic unveiled its own air bed collection, Tempur-Choice, at the Las Vegas Market trade show. Available data shows that the new line will offer superior features such as thicker toppers, Tri-Zone bladders, more settings, and a longer warranty when compared to its Select Comfort counterparts. Tempur-Pedic is a widely recognized brand with a reputation for high quality products, and at similar prices as the Sleep Number m and i Series, the new line will likely put pressure on Select Comfort's sales and margins. What remains to be seen is the new line's effect on the overall awareness of air beds. It's possible that Tempur-Choice will raise overall consumer awareness of air beds to a level that actually benefits Select Comforts.
Growth Drivers:
Media
During 1Q2013, management quickly identified the advertising issue with regards to media buying, and laid out plans to resume its prior, more successful media buying formula. And with the recent departure of Select Comfort's Chief Marketing Officer, CEO Shelly Ibach, who has participated in the company's turnaround, assumed direct oversight on the company's media buying strategy. We expect that the increased media spending and focus on effective formula will lead to continued increase in brand awareness and sales growth for the balance of FY2013.
Innovation
In order to attract customers in a highly competitive environment, Select Comfort needs to continue innovating. After increasing R&D expenses by $2 million each year in the last two years, management expects to further increase R&D spending in FY2013. In addition, Select Comfort announced that it recently acquired Comfortaire, an air bed maker, for $15.5 million. Since management expects the majority of return on this investment to come from acquired intellectual property, we looked and found several patents that might improve some features of Sleep Number beds and help the company address a few product-related customer complaints. Because Select Comfort's new and younger target consumers are more computer-savvy and more likely to gather information online before going to a store, we believe minimizing customer complaints and improving product quality will be keys to penetrating target customers. While the adaptation of new designs could have a negative impact on gross margin, we expect significant boost to sales if the initiative proves to be successful. The table below shows selected patents and their main benefits.

With full control of its retail stores, the company has direct access to customer data and feedback. Select Comfort is in the process of fully implementing an interactive, experiential design to its stores, and management expects 70% of all stores to have the design completed by the end of FY2013. We feel that the enhance store experience has the potential to become a differentiator and a driver of sales.
Rebound in Household Formation
In the U.S., household formation among 25 to 34 year-olds collapsed during the recent crisis, evidenced by the elevated percent of this group living with parents. Although the job market has slowly improved since the recession, job gains among 25 to 34 year-olds has been stagnant. We believe this was a major cause of the delay in household formation. Going forward, with the job market strengthening and the Boomer generation arriving retirement age, we expect employment opportunities to open up for younger demographics, resulting in a rebound in household formation. This scenario is favorable to the mattress industry as new households tend to drive up demand. As the graph below shows, Select Comfort's sales have historically followed U.S. home sales. Seeing the housing recovery is still intact, I believe the company's recent sales disappointment is temporary. And let's not forget Sleep Number beds' emphasize on individual-customization, which has unique appeals to new couples who prefer different degrees of bed firmness.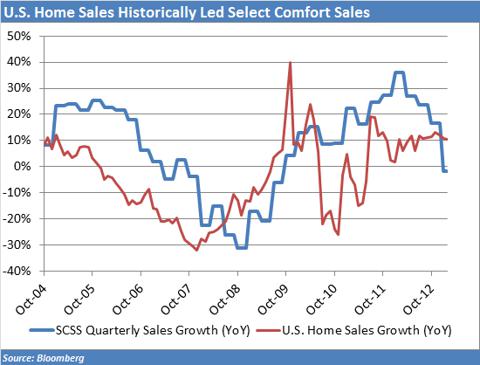 Valuation:
At $21.02 per share as of May 2, 2013, Select Comfort traded at 1.1x EV/Revenue, 7.4x EV/EBITDA, 9.2x EV/EBIT, and 14.7x P/E multiples on our FY2013 estimates, compared to peer average of 1.3x EV/Revenue, 9.9x EV/EBITDA, 12.5x EV/EBIT, and 20.0x P/E. Below are the full peer comparison and the implied price per share of SCSS using a relevant multiple range.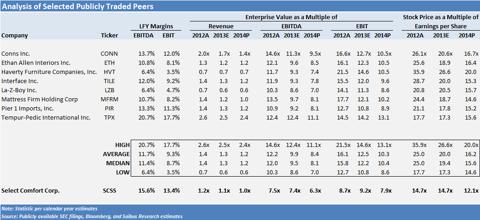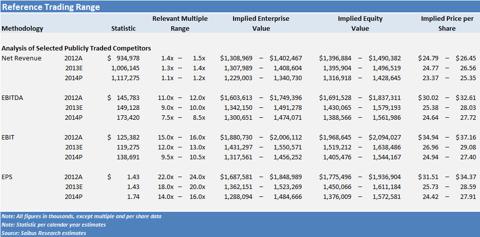 For the discounted cash flow analysis, we used a 12% WACC, 5-years of projections, and an 8x to 9x terminal EBITDA. The results suggest a $25 to $28 fair value for the stock.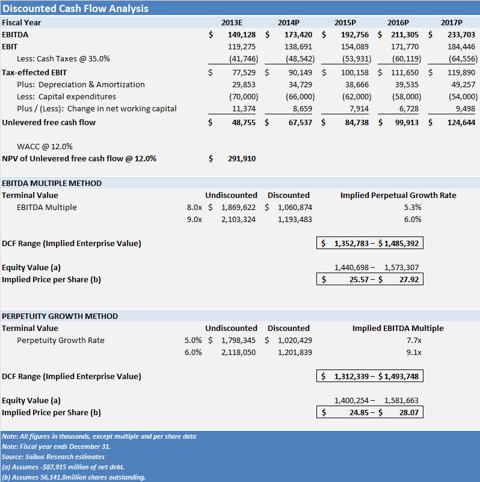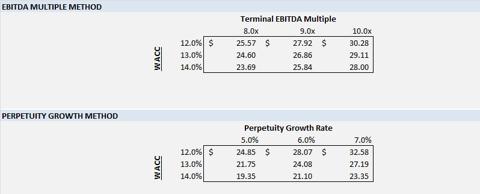 The graph below shows the price ranges for SCSS using various valuation methodologies. Given these ranges, we have concluded a target price range of $24.55 to $32.54, implying a 17% to 55% upside potential.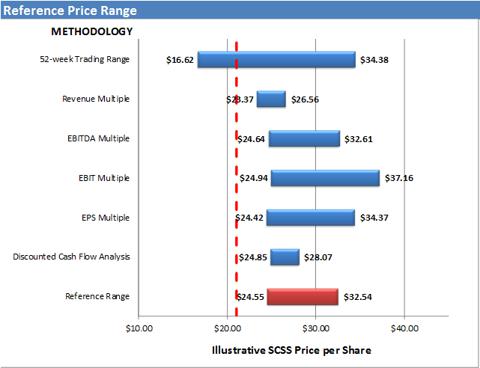 Investment Thesis:
Despite the company's recent challenges, we believe that medium and long-term outlooks remain positive and the stock is undervalued. While another above-20% growth rates is unlikely, Select Comfort is well positioned to continue outperforming the industry. We recommend buying shares of SCSS with a short-term target price of $28, and we expect the stock to outperform the overall market in the next three to five years.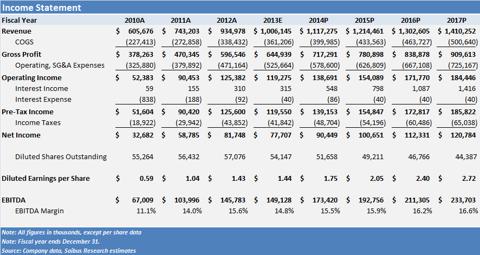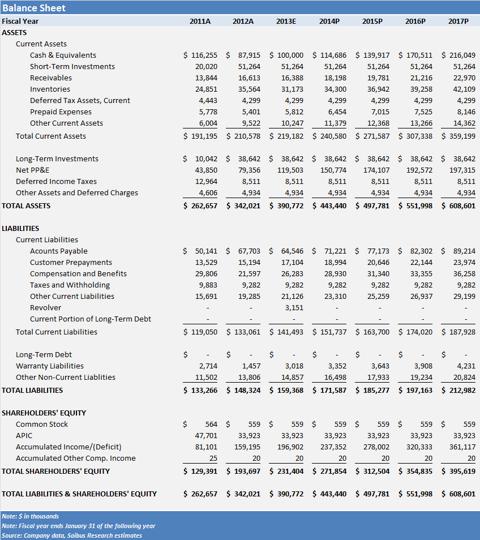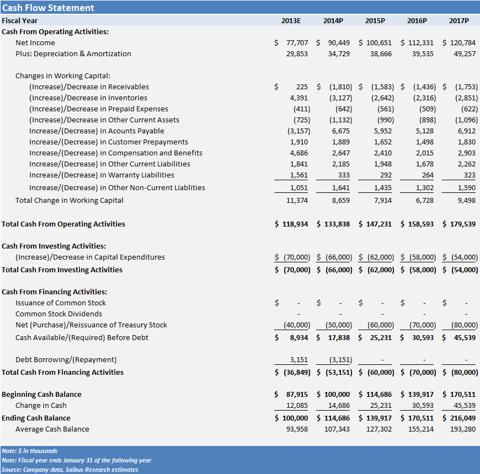 Disclosure: I have no positions in any stocks mentioned, and no plans to initiate any positions within the next 72 hours. I wrote this article myself, and it expresses my own opinions. I am not receiving compensation for it (other than from Seeking Alpha). I have no business relationship with any company whose stock is mentioned in this article.
Additional disclosure: This article was written by an analyst at Saibus Research. Saibus Research has not received compensation directly or indirectly for expressing the recommendation in this article. We have no business relationship with any company whose stock is mentioned in this article. Under no circumstances must this report be considered an offer to buy, sell, subscribe for or trade securities or other instruments.