After gold prices plunged 15.7% in the first two weeks of April, people in China and India rushed to jewelry stores to buy the precious metal. A friend in Hong Kong even told me that he could not find a gold bracelet as a wedding gift. Everything made of gold was sold out.
As central banks in the U.S., Europe, and Japan are simultaneously engaged in unprecedented quantitative easing, investors are accepting lower yields on risky assets. Consider the equity market. Since the Federal Reserve started QE1 more than four years ago, the dividend yield on broad-market stock benchmarks has been cut in half to 1.9%. Meanwhile, the yields on companies with high dividend payouts fell by two-thirds to 3.2%. A high dividend stock strategy offers investors just 1.3% in additional yield over broad-market benchmarks. In 2007 and 2008, the additional yield averaged 3.0%.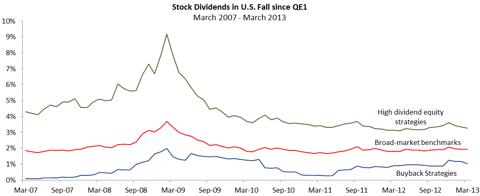 Source: Bloomberg
The yield spread between companies with high dividends and companies engaged in large stock buybacks has also shrunk significantly. Now high dividend strategies earn only 2.2% over the yield on buyback strategies and 1.3% over the yield on broad-market benchmarks. These spreads are the narrowest in the past six years.

Source: Bloomberg
From 2007 through 2012, buyback strategies, broad-market stock benchmarks, and high dividend strategies had annualized total returns of 3.9%, 2.3%, and 1.3%, respectively. In the graph below, we break the total returns into two components: price change and reinvested dividends. For example, buyback strategies gained 3.0% per year from price change and 0.9% from reinvested dividends. By contrast, the annualized price change of high dividend strategies was -2.2%, but the 3.5% yield from reinvested dividends made the total return positive.
Returns look much rosier if we consider only the period since quantitative easing was implemented. From 2009 through 2012, buyback strategies sported an annualized total return of 17.9% (16.8% from price change and 0.9% from reinvested dividends). High dividend strategies delivered an annualized total return of 13.3% (9.7% from price change and 3.3% from reinvested dividends).
Source: Bloomberg
Past performance is not indicative of future results
Two trends persisted in both of these periods. First, the return from reinvested dividends decreased for the benchmarks and high dividend strategies. Second, buyback strategies outperformed the benchmarks, which in turn outperformed high dividend strategies.
The real question is whether it makes sense to forego 5% in price appreciation for a 2% higher dividend yield. High dividend strategies did outperform buyback strategies in 2008 by 1.8%, but they underperformed in each of the other five years from 2007 to 2012. Massive share repurchases drove the performance of buyback strategies. In the past seven years, dividend payouts from U.S. companies were half of the amount spent on stock buybacks.
The European Central Bank recently cut its benchmark interest rates, while the Fed and the Bank of Japan continue to deploy massive monetary easing. All three central banks are fighting low growth, so we expect bond yields to remain depressed. U.S. companies are sitting on record levels of cash, and they are under great pressure to return some of this money to investors (Apple (NASDAQ:AAPL) is the most recent example). If corporate borrowing costs remain low and economic growth remains sluggish, investors can expect buybacks to play a bigger role in supporting share prices.
At TrimTabs we manage a float shrink strategy that give investors exposure to companies that reduce their equity float through stock buybacks. PowerShares Buyback Achievers ETF (NASDAQ:PKW) is another portfolio that provides such exposure. In this article, the performance of high dividend strategies is calculated as the average return of the indicies tracked by the following ten high dividend ETFs:
Disclosure: I have no positions in any stocks mentioned, and no plans to initiate any positions within the next 72 hours. I wrote this article myself, and it expresses my own opinions. I am not receiving compensation for it. I have no business relationship with any company whose stock is mentioned in this article.
Additional disclosure: The author is a portfolio manager at TrimTabs Asset Management.