This morning we are awaiting the employment figures and like the rest of the market will be looking to see if the recent numbers have been accurate or a blip that will revert back to what the market had previously expected. One must remember that it is a surprise employment number which set off this latest leg up, and if the new expectations are not met we might have to endure some downward movement as investors' expectations are adjusted.
Chart of the Day:
The NYSE Advance/Decline Line is moving strongly higher again and is approaching that upper limit on the uptrend. This could run a bit longer but we could also see a bit of a correction here. This is something we are watching, but with today's employment numbers we could see the start of the correction with any disappointment there.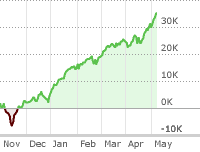 Chart courtesy of Ameritrade.
We have economic news due out today, and it is as follows:
Initial Claims (8:30 a.m. ET): 336k
Continuing Claims (8:30 a.m. ET): 3019k
Wholesale Inventories (10:00 a.m. ET): 0.3%
Natural Gas Inventories (10:30 a.m. ET): N/A
Asian markets finished mixed today:
All Ordinaries -- up 0.05%
Shanghai Composite -- down 0.59%
Nikkei 225 -- down 0.66%
NZSE 50 -- down 0.02%
Seoul Composite -- up 1.18%
In Europe, markets are mixed this morning:
CAC 40 -- down 0.84%
DAX -- down 0.05%
FTSE 100 -- up 0.01%
OSE -- up 0.46%
Technology
Electronic Arts (NASDAQ:EA) surprised the market with their earnings results earlier this week and investors moved back into the stock pushing it up $3.15 (17.11%) to $21.56/share. The company saw volume increase to 22.3 million shares as well as they announced a new deal for the Star Wars franchise with Disney (NYSE:DIS) and showed a turnaround on their digital properties while also forecasting that their annual profit will come in above analysts' estimates. As great as that news is, we would like to point out that most of this beat will be due to cost cutting so it is not as though the company is doing it all with top line growth.
Continuing to climb is 3D Systems (NYSE:DDD), even after announcing a secondary in the amount of $250 million. We continue to like the story as we have recently updated readers but do find the offering of almost 1.3 million shares by officers and directors of the company to be a bit troublesome. Based on some emails we have received recently we feel the need to once again explain that this is merely a trade for readers, not a long-term investment, and as such can be sold whenever. With profits approaching 50% on this trade we could not blame anyone for taking money off of the table and redeploying it elsewhere. There is value out there, one just has to have the patience to search it out.
Transportation
Delta Airlines (NYSE:DAL) surprised many with their announcement that they would begin to pay a dividend to shareholders, something that lately has been foreign to the airline industry. The company will pay out, on September 6, 2013, a dividend in the amount of $0.06/share. Further highlighting how well the company is doing management announced that this is part of a plan to return $1 billion to shareholders over a three year span and that the company would be buying back shares as well. The buyback will be in the amount of $500 million which makes the dividends over that time worth $500 million as well. Certainly bullish news for an industry that has been rebuilding itself.
It has been a decade since the company has paid a dividend so yesterday's excitement over the move is most certainly justified.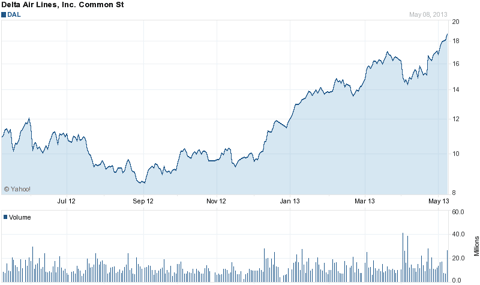 Chart courtesy of Yahoo Finance
Retailers
Lowe's (NYSE:LOW) continues its upwards trend with shares yesterday rising $2.06 (5.11%) to close at $42.35/share on volume of 14.1 million. Housing stocks are gaining traction and watching the talking heads on television the past few days we have seen exactly how much attention the housing recovery is getting. Are we getting ahead of ourselves with the rally in housing? Quite possibly. Have the stocks topped out already? No, not in our opinion. When it comes down to the home improvement chains, we also believe that later in the game we will see Lowe's outperform Home Depot (NYSE:HD) and catching up in the total return category.
Since the recovery began we have seen LOW underperform versus HD, but that is something we think will change in the later innings of the housing recovery play.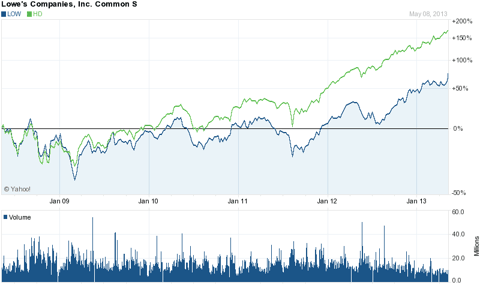 Chart courtesy of Yahoo Finance.
Hitting a new 52-week high yesterday was Whole Foods (WFM) after providing solid guidance for the year ahead and a strong second quarter where they beat on the bottom line with a slight miss on the top line. The company does face increased competition from newer names in the field and these local co-ops which continue to pop-up around the country, however with an improving economy and consumers looking to spend more on themselves the future is looking brighter for names offering premium goods, which Whole Foods obviously does.
Disclosure: I have no positions in any stocks mentioned, and no plans to initiate any positions within the next 72 hours. I wrote this article myself, and it expresses my own opinions. I am not receiving compensation for it (other than from Seeking Alpha). I have no business relationship with any company whose stock is mentioned in this article.