For those investors still wary of venturing back into equity markets especially as markets reach new highs, a low volatility approach may be the way forward. There are many ways to achieve a low volatility portfolio, and in a previous article I discussed the merits of correlation and diversification. These are common methods used by active managers of mutual funds to produce alpha whilst minimizing downside risk.
Volatility has been gradually increasing over the past 10 or so years, and since the credit crisis we have seen a rapid rise in the number of days experiencing volatile periods, be it up or down.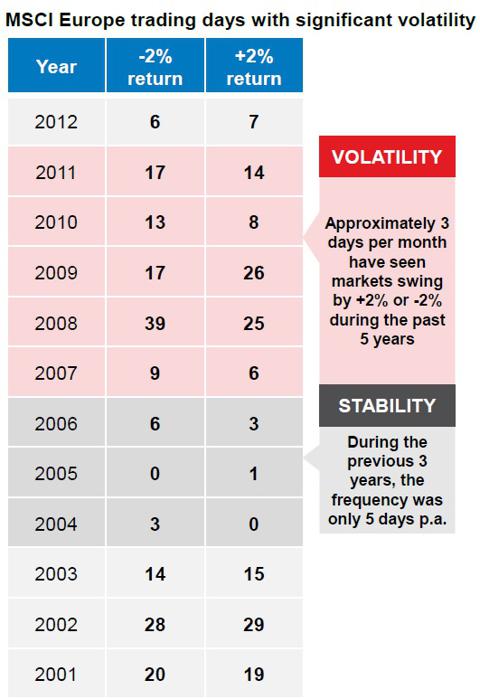 Source: BlackRock
Blackrock has created a low cost alternative via an exchange traded fund (ETF) that seeks to utilize the methods used by active managers. The iShares minimum volatility ETFs aim to track an index with a third less volatility. The beauty of these products is generally low volatility equities tend to outperform over the long run. This is because the minimum volatility index participates less in the periods of high volatility (downturns) whilst capturing a majority of the upside.


Source: iShares
Minimum volatility ETFs are not to be confused with the low volatility funds already established. Low volatility ETFs weight a fund based on the annualized volatility and correlation will little regard for other factors. Whereas minimum volatility ETFs use a more advanced method taking into account volatility, correlations and style factors.
Identifying correlations and style factors, both limits the exposure to anyone factor, reducing the specific risk, but also provides a more diverse index that can closely track the parent index.
The limitations to anyone style, such as value (based on P/E) or sector, prevent the specific risk associated to each factor and also makes sure correlation remains high between the minimum volatility ETF and the parent index.
iShares currently offer four minimum volatility ETFs; the MSCI world (NYSEARCA:ACWV), S&P 500 (NYSEARCA:USMV), Europe and Emerging Markets (NYSEARCA:EEMV).
The Emerging market index is the most effective, this is because emerging markets are generally more volatile. As such, the minimum volatility counterpart has outperformed.
The ETFs are rebalanced semi-annually to ensure turnover is kept to a minimum reducing the underlying costs. Whilst the underlying index (MSCI minimum volatility) uses regression analysis to formulate an algorithm to generate the finalized portfolio weighting, the iShares ETFs merely replicate the selection, thus providing the low management costs.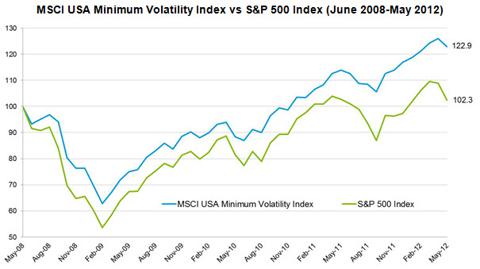 Source: isharesblog
The chart above shows how the minimum volatility ETF has produced better risk adjusted returns since 2008. The MSCI USA Minimum Volatility index has an average volatility of 25% less than the S&P500 (the parent index) and as it is able to capture around 76% of the upside, it has proved a sensible investment.

So for those investors looking to dip a toe back into equity markets, or just trying to lower the volatility within a portfolio these products may provide a solution.
Disclosure: I have no positions in any stocks mentioned, and no plans to initiate any positions within the next 72 hours. I wrote this article myself, and it expresses my own opinions. I am not receiving compensation for it (other than from Seeking Alpha). I have no business relationship with any company whose stock is mentioned in this article.