Many of our names continue to show strength, and most importantly we are seeing strength in names which report numbers that the market does not altogether like. How can that strength be explained? Simple, the overall story is that impressive and investors are seeking out growth in areas of the commodity market where there is strength (think the oil and liquids areas and certain shale plays) while also venturing out and placing some speculative bets on up-and-coming areas such as uranium (an area we have been discussing as of late).
Stick to the names which have been winners and seeking out those names providing value, even if a loser this year, because it will be these names which continue to power the commodity rally higher.
Commodity prices this morning are as follows:
Gold: $1469.00/ounce, down by $4.70/ounce
Silver: $24.02/ounce, up by $0.093/ounce
Oil: $96.28/barrel, down by $0.34/barrel
RBOB Gas: $2.8407/gallon, down by $0.0131/gallon
Natural Gas: $3.951/MMbtu, down by $0.027/MMbtu
Chart of the Day:
We generally do not cover the grains in our daily morning updates, but we saw this one year chart of corn and wanted to point out to readers the downtrend which has been taking place since the highs. The recent sell-off and subsequent support building may be setting us up for another rally should we have issues with the weather this season (remember, too much rain is a bad thing and too little is too...it is a goldilocks type of situation where it has to be just right).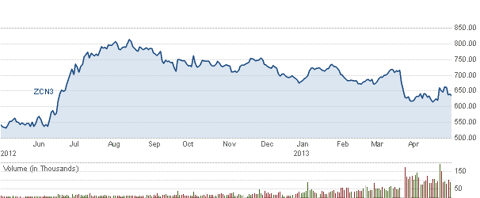 Chart courtesy of CNBC.com
Coal
Cliffs Natural Resources (NYSE:CLF) did in fact manage to hold the $21/share level as it rose another $1.82 (8.53%) to close at $23.15/share with volume remaining strong at 20.1 million shares and investor sentiment on the bullish side here getting stronger by the day. It is not just in this beaten down coal name that investors are flocking back to, but also Walter Energy (NYSE:WLT) which itself saw a solid move yesterday. Investors pushed shares in Walter higher by $2.31 (13.65%) to close at $19.23/share with volume there registering at a solid 12.5 million shares. In our opinion these two names should be looked at in the same way and as the markets recover so too shall their shares (barring any surprises in the coal or iron ore markets).
Uranium
We have been discussing the uranium trade and our views on how to move into the sector in a smart and efficient way. Over the past few sessions we have noticed the strength in Uranerz Energy (NYSEMKT:URZ) which with yesterday's $0.20 (16.81%) move to the upside now has shares trading at $1.39/share. Volume here has increased to 1.2 million shares on the excitement which has been caused by the company announcing that they should be receiving a $20 million loan from the State of Wyoming at a sub 6% interest rate which will allow them to finish their build out while refraining from further diluting shareholders. As we have stated in the past, this is a day trader's stock and they come and go based on news flow, so be careful here and try not to chase it.
It has been a huge move over the past few trading sessions, but one should not chase. It will come back down to earth, that has been the trend at least.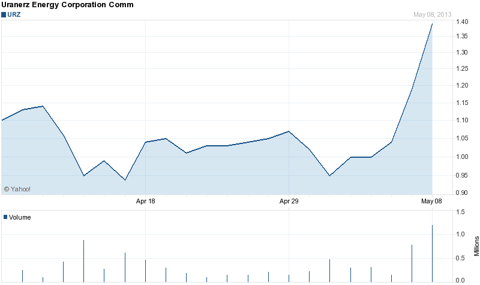 Chart courtesy of Yahoo Finance.
While on the topic of uranium we also want to point out Denison Mines, Ltd. (NYSEMKT:DNN) which last year sold off its US assets to focus on its Canadian properties and has since moved to further consolidate the junior players in Canada with their acquisition of Fission Energy. We think long-term that this is a good move by the company and will pay off as they have now combined two of the players in an area with mineralization that is part of what appears to be one deposit. In our opinion, it appears that this should be one mining project and it will now be best for Denison to work with the other owner to put together a plan to jointly mine the area and cut down on costs by not duplicating unnecessary functions.
Diversified Miners
We must admit that we have been a bit perplexed with the price action in Freeport-McMoRan (NYSE:FCX) and how the shares were taken down hard by the fall in gold prices but have as of yet recovered to the previous levels on the back of the rise in copper prices, gold prices and oil prices. Granted gold is not back to its previous levels, but the strength in the other commodities that the company has exposure to have increased dramatically from pre-gold crash prices. We are watching Freeport here as it is within 10% of the pre-crash levels and we are looking for a bounce higher through that level. Obviously the good news will need to come from the precious metals market as there is little room for oil or copper to improve from here, so our optimism is measured.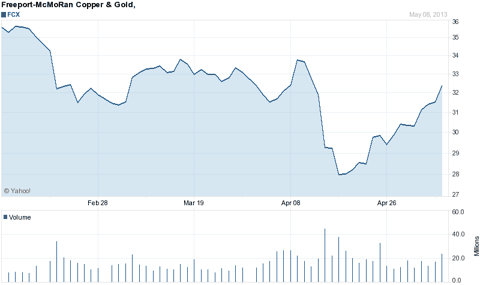 Chart courtesy of Yahoo Finance.
Disclosure: I have no positions in any stocks mentioned, and no plans to initiate any positions within the next 72 hours. I wrote this article myself, and it expresses my own opinions. I am not receiving compensation for it (other than from Seeking Alpha). I have no business relationship with any company whose stock is mentioned in this article.