There are a lot of theories floating around out there making a case for or against the price movement of gold. Recently I made the case for the robust demand for physical gold in the form of jewelry and coins, as well as by central banks - especially central banks in China and other Asian countries - providing price support for the precious metal.
While that is real and is part of the equation, other elements are in play which could pressure the price of gold down even further. In other words, we may not have found a floor yet, even with the robust demand for physical gold.
Pressures Against Gold
Several elements remain in play that will battle against physical gold demand to determine not only whether or not the price of gold has reached a bottom, but also the pace with which it'll begin to move up over time. At this point in time it appears the price of gold, when it does rebound, will do so incrementally rather than in large upward moves. There could be an occasional big day for gold, but that will probably become the exception rather than the rule going forward.
As for what is pressuring the price of gold, it is the ongoing outflow from gold ETFs, lack of inflation, and the speculative shorts continuing to bet gold prices will fall. The soaring equity market has also dimmed the attractiveness of gold, with investors willing to take on more risk in the low interest rate environment that makes holding cash a bad strategy, unless you're waiting to use it when great deals present themselves.
Here's how the opposing gold pressures are described:
"We expect the physical [bullion] demand to support the [gold] market," say analysts at banking group ANZ.
"[But that] could prove difficult to maintain in the face of rallying equity markets, ETF outflows and speculative financial shorts... additionally, global inflation concerns that could support gold are benign. We expect to see a pick-up in prices through the second half of 2013, where gold should trade in the mid-high $1500 an ounce area."
Gold ETF Outflows
For the twelfth week in a row gold ETFs experienced significant outflows, suggesting investors are continuing to sell their shares. This may be the biggest downside risk for the price of gold at this time.
Among the most-watched gold ETF is SPDR Gold Trust (NYSEARCA:GLD), because it is the largest of the gold ETFs. Overall gold holdings fell from the approximate 1350 tons held at the beginning of 2013, to a 44-month low of 1062.3 tons. Just last Friday outflow from SPDR was 3.6 tons.
The reversal of outflow from the gold ETFs will play a key role in the sentiment towards gold and its upward price movement.
Gold Shorts
It looks like the speculative shorting of gold by institutional investors is starting to slow down, while at the same time shorting gold by smaller private investors has picked up.
Last week the number of short contracts held by institutional investors contracted. Even so, the 65,224 contracts still in play by fund managers remains higher than over the last several years.
On the other hand, short contracts held by private traders are more than those holding bullish long gold futures. The Commodity Futures Trading Commission identifies these traders as 'Nonreportable.'
While the increase in bearish gold shorts by private investors appears to be negative news, historically they usually lag the response of fund managers, and they're a far less significant market. All it really reveals is they are following on the heels of the institutional investors, taking part in the outlook and actions they hold and engage in.
In other words, they're responding to the same set of circumstances and data and don't represent anything new.
It's far more important and relevant to watch how fund managers are shorting or going long than it is smaller investors, who in most cases simply follow in their footsteps, knowing they'll benefit from the actions they take. Some private investors do little else than closely watch the actions of institutional investors and then do the same thing they do. That's why they usually lag a little behind them in taking action. They're joined at the hip and offer nothing new as far as changing sentiment.
Inflation
For now inflation remains under control, and that isn't expected to change until the end of 2013 or the beginning of 2014. We know inflation is worse than it is because of the way the data are gathered and reported for the CPI, but until that changes, the majority of investors are going to go by the existing numbers.
Having said that, the percentage the CPI moves is still a barometer, and flawed data or not, represents the direction inflation is going in or remaining at.
One of the major reasons inflation has been somewhat benign, as far as movement goes, is banks haven't been lending. According to a Fed Senior Loan Officer survey, that has changed for businesses, which could push up inflation significantly. The percentage of banks easing commercial lending standards has risen from 6 percent to 19 percent, the survey said.
This is more important concerning smaller businesses, as they have been those that have had a harder time securing capital. If that is in fact changing, the increase in money into the economy should be an impetus for inflation to rise.
As long as inflation remains low, that will continue to be a factor in the price of gold, although a secondary factor. If inflation surges, then it'll become a primary factor as capital will flee to gold for a hedge.
Currencies and Gold Prices
Competing forces in currencies also further complicate the predictability of gold, as the ongoing stimulus programs of the Federal Reserve, along with its low interest rate policy, usually is good for the price of gold.
Other countries have responded with their own stimulus efforts, because they don't want their currencies to strengthen too much against the dollar and weaken their exports.
Probably the most dramatic move in that regard, as it affects the price of gold, is the euro/dollar. Europe is starting to take steps to weaken the euro, which usually is a negative for the gold price. Even so, other factors are in play such as the boost in the industrial output of Germany, which has strengthened the euro because of it being less likely there will be a lowering of interest rates in the eurozone in the short term. Over the long term though, it is increasingly likely the euro policy will be to attempt to weaken it. That is also a downside risk for the price of gold.
Should We Buy Gold Now?
With these competing factors, and lack of surety of whether or not gold has hit a bottom, unless you're buying gold coins or some other physical form of gold, it may be prudent to wait to see if a bottom has been reached for gold. That is in no case certain at this time.
If you want to invest in gold miners, the larger companies like Goldcorp (NYSE:GG), Barrick Gold (NYSE:ABX), and Newmont Mining (NYSE:NEM) would be the safest bets. You can see their performances over the last month below, as they rebounded some from their lows. It hasn't been since October 2008 that these major gold miners have been so low in share price, although Goldcorp did briefly plunge in April 2009 to levels below today's price.
Barrick Gold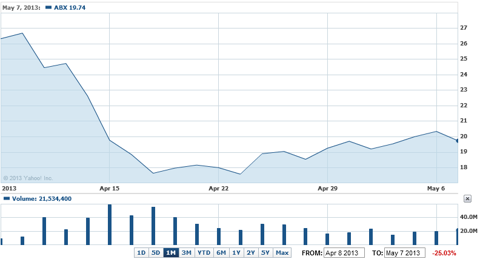 Newmont Mining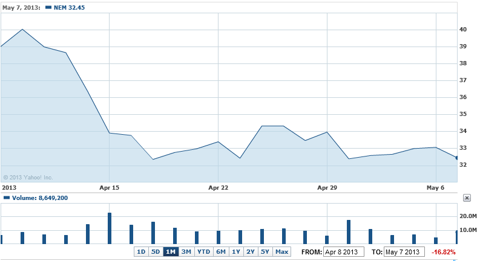 Goldcorp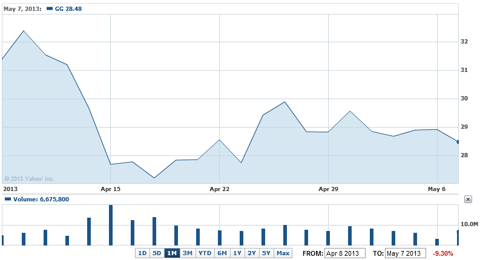 Over the long term, it wouldn't hurt to buy in at these entry points for these major gold miners, as the price of gold will resume its upward run. It's only a
matter of when, not if. But if there is another significant move downward in the price of gold, it will take the miners down with them, and that would cause regrets as entry levels at that time would be terrific.
A little more risky are the mid-level miners like Eldorado Gold (NYSE:EGO) and IAMGOLD (NYSE:IAG). They have experienced a similar pattern as the large miners, but have dropped much more as measured by percentages. That will happen again, whether the price of gold rises or falls. There is more risk, but also more reward here. See the 3-month performances of these two companies below.
Eldorado Gold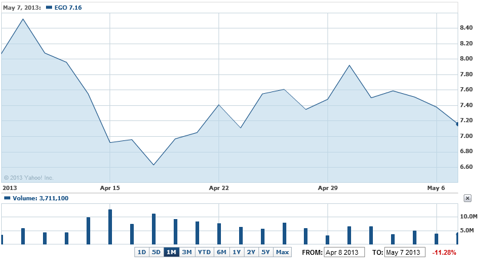 IAMGOLD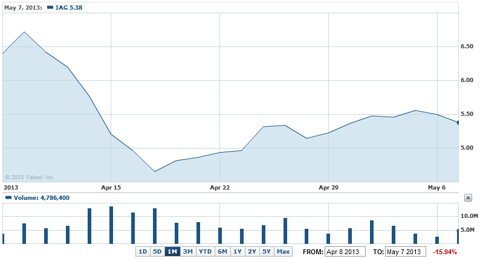 For those preferring gold ETFs, especially if outflows are reversed, SPDR Gold Shares , Global X Gold Explorers ETF (GLDX), Market Vectors Gold Miners ETF (NYSEARCA:GDX) and Market Vectors Junior Gold Miners ETF (NYSEARCA:GDXJ) represent most gold sectors, although there are other more specialized gold ETFs available.
SPDR Gold Shares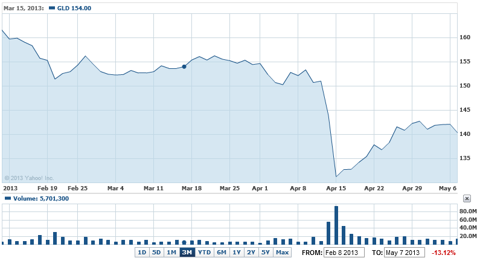 Market Vectors Gold Miners ETF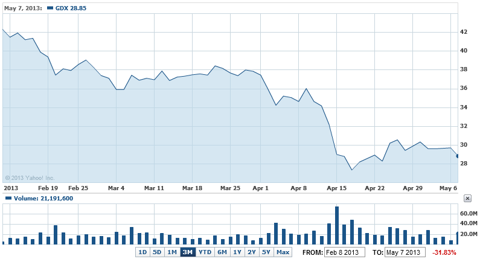 Global X Gold Explorers ETF
If you believe gold is going to continue to drop, UltraShort Gold ProShares ETF (NYSEARCA:GLL) is a good way to play that.
UltraShort Gold ProShares ETF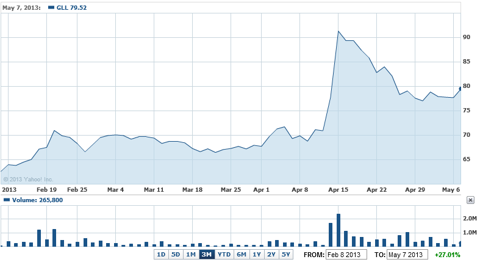 Conclusion
Taking the disparate pressures on the price of gold, it's anything but certain where the prices are headed next. We've had a big correction, yet we may not have tested the bottom yet.
It appears the fall in the gold price is at least weakening, but there could be another roar from the bear, so it may be best to wait to see if that's the case. Losing a little on the downside for many, is worth it, as you've got to have a strong stomach for uncertain times like this.
Overall though, entry points are approaching interesting levels, and even if gold takes another dip, it is almost certain gold prices will rebound, along with the miners and ETFs. That being the case, getting back into gold must be invested in from a long-term perspective.
Absent inflation or a geo-political crises, the price movement of gold, once it bottoms, will for the most part be incremental as it goes higher. If we are surprised to the upside, we can take some profits, if not, we can be certain over time, because we've entered at a good price point, that we'll do well in the sector.
Disclosure: I have no positions in any stocks mentioned, and no plans to initiate any positions within the next 72 hours. I wrote this article myself, and it expresses my own opinions. I am not receiving compensation for it (other than from Seeking Alpha). I have no business relationship with any company whose stock is mentioned in this article.