Exchange Traded Funds (ETFs) are increasingly popular as an alternative to mutual funds. One often-cited reason is that ETF management fees are lower.
But are ETF fees really lower and do lower fees result in better performance?
A common way to show that ETFs are cheaper is to compare the average management fee for ETFs to all mutual funds. But that is not an apples to apples comparison. Almost all ETFs are index funds. Only 3.8% of mutual funds are index funds (based upon Morningstar list of US Open End Mutual Funds, all share classes).
Index funds naturally have lower management fees than actively managed funds. As a result, the average ETF management fee is lower than the average mutual fund because most mutual funds are actively managed.
In order to produce a more meaningful comparison, I reviewed some mutual funds and ETFs that are:
From the same companies (Vanguard, State Street Global Advisors and BlackRock)
Tracking the same indexes
Based upon performance and fees.
Vanguard
There are two share classes for Vanguard mutual funds that track the Barclays US Aggregate Bond TR Index - Admiral and Investor. The Admiral shares are for larger investments and charge a lower fee. There is one ETF tracking that index.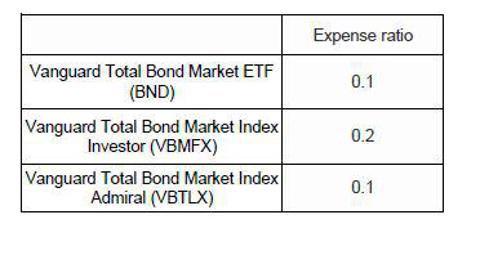 The Vanguard Total Bond Market Index Investor (MUTF:VBMFX) management fee is higher than the Admiral Shares and the ETF.
Performance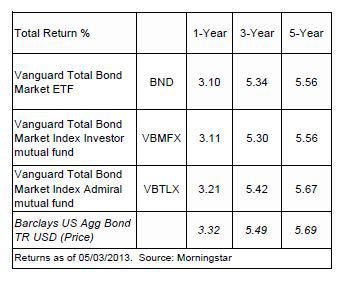 The Vanguard Total Bond Market ETF does not outperform the mutual funds. In fact, the Admiral shares outperform the ETF in every period. The Investor shares underperform the ETF over three years and outperform over 1 year but the differences are small.
The differences are so small that rounding the returns to a tenth of a percent instead of a hundredth eliminates any differences in the performance of the ETF compared to the Investor shares.
Performance - Rounded to One-tenth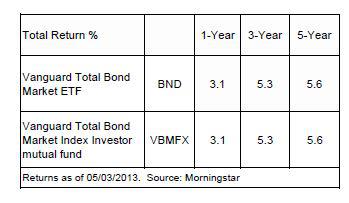 For these Vanguard funds, investors are no better off with the ETF than with the Vanguard Investor shares or worse off than they would be with the Admiral shares.
State Street Global Advisors
State Street Global Advisors offers S&P 500 Index funds as an ETF and a mutual fund. The expense ratio for the mutual fund is .18% and for the ETF .09%.
Performance
Return %
1-Year
3-Year
5-Year
10-Year
15-Year
SPDR S&P 500 ETF (Price)
SPY
21.24
15.87
5.37
7.82
4.49
SSgA S&P 500 Index Instl
SVSPX
21.2
15.85
5.36
7.78
4.41
S&P 500 Index
21.43
15.98
5.47
7.92
4.56
Returns as of 5/7/13. Source: Morningstar
The ETF outperformed by eight-hundredth of a percent over 15 years and even smaller amounts for the 1, 3, 5 and 10 year periods. Rounding to tenths of a percent would make the returns the same for all periods except 15-years.
BlackRock
BlackRock offers the iShares Core S&P 500 ETF (NYSEARCA:IVV) and the BlackRock S&P 500 Stock K mutual fund (MUTF:WFSPX). The mutual fund management fee is .18% and the ETF .07%.
Performance

The ETF outperforms over 3 and 5 years by small margins: four-hundredths and three-hundredths of one percent. The ETF underperformed over the previous 12 months. There is no difference in returns when rounded to one-tenth of a percent.
Conclusion
Comparing ETFs and mutual funds from the same companies tracking the same index does show that ETFs charge lower management fees.
However, the difference in performance between ETFs and the corresponding mutual funds ranges from non-existent to extremely small. Even over long periods of time, it is hard to recommend an ETF because it outperformed a mutual fund by 3/100 to 9/100 of one percent per year.
Especially since the disadvantages of ETFs could wipe out the small differences in returns. Disadvantages of ETFs include trading commissions, bid-ask spreads and tracking errors.
Mutual fund trades may also involve commissions but there are no concerns about spreads and tracking error. Also, mutual funds have an advantage in less liquid markets.
For some investors, there are advantages to ETFs that may be more important than performance. ETF advantages include the ability to trade during the day, maybe lower taxes and certainly more niche funds.
That makes ETFs better to day trade or to invest in markets like German equities, Short Platinum, Diesel-Heating Oil, Gold Shares Covered Calls or bullion. Can't do that with mutual funds.
For those of us investing long-term in more traditional markets, the advantages of ETFs are not so compelling.
Disclosure: I have no positions in any stocks mentioned, and no plans to initiate any positions within the next 72 hours. I wrote this article myself, and it expresses my own opinions. I am not receiving compensation for it (other than from Seeking Alpha). I have no business relationship with any company whose stock is mentioned in this article.