Lately it seems as though every day I check my portfolio another stock is hitting a new 52 week or all-time high, which is an obvious observation after the market has been on a steady march upwards over the last 18 months. In fact, since October of 2011, the Dow Jones Industrial Average has increased by over 40% from 10,655 to today's close of 15,105, which is a quite a remarkable return.
After this huge run-up, there are many examples of companies whose stock prices have outgrown the fundamentals and have become overvalued by common metrics. For example, Kimberly-Clark Corp. (NYSE:KMP), Johnson & Johnson (NYSE:JNJ), Pepsico, Inc. (NYSE:PEP) and The Home Depot, Inc. (NYSE:HD) are trading at PE ratios of between 21-25. As the chart below shows, these type of ratios haven't been seen in any of these stocks since before the Great Recession of 2008-2009.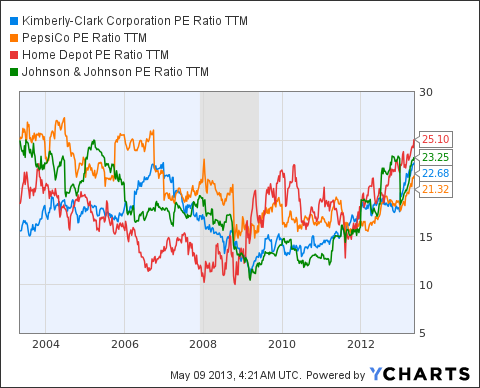 KMB PE Ratio TTM data by YCharts
This example doesn't prove that the market as a whole is overvalued, just that some individual stocks within the market are beginning to reach that point. I believe there are still plenty of attractively priced companies available that value and dividend growth investors can turn to if they still have cash on the sidelines looking for a home.
In this article I would like to focus on some companies I've found that are currently "on sale" in the market. The criteria I've applied in making this list are as follows:
Stock is currently at least 15% below the 52-week high price.
PE Ratio below 16.7 (6% earnings yield).
PEG Ratio below 2.
Dividend yield above 2%.
After searching through my watch list of dividend stocks as well as my personal list of current investments, here are the 8 that meet these requirements.
| | | | | | | | | |
| --- | --- | --- | --- | --- | --- | --- | --- | --- |
| Company | Symbol | Price | 52 Week High | % Below High | PE | PEG | Dividend | Yield |
| Apple Inc. | (NASDAQ:AAPL) | $ 463.84 | $ 705.07 | 34% | 11.1 | 0.53 | $ 12.20 | 2.6% |
| CH Robinson Worldwide Inc. | (NASDAQ:CHRW) | $ 57.26 | $ 67.93 | 16% | 15.6 | 1.55 | $ 1.40 | 2.4% |
| Coach, Inc. | (COH) | $ 58.74 | $ 70.35 | 17% | 15.9 | 1.22 | $ 1.20 | 2.0% |
| Herbalife Ltd. | (NYSE:HLF) | $ 43.66 | $ 56.39 | 23% | 10.2 | 0.55 | $ 1.20 | 2.7% |
| Questcor Pharmaceuticals, Inc. | (QCOR) | $ 32.72 | $ 58.91 | 44% | 10.1 | 0.27 | $ 1.00 | 3.1% |
| Sturm, Ruger & Co. Inc. | (NYSE:RGR) | $ 50.65 | $ 60.11 | 16% | 12.6 | N/A | $ 1.96 | 3.9% |
| Southern Copper Corp. | (NYSE:SCCO) | $ 34.15 | $ 42.03 | 19% | 16.1 | 0.84 | $ 0.80 | 2.3% |
| Safeway Inc. | (NYSE:SWY) | $ 24.24 | $ 28.42 | 15% | 9.1 | 1.45 | $ 0.70 | 2.9% |
As you can see from the list, there are a wide variety of companies making the grade. Some have more warts than others, whether it be a recent earnings slowdown like Apple and Coach or attacks from hedge funds like those recently seen by Herbalife and Questcor. Whatever the reasons may by, these stocks are trading at a discount to prices seen earlier in the year.
Here is a breakdown of the different companies as well as some reasons behind the recent pullbacks in price.
Apple, Inc. is a leading electronics and media company located in California. The stock has taken a hard fall from its September 2012 high of $705 and hit a recent intra-day low of $385 on April 19 based on fears of a slowdown in earnings growth and increased competition in the smartphone and tablet business. However, on April 23 the company released earnings and announced a massive buyback and 15% dividend increase, which seems to have put a bottom in the stock. The price has increased steadily since that date and closed over $463 today.
C.H. Robinson is a freight transportation company located in Eden Prairie, Minnesota providing services and logistics in various industries worldwide. It is a member of the Dividend Contenders List and has increased dividends annually for the last 16 years. The company reported disappointing earnings earlier today, resulting in a 7% selloff.
Coach, Inc. is a clothing and accessory retailer based in New York that is most well known for their handbags. The company's share price has taken a hit based on concerns that the company is losing market share to Michael Kors (NYSE:KORS) and has slowing earnings growth. However, the company announced better than expected earnings on April 23 and shares have been on a steady increase since. The company is projected to grow earnings by nearly 13% and is a recent addition to the Dividend Challengers List as it has increased dividend payouts for 5 consecutive years and has a 3 year dividend growth rate of over 90%.
Herbalife is a network marketing company that sells weight management and nutritional products around the globe. It has become the staging ground for one the greatest public bouts between two hedge fund managers in Carl Icahn and Bill Ackman after Ackman accused the company of running a Ponzi Scheme. The company has great fundamentals with a high cash flow, increasing dividend payouts and an EPS growth rate of 25% trailing and 15% projected. Volatility can be expected as the hedge funds battle, but the bulls seem to be winning the war at the current time.
Questcor Pharmacueticals is a bio-pharma company headquartered in California. The company derives nearly all of its revenue from one drug, Acthar, which is used in the treatment of infantile spasms, rhuematology and multiple sclerosis. The company has seen an impressive 5 year EPS growth of 47% EPS and is projected to grow at a 28% rate going forward. The company is currently down over 40% from its 52 week high as it struggles to shake short sellers and questions regarding its promotional activities and insurance reimbursements.
Sturm, Ruger & Co. is a leading gun manufacturer based in Connecticut. It has seen explosive growth over the last 5 years (74% EPS growth rate) as it has struggled to keep up with demand for firearms. The company is a recent addition to Davide Fish's Dividend Challenger's List and has a dividend growth rate of nearly 62% over the last 5 years. The company announced earnings on April 29 and increased the dividend to $0.49 per share.
Southern Copper Corp. is a leading copper producer and one of the few pure plays available in the copper mining sector. The company has been a consistent dividend payer and has provided an annualized rate of return of over 25% with dividends reinvested over the last 10 years. The price of the stock has fallen along with the price of copper in the last 3 months, but the future looks bright as the company is in the midst of a large capex projects that will dramatically increase production in the years ahead as discussed in their recent 10-Q filing.
Safeway Inc. is a food and drug retailer headquartered in California. Another member of the Dividend Challengers List, the company has increased dividend payouts for 8 straight years and has grown the dividend at a 20% annual rate over the last 5 years. The stock had a pullback after lackluster earnings were released on April 25.
Three Year PE Ratios (Chart Courtesy of ycharts.com )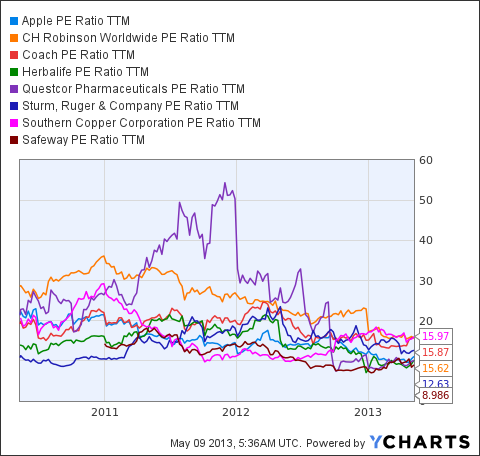 AAPL PE Ratio TTM data by YCharts
As you can see above, these companies are now all trading near their 3 year low PE ratios. As I've described previously, there are various reasons for them trading at their current "discounts". Some of these companies may not be suitable for the more conservative investor who is worried about volatility and capital preservation as they near retirement. But for those in the accumulation phase of investing, I believe there are some high growth names worthy of further due diligence for your portfolio.
Disclosure: I am long AAPL, COH, QCOR, RGR, SCCO. I wrote this article myself, and it expresses my own opinions. I am not receiving compensation for it (other than from Seeking Alpha). I have no business relationship with any company whose stock is mentioned in this article.
Additional disclosure: Disclaimer: I am a Civil Engineer by trade and am not a professional investment advisor or financial analyst. This article is not an endorsement for the stocks mentioned. Please perform your own due diligence before you decide to trade any securities or other products.