This article will analyze and discuss five fast food company stocks to determine which one is the best to own in my opinion. Of course, this article will not discuss all of the fast food companies that are publicly traded. Instead, it will focus on five and it will evaluate different factors to come to a conclusion.
The five companies that will be compared here are McDonald's (NYSE:MCD), Yum! Brands Inc. (NYSE:YUM), Jack in the Box Inc. (NASDAQ:JACK), Burger King Worldwide, Inc. (BKW), and The Wendy's Company (NYSE:WEN). These companies offer different benefits for ownership, including share price, which ranges from the $5.78 per share for Wendy's all the way on up to the $100.95 per share for McDonald's as of the market close on May 8, 2013.
In Wendy's earnings report, it met expectations but reported that it lost market share in the value category. McDonald's reported that sales figures for April dropped, weakened by European results but this result was expected as the company had warned about it earlier. I was a shareholder of McDonald's last year and when the sales figure missed a few times in a row was around the time that the company had reached its 52-week low of $83.31. Jack in the Box will be reporting its next earnings on May 16, 2013. This week, Thestreet.com reiterated its buy recommendation on Yum Brands.
The following is a one-year price chart for these five companies, expressed as percentage change and it is compared with the return of the S&P 500.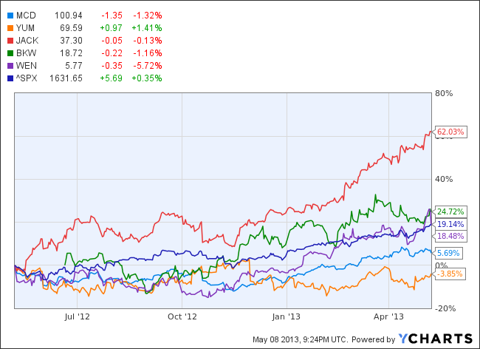 MCD data by YCharts
Jack in the Box and Burger King are the two stocks that, without considering any dividends, have outperformed the S&P 500 in the past year. McDonald's was not trading near its 52-week low around this time last year, but if someone got in at around $83 per share, the price increase would obviously be larger.
To determine which stock of these is the one that I find the best for new money at this time, we will score the companies based on different factors. First place will receive three points for each factor, second place will receive two points, and third place will receive one point.
First off, we will start simply enough with PE ratio.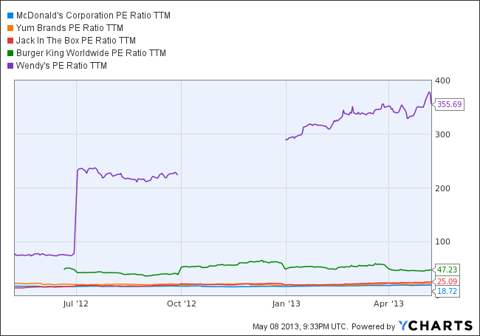 MCD PE Ratio TTM data by YCharts
Although it is hard to see in the chart, the three companies with the lowest PE ratios TTM are McDonald's at 18.72, Yum! Brands at 22.19, and Jack in the Box at 25.09. Those are the top three companies using that measure.
Next, we will explore which of these companies has the greatest ability to enhance shareholder value by creating additional brands and/or spinning off any subsidiaries to shareholders. Qdoba is a restaurant owned by Jack in the Box. Because of the fact that McDonald's divested its stake in Chipotle several years ago, and because Yum! Brands would have to break up KFC, Taco Bell, and Pizza Hut in order to spin one off, I would give Jack in the Box the edge here. McDonald's has the most recognizable and strongest brand in fast food in the world in my opinion, and that core brand should be its focus. Nonetheless, McDonald's strong brand makes it relatively easy for it to create new product offerings for the menu and make things successful, such as when it introduced its coffee, which does really well now. I see Jack in the Box spinning off Qdoba as a possibility, and one that would happen before Yum! Brands would expand into a new restaurant chain and/or spin off one of its brands. I see it being possible due to the fact that it is not a vital part of its core fast food business. For this reason, first place goes to Jack in the Box, second to McDonald's, and third place goes to Yum! Brands. Burger King and Wendy's do not match up to these companies in this regard, in my opinion.
Jack in the Box, Burger King, and Wendy's have been the top three performers based on share price movement over the past 52 weeks, so based on that factor they are the top three stocks.
For the next five years, the annual growth rate forecast by analysts will be the next measure used to evaluate these stocks. Yum! Brands is expected to grow at 11.73% per year, McDonald's comes in at 8.69%, Jack in the Box is expected to grow by 15.32% per year, Burger King comes in at 16.85% and Wendy's is forecast to have 12.85% of growth per year. By that measure, Burger King, Jack in the Box and Wendy's are the top three stocks.
To find companies that are selling at a price level that is possible below their worth based on book value, we will look at the price-to-book-value ratio for each company in the chart below. The lower the ratio, the closer to book value the company is selling for, and for purposes of this factor it will make them the best stocks.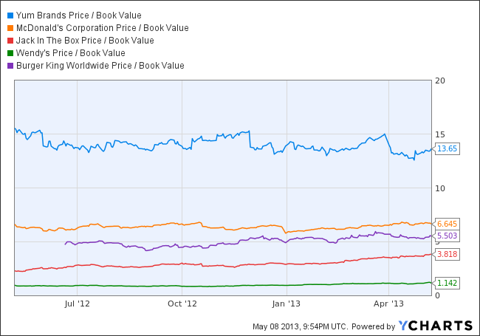 YUM Price / Book Value data by YCharts
Wendy's, Jack in the Box and Burger King are the winners for this factor, in their respective order.
The next measure will be free cash flow, as represented in the chart below.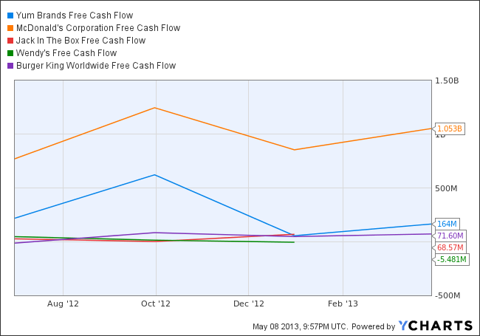 YUM Free Cash Flow data by YCharts
McDonald's, Yum! Brands and Burger King, respectively, are the winners by this measure.
Return on equity, as represented in the chart below, will be the final measure used to grade these stocks.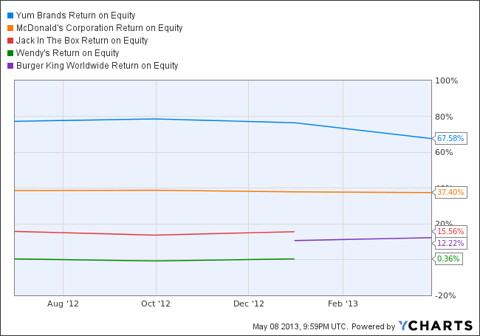 YUM Return on Equity data by YCharts
Yum! Brands, McDonald's and Jack in the Box are the respective winners based on this measure.
Now, let us recap which stock won the measure for each factor and determine our overall winner. The number in parenthesis is the score awarded to each company by each attribute.
PE ratio - McDonald's (3), Yum! Brands (2) , Jack in the Box (1)
Ability to enhance shareholder value - Jack in the Box (3), McDonald's (2), Yum! Brands (1)
52-week price change - Jack in the Box (3), Burger King (2), Wendy's (1)
5-year annual growth rate - Burger King (3), Jack in the Box (2), Wendy's (1)
Lowest price-to-book-value ratio - Wendy's (3), Jack in the Box (2), Burger King (1)
Free cash flow - McDonald's (3), Yum! Brands (2), Burger King (1)
Return on equity - Yum! Brands (3), McDonald's (2), Jack in the Box (1)
McDonald's scored a total of 10 points. Yum! Brands scored a total of 8 points. Jack in the Box scored a total of 12 points. Burger King scored a total of 7 points, and Wendy's scored a total of 5 points.
Based on these measures and the scoring system, Jack in the Box has been determined to be the best stock to invest in at this time. It has had a nice run in share price and if earnings come in strong, this may continue and build.
Disclosure: I have no positions in any stocks mentioned, and no plans to initiate any positions within the next 72 hours. I wrote this article myself, and it expresses my own opinions. I am not receiving compensation for it (other than from Seeking Alpha). I have no business relationship with any company whose stock is mentioned in this article.
Disclaimer: Please conduct your own research and due diligence before deciding whether or not to invest in any of these stocks.