I've read it so many times here on SA, on investing blogs and in the usual suspect books about investing: the successful investor has to diligently evaluate the companies he wants to invest in. Of course this makes a lot of sense. After all I want to own a part of the company I invest in. A couple of shares will be a tiny fraction of any publicly traded corporation but to the individual grassroots investor it's way more than that. It's the part of the paycheck which he decides to put to a good future use by choosing delayed gratification over immediate gratification. So assuming that your personal finances are in order, where do we go from here in building up some decent income for our golden years?
You could choose one of the Exchange Traded Funds which have become very popular in the last years due to their low operating costs and sales commissions (the latter are actually waived for many ETFs at top brokers). You receive instant diversification by buying just one ETF. They own a lot of different securities spread across all market sectors. The problem: even those ETFs which are especially designed for income, i.e. dividend ETFs, have yields way below what you can get by directly investing in equities yourself. For instance the Schwab dividend fund SCHD has a current SEC yield of 2.81%, the Vanguard equivalent VIG yields 2.13%. The United States' money inflation rate for 2012 was 1.7%... Alternatively you could read through 100+ page proxy statements of all the S&P500 companies and keep on reading all quarterly and annual publications. If you're like me you'll have no interest in doing that. Luckily for us there is an easier way to approach that problem.
Seeking Alpha contributor David Fish maintains a quite powerful tool for dividend investors called the Dividend Champions, Contenders and Challengers list, aka CCC list, which is being updated with all newly available information after the last trading day of each month. Opening this Excel spreadsheet for the first time will blow you back a couple of feet. It's packed with a ton of numbers and other information for each of the currently 471 firms. Their average dividend yield is 2.91% which is in line with the ETF yields mentioned above. So how do we get to the real interesting stuff?
The first thing I do is eliminate all companies which have increased their payouts for less than nine years. This is sort of arbitrary but I personally find a five year streak of strong money management not very appealing. Ten years sounds much better in my ears thus the limit of nine years or more. Especially since this time frame includes the great recession of 2008. Companies which went through this major crisis with increasing their payouts supposedly have both a very strong business model and senior management.

Then I weed out all firms who have reported negative earnings, i.e. losses, during the last twelve months (this would be the EPS-TTM column of the list). The same goes for any firm which is considered to have a negative growth over the next five years.

Next big thing is the confidence factor. I consider this number one of the most important pieces of information in the whole list. As an investor who seeks growing income from dividends, I rely on the future ability on the companies I buy to grow their business, sales, and dividends. The confidence factor scores things like the number of consecutive years the company's dividend has been increased, as well as several financial strength and general valuation metrics. The minimum score is 1 and the maximum is 102. I just eliminate the lower half of the companies on the list. The best thing about this factor is that it makes calculating all the different metrics which are commonly used to value a potential investment sort of superficial. Almost everything is already built into this number.

A little compound interest formula based on the current entry yield of a security and its annualized dividend growth rate for the past five years calculates the estimated yield on cost I can expect five years down the road if I bought this stock today. The thing I like most about this approach is that it not only favors the high dividend growth companies, but also the ones which have a current high yield and a lower growth rate. Eliminating everything which will yield less than 5% five years from now brings the number of companies down to a more manageable 34 (I also discard the Master Limited Partnerships since I'm still unsure if these structures do have a bad taxation influence within a Roth IRA or not).

Other things to consider are the current price/earnings (less than 20) and payout ratios (max. 99%) as well as the current initial yield. Highlighting the best performers of each category I'm looking for, in the end my shopping list looks like this:
(click to enlarge)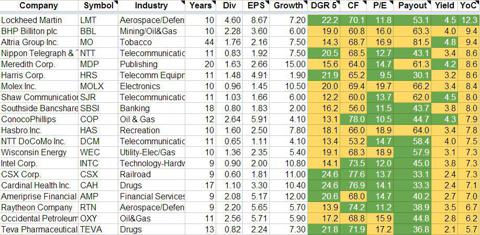 Some geeks may notice that the dividends for foreign stocks like Nippon Telegraph and Telephone (NYSE:NTT) and its mobile subsidiary NTT DoCoMo (NYSE:DCM) from Japan and the Israeli drug giant Teva Pharmaceutical Industries (NYSE:TEVA) differ from the actual amounts. In order to get meaningful results I try to deduct the tax withholding from the dividend before I use them for any further calculations. BBL is the London-based ADR listing of the Australian BHP Billiton plc. and therefore tax-free for American investors.
The usual suspects of dividend growth investors include powerhouses such as Coca-Cola (NYSE:KO), Colgate-Palmolive (NYSE:CL), PepsiCo (NYSE:PEP), and McDonald's (NYSE:MCD). I have opened positions in some of these companies in the past but since these stocks are currently trading above my personal threshold of a 20 P/E ratio, they don't show up on this list and are therefore not considered worth any new purchases. Benjamin Graham's infamous margin of safety is pretty thin these days with the top of the top dividend blue chips, and there are plenty of other stocks out there to pick up for good valuations.
Of course I'm not just buying whatever is on top of the list. It's a starting point to look closer at the actual metrics of the respective corporations. However, since so many valuation factors have already gone into this list (emphasis on the confidence factor), it can be considered pretty straight forward and there shouldn't be any surprises when looking a bit deeper into those firms. Over the course of the last twelve months while I was experimenting with this list I tried to implement the total return but eventually decided against it for two reasons:
I don't really care about the stock price appreciation since I concentrate on the potentially generated income without jeopardizing the quality of the businesses and stocks I own; and

I actually do not hope for too much price appreciation since this would slow down my income growth. The higher the price, the fewer shares I can purchase every quarter.
I also tried to work in other factors like the Graham Number and stuff like that but this is what it currently boils down to. I must admit that I thought I was the only one making things so easy until just this weekend I stumbled over this article by The Dividend Guy: I Don't Need More Than Four Ratios To Buy A Stock. I am well aware that my approach is highly simplistic and may lead to problems down the road. However, I believe that these businesses have shown their strong market values and management skills time and again especially during two of the most severe economical cycles we've seen in decades (the burst of the dot-com bubble in 2000 and the financial meltdown in 2008).
My investor's creed is to buy and monitor these stocks, watch out for trouble, browse through their proxy statements when voting time comes around, read through the transcripts of the earning calls and to never sell them unless they cease doing what I bought them for: provide us with an inflation-beating income so that when my wife and I retire, it'll keep our lifestyle comfortable without ever having to sell a single share. Maybe we can even retire earlier than expected if Mr. Market means us well.
Disclosure: I am long BBL, TEVA, SCHD, MCD, PEP. I wrote this article myself, and it expresses my own opinions. I am not receiving compensation for it (other than from Seeking Alpha). I have no business relationship with any company whose stock is mentioned in this article.