Earlier this year, I alerted readers to the fact that sequencing Dendreon's (NASDAQ:DNDN) Provenge after Medivation's (NASDAQ:MDVN) Xtandi produced startling results. Specifically, I am speaking about the paper by Graff, et al., "Complete Biochemical (Prostate-specific Antigen) Response to Sipuleucel-T With Enzalutamide in Castration-resistant Prostate Cancer: A Case Report With Implications for Future Research," published in the journal Urology. The paper describes the case of a 69-year-old patient with metastatic castration resistant prostate cancer (mCRPC) who achieved a complete and durable response after continuing with Xtandi (enzalutamide).
As seen in the figure 1 below, the patient began treatment with Xtandi in May, 2008, and his PSA soon became undetectable. However, in the summer of 2009, it began to rise again. Subsequently, he was infused with Provenge in July 2010 while continuing on Xtandi. Six months later, he once again enjoyed a complete PSA response.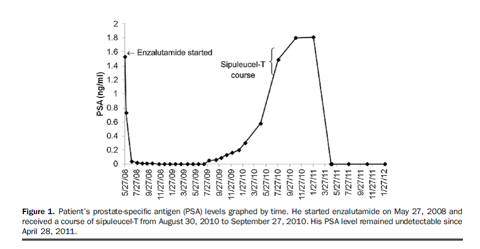 The authors believe the timing of this response supported an immune mechanism. (Importantly, the patient had a robust increase in antigen presenting cell activation at the third dose relative to other patients.) The authors concluded their work with the data for this patient provides a basis for studies of the combination of Provenge and Xtandi ... the subject of a trial, by the way, that Dendreon, at the time, indicated it intended to initiate later in 2013.
Indeed, in its press release this morning, and on the conference call that followed, Dendreon announced it had named a steering committee for Phase 2 trial for sequencing Provenge with Xtandi (enzalutamide) and expected to begin enrolling patients in 4Q13. (You can watch this site for the information on the trial's protocols and other relevant information, including trial centers.) This trial, long anticipated by many in the prostate cancer community, will be one of the more important the company will undertake this year, and there's no question the results will be eagerly anticipated.
Conclusions
Both patients and the prostate cancer community alike look forward to the early initiation of the Phase 2 trial sequencing Provenge with Xtandi.
Technical Analysis
The Daily chart, courtesy StockChart.com, shows the stock dropping to $4+ on the anticipated disappointing 1Q13 revenues. Still, based on the widely successful launch of its national direct-to-consumer (DTC) advertising campaign, which kicked off in early March and now is ramping up rapidly as measured by the growing number of consumer inquiries, the company reiterated its end-of-year revenue guidance. As well, the cost-of-goods sold (COGS) was seen as dropping according to plan and should be below 50% before the end of the year. Relative Strength is negative. The Daily MACD is turning down.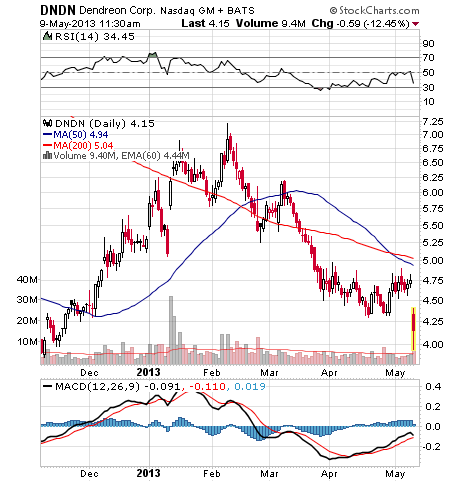 As to the weekly data, the price still is above the low reached late last year. The Relative Strength and MACD are neutral.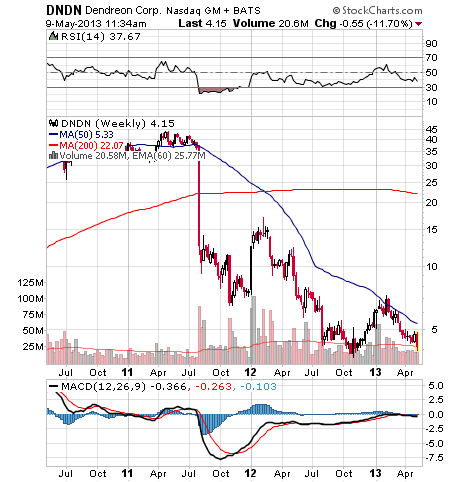 Disclosure: I am long DNDN. I wrote this article myself, and it expresses my own opinions. I am not receiving compensation for it (other than from Seeking Alpha). I have no business relationship with any company whose stock is mentioned in this article.
Additional disclosure: I am long DNDN. I am not a registered investment advisor and do not provide specific investment advice. The information contained herein is for informational purposes only. Nothing in this article should be taken as a solicitation to purchase or sell securities. Before buying or selling any stock you should do your own research and reach your own conclusion. It is up to investors to make the correct decision after necessary research. Investing includes risks, including loss of principal.