Energy Transfer Partners (NYSE:ETP) is a publicly traded partnership that owns and operates a portfolio of assets across the natural gas and natural gas liquids value chain. The partnership's assets include mainly midstream businesses such as natural gas gathering, treating, processing, transportation, and storage. In addition, the firm operates natural gas liquids transportation, storage, and fractionation assets. Energy Transfer also has exposure to crude oil and refined products through its recent acquisition of Sunoco and its ownership of Sunoco Logistics' general partner.
A simpler Energy Transfer Partners will create an improving shareholder environment and will allow for management to better focus on improving earnings and distributions. Last November, management announced plans to restructure its business with the goal of selling some assets, and the company is executing on this plan.
Last December, Energy Transfer announced the sale of Southern Union Company's Missouri Gas Energy and New England Gas Company to the Laclede Group for $1.035 billion. In February, ETP announced an agreement to sell Southern Union Gas Services to Regency Energy Partners (NYSE:RGP) for $1.5 billion in exchange for $750 million of Regency common units, $150 million of Class F units, and $600 million in cash. In March, the company announced it would acquire the remaining 60% interest in HoldCo from ETE for $3.75 billion ($1.40 billion of cash and $2.35 billion of ETP common units). Their general partner, Energy Transfer Equity (NYSE:ETE), will forgo 100% of the incentive distribution payments on the new ETP units for eight consecutive quarters and 50% of the IDR payments the following eight consecutive quarters.
The giveback by ETE of its incentive distributions on the newly issued shares will assist in providing a platform for additional unit holder's distribution. The distribution was recently increased, but only by 2.0%. The restructuring should allow for continued earnings growth that will also allow for higher distributions.
Analysts are indecisive concerning ETP's future. Last year, the firm announced reported earnings of $4.42. This year, estimates range from $0.83 to $3.18 and in 2014 from -$1.24 to $3.84. However, as with all MLPs, the key number to focus on is distributable income per share. Distributable cash flow is expected to grow from $1.3 billion in 2012 to $1.7 billion this year and over $2.0 billion next year. Fueling this growth are several capital expansion projects. These include the following projects, either recently put into service or with their anticipated completion dates:
Midstream
REM Phase II 800 MMcf/d -- In-service
Jackson Plant Natural gas processing plant located in Jackson County (Phase 1 400 MMcf/d -- Q1 2013; Phase 2 200 MMcf/d -- Q1 2014; Phase 3 200 MMcf/d -- Q1 2014)
117-mile, 24- and 30-inch pipeline from Carter County, Oklahoma to ETP's Godley Plant in Johnson County, Texas, 450 Mmcf/d -- In-service
Godley Plant Cryogenic processing plant to be constructed at the Godley processing facility in Johnson County, Texas, 200 MMcf/d -- Q3 2013
Expansion Karnes Processing Natural gas processing plant located in Karnes County 200 MMcf/d -- In-service
REM Expansion 37 mile, 30-inch pipeline expansion 1 Bcf/d -- Q4 2013
NGL (Lonestar)
West Texas Gateway 570-mile, 16-inch NGL pipeline originating in Winkler County and terminating in Jackson County 200 Mbls/d -- In-service
Frac I Mont Belvieu NGL Fractionator 100 Mbls/d -- In-service
Frac II Mont Belvieu NGL Fractionator 100 Mbls/d -- Q4 2013
NGL
Justice Pipeline 130-mile, 20-inch NGL pipeline from the Jackson Plant to Mont Belvieu 340 Mbls/d -- In-service
Interstate
Trunkline Conversion JV with Enbridge to convert a portion of the Trunkline gas pipeline to provide crude oil transportation services 420 Mbls/d -- 2015
LNG Lake Charles Project will use existing LNG re-gas infrastructure. Export capacity up to 15 mtpa (2.0 Bcf/d from three trains) 2 Bcf/d -- 2018
These capital projects will not only increase cash flow, but also allow for a resumption of distribution growth of upwards of 5% next year. Approximately 85% of the current dividend of $3.58 is considered return of capital, and the current yield is 7.5%. The company announced first-quarter earnings, and the press release can be found here. Of interest is the 35% increase in distribution cash from the first quarter of 2012.
A map of current assets from the most recent investors presentation is below, and the presentation can be found here. While longer than most, the presentation gives an in-depth view of the growth projects outlined above and should be reviewed by all interested investors.
Click to enlarge image.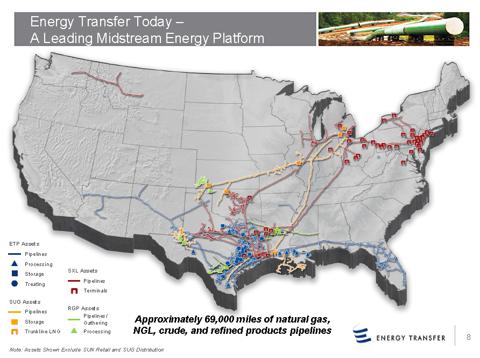 There is speculation that ETP may make a bid for RGP at some point in the future. This would bring the assets recently sold to them back into the fold, further extending ETP's reach in the midstream natural gas sector. MLP investors seeking both above-average distribution yields and the potential for distribution growth should review ETP. If distribution growth gets back on track, share price increases should follow.
Disclosure: I have no positions in any stocks mentioned, and no plans to initiate any positions within the next 72 hours. I wrote this article myself, and it expresses my own opinions. I am not receiving compensation for it (other than from Seeking Alpha). I have no business relationship with any company whose stock is mentioned in this article.
Disclaimer: Please review important disclaimer in author's profile.