By Jason Napodano, CFA & John Tucker, PhD
Tardive dyskinesia (TD) is a neurological disorder caused by the long-term use of psychiatric drugs (neuroleptics) used in the treatment of schizophrenia. The symptoms of tardive dyskinesia include involuntary and abnormal movements of the jaw, lips, and tongue, including grimacing, sticking out the tongue, and sucking or fish-like movements of the mouth. In some cases, other parts of the body may be affected by rapid, jerking motions (chorea) or slow writhing movements (athetosis). These symptoms cause considerable distress to patients due to the resulting social stigma, and may contribute to poor outcomes such as psychiatric hospitalization by discouraging compliance with treatment. Other medical complications of tardive dyskinesia include difficulty eating, difficulty breathing, and dental problems.
While modern "atypical" antipsychotic drugs are less prone to cause dyskinesia than older drugs such as haloperidol, perphenazine, and trifluoperazine, the dramatic increase in the use of antipsychotic drugs over the last 20 years has likely led to an overall increase in the incidence of tardive dyskinesia in the population (would have been nice to source this). While no population wide survey data of prevalence is available, an estimate of approximately 250,000 to 500,000 affected individuals can be arrived at based on the incidence of tardive dyskinesia among patients treated long term with neuroleptics and the incidence of schizophrenia in the U.S. population.
The delusions and hallucinations of schizophrenia are believed to result from excess activity of the neurotransmitter dopamine in the central nervous system. All known antipsychotic drugs exert reduced dopamine activity by blocking neuronal dopamine receptors, and all produce movement related side effects in a fraction of patients. On the other hand, certain movement disorders such as Parkinson's disease (PD) are believed to be caused by insufficient dopamine activity. Modern treatment options for PD include drugs that increase dopamine levels in the brain or mimic the activity of dopamine. However, at high doses these drugs can cause psychotomimetic side effects.
Tardive dyskinesia arising after many years of antipsychotic treatment is believed to arise from the dopamine receptors becoming super-sensitive to dopamine as the result of extended dopamine blockade. There are no well-established guidelines for the treatment, though some experts have suggested algorithms similar to that shown below. Reducing the dose of the antipsychotic or switching antipsychotics is usually tried first. Paradoxically, when these measures fail, increasing the dose of antipsychotic is sometimes helpful. This latter observation fits with the theory that tardive dyskinesia arises from hypersensitization of dopamine receptors after many years of continuous dopamine blockade. Nonetheless, increasing the dose of antipsychotic agent may provide only temporary relief because of feedback mechanism that increase the amount of dopamine released into the synapse in response to dopamine receptor blockade.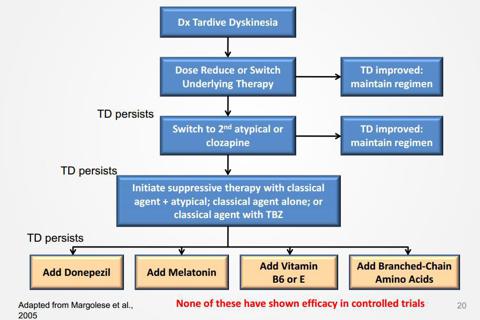 Among the therapeutic options available at this stage, the use of tetrabenazine is probably the most well-studied. Tetrabenazine is believed to exert its therapeutic effect in tardive dyskinesia by inhibiting the activity of VMAT2, a transporter that serves to package dopamine into vesicles for release into the synapse. This reduces synaptic dopamine levels, thus relieving overstimulation of hypersensitive dopamine receptors.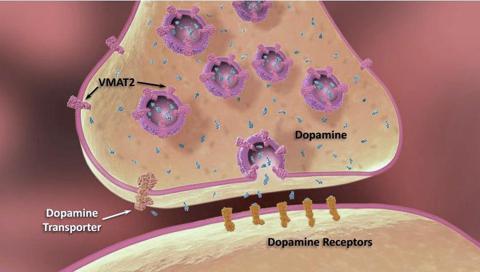 Evidence supporting the utility of tetrabenazine in this indication comes mainly from 11 relatively small clinical trials and case studies, of which 9 found evidence for efficacy. A similar level of evidence supports the utility of tetrabenazine for the treatment of Tourette's syndrome.
In 2008, tetrabenazine was approved for the orphan drug indication of treatment of chorea associated with Huntington's disease (HD). The approval was based on a single randomized, double blind clinical trial in 84 Huntington's patients, in which tetrabenazine treated patients achieved a 5.0 point reduction in the Unified Huntington's Disease Rating Scale relative to 1.5 points for the placebo group. There were five patients who withdrew from the study in the tetrabenazine group and five serious adverse events among four patients, compared to one withdrawal and no serious adverse events in the placebo group.
The serious adverse events included suicide, complicated fall, suicidal ideation/restlessness, and breast cancer. The most common dose limiting adverse events were sedation (27%), akathisia (8%), parkinsonism (4%) and depressed mood (4%). The tetrabenazine label includes a black box warning for depression and increased risk of suicidiality. Approved as an orphan drug, tetrabenazine is priced at approximately $50,000 per year, and is not widely prescribed for off-label indications.
In spite of its relatively recent U.S. approval for HD, tetrabenazine is an older drug that has been used for many years in other countries, and which was not developed according to current pharmaceutical industry standards. It is sold as a complex mixture of 4 closely related compounds (isomers) and is metabolized in the liver to produce a related set of four isomers. One of these (Active Metabolite A) is a more potent VMAT2 inhibitor than the others and lacks activity at dopamine receptors. The other three are less potent VMAT2 inhibitors, and two of these exhibit potent affinity for dopamine receptors.
…Enter Neurocrine Biosciences…
NBI-98854 is a novel compound identified by Neurocrine Biosciences (NASDAQ:NBIX) that is rapidly and completely converted into Metabolite A upon oral administration. The company is currently evaluating the utility of this compound for the treatment of tardive dyskinesia in two Phase IIb studies, and in Tourette's Syndrome (preclinical). By developing a compound that is converted to the known active metabolite of tetrabenazine, Neurocrine is able to take advantage of the extensive known pharmacology and clinical properties of tetrabenazine itself.
The first efficacy data for NBI-98854 in tardive dyskinesia came from an open label, single arm study of NBI-98854 in 6 schizophrenia patients with moderate to severe tardive dyskinesia over a twelve-day period. Patients remained on their schizophrenia medication during the study. The impact on dyskinesia was assessed utilizing a subset of the Abnormal Involuntary Movement Scale (AIMS). The AIMS battery is a clinician rated scale to assess the severity of dyskinesia, described below.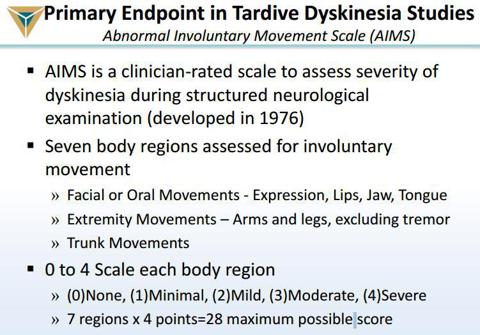 The dosing regimen in this trial consisted of three, four-day periods of NBI-98854 at increasing doses of 12.5mg, 25mg and 50mg administered once daily. After 12 days treatment, the mean AIMS subset score decreased by 41%, from 14.3 to 8.4 out of a possible 28 points. Adverse events included one subject with dizziness and one with restlessness.
In March 2012, Neurocrine reported results from a randomized, double blind, multicenter Phase II trial of NBI-98854 in 37 tardive dyskinesia patients. Patients were randomized to one of four treatment sequences:
1. 2 weeks treatment with NBI-98854 50 mg QD followed by 2 weeks treatment with placebo
2. 2 weeks treatment with NBI-98854 12.5 mg QD followed by 2 weeks treatment with placebo
3. 2 weeks treatment with placebo followed by 2 weeks treatment with NBI-98854 50 mg QD
4. 2 weeks treatment with placebo followed by 2 weeks treatment with NBI-98854 12.5 mg QD
Unfortunately, a post-unblinding review of AIMS scoring assessments revealed apparent inconsistencies at a single site. The pre-specified analysis of all data from the study failed to demonstrate a significant difference in the primary endpoint between the treatment and placebo groups, but a statistically significant difference was found in a post-hoc analysis that excluded data from the problematic site.

While the validity of post-hoc analysis is always a subject of concern, the results of the post-hoc analysis are supported by expectations based on the fact that NBI-98854 generates the same metabolite that is the most potent VMAT-2 inhibitor generated upon oral dosing of tetrabenazine. While tetrabenazine has not been studied in large clinical trials for tardive dyskinesia, 9 out of 11 smaller studies found evidence for efficacy. Thus the results of the post-hoc analysis and the results of studies performed with tetrabenazine are consistent.
Ongoing clinical trials of NBI-98854 in tardive dyskinesia include the Phase IIb Kinect-1 (ClinicalTrial.gov: NCT01688037) and Kinect-2 (ClinicalTrial.gov: NCT01733121) trials.
Kinect-1 will enroll 120 patients on a stable dose of antipsychotic medication who have been diagnosed with moderate-to-severe tardive dyskinesia for at least 3 months, and with schizophrenia or schizo-affective disorder. The trial employs a three arm parallel design to compare the safety and efficacy of 12 weeks (6 weeks double blind followed by 6 weeks open label) treatment with either of two NBI-98854 dosing regimens with placebo. One of the two active treatment arms will examine a flat dose of 50 mg QD, and the second will examine the effect of two weeks treatment with 100 mg QD followed by dose reduction to 50 mg QD. The primary endpoint is abnormal involuntary movement as measured by the AIMS scale at Week 6.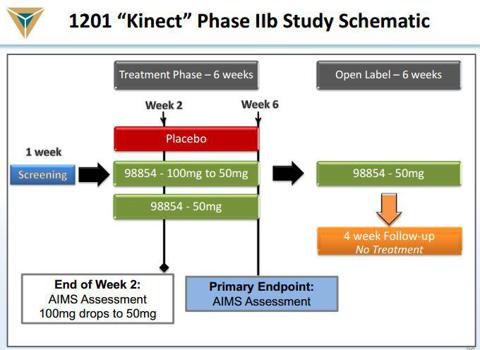 The Kinect-2 trial is a 2 arm, double blind, randomized parallel assignment trial comparing the safety and efficacy of 6 weeks treatment with up to 75 mg QD NBI-98854 to placebo in moderate-to-severe TD patients with bipolar disorder, mood disorder, or metoclopramide-induced TD, and potentially some patients with schizophrenia or schizo-affective disorder that did not qualify for Kinect-1 trial.
Patients in the active treatment arm will receive NBI-98854 25 mg QD for the first 2 weeks of the trial, followed by AIMS assessment. Part of this group will continue at 25 mg QD dose, and others will cross over to a 50 mg dose. Following reassessment with the AIMS instrument at Week 4, some of the 50 mg dosing group will cross over to a 75 mg dose. The primary endpoint for the study is AIMS assessment at Week 6. This study will provide information regarding the tolerability of NBI-98854 using a ramped dosing procedure of the type that has proven useful in minimizing side effects of other psychotropic drugs.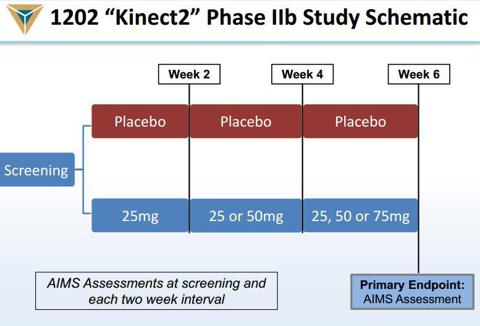 Both trials employ a group of independent readers to assess entry criteria prior to enrollment. For example, patients are video-taped during the screening process and the videos are sent to an independent reader to confirm moderate-to-severe TD, along with underlying conditions like schizophrenia or bipolar disorder. Neurocrine's Chief Medical Officer, Chris O'Brien, is also viewing the video tapes to QC the enrollment process.
The company has announced its intention to develop NBI-98854 for other indications, including Tourette's syndrome, schizophrenia, and bipolar disorder. A firm mechanistic basis for the potential utility of NBI-98554 is provided by the beneficial effects seen in the clinic for dopamine blockade in each of these disorders. However, the reduction in dopamine release produced by a VMAT-2 inhibitor is not strictly analogous to the dopamine blockage provided by conventional dopamine antagonists, so only clinical trials can determine whether NBI-98554 will have a role to play in the treatment of these disorders. The initial programs in the smaller, probably less lucrative indications of tardive dyskinesia and Tourette's seem to have the greatest likelihood of success based on historical studies suggesting the utility of tetrabenazine in these indications.
Conclusions
As of May 2013, the company reported being very pleased with the progress of both studies. For Kinect-1, the company has screened around 180 patients at 40 clinical sites to date, enrolling 90 patients (of the target 120) at around 30 sites. Management noted on the most recent call that the majority of patients fail screening because they either do not have moderate-to-severe disease or have some other type of movement disorder besides TD associated with schizophrenia or schizo-affective disorder. Other reasons for screen failure include patients with a history of drug use / abuse, patients with liver abnormalities, including HCV, or those with potential other consequential drug-drug related interactions. Management noted on the call that the blinded baseline AIMS score of the 90 patients enrolled so far was around 15 (with a standard deviation of around 4). We are pleased to see the design and enrollment criteria holding up.
With respect to Kinect-2, 45 patients have been screened with 26 enrolled. We note the 26 have been enrolled at only 13 of the target 30 sites, so we expect the enrollment pace to accelerate in the next month or two. The target enrollment is 90 patients.
We expect enrollment of the 120th patient in Kinect-1 in the next few months. Management noted that data should be available approximately ten weeks after the last patient has been randomized. We expect this trial to offer data early in the third quarter of 2013. We believe that Kinect-2 is about one month behind Kinect-1, but suspect that management will provide an update on the exact timelines for data read-out on both studies when Neurocrine hosts its second quarter conference call in late July 2013.
In total the Phase 2b Kinect program will enroll 210 patients with moderate-to-severe TD and various underlying conditions, testing doses ranging from 12.5 mg to 100 mg. Understanding this full range of dosing options in various patient populations should help management design a highly effective Phase 3 trial for the drug. Neurocrine's goal is to schedule an end of Phase 2 meeting with the U.S. FDA in late 2013.
We have high expectations that these trials will meet their primary endpoints of reducing the involuntary movements of tardive dyskinesia. It will be critical, however, to keep an eye on the side effect profile of NBI-98854 in these studies, given the black box warning for depression, suicidiality and depression included in the tetrabenazine label. However, based on the Phase 2a data, we believe that NBI-98854 looks to have a clean safety profile, especially when compared to that of tetrabenazine. On the first quarter conference call, management at Neurocrine noted the discontinuation rates for both studies are tracking well below what would normally be expected in a moderate-to-severe TD patient population. This is clearly a good sign with respect to safety, tolerability, and side-effect profile for NBI-98854.
AbbVie Inc. (NYSE:ABBV) remains firmly in control of Neurocrine's most advanced clinical candidate, elagolix. We have written previously on elagolix in the past, believing the drug offers peak sales in the $1.5 billion range. With AbbVie pushing elagolix forward, management's attention at Neurocrine is squarely on NBI-98854. We believe the drug could have peak sales north of $500 million in TD alone. With very important data coming in the next 3-4 months, we believe Neurocrine shares, already attractively valued based on elagolix, could have another nice leg-up if NBI-98854 succeeds.
Disclosure: I have no positions in any stocks mentioned, and no plans to initiate any positions within the next 72 hours. I wrote this article myself, and it expresses my own opinions. I am not receiving compensation for it (other than from Seeking Alpha). I have no business relationship with any company whose stock is mentioned in this article.
Additional disclosure: This article was co-authored by Jason Napodano, CFA and John Tucker, PhD of Zacks Small-Cap Research.