The NASDAQ has finished up 11 of the last 12 weeks, proving that tech is hot in this market rally. It's no hidden secret that semiconductors are cyclical and should rebound with the economy. However, timing the market to buy at the bottom is a difficult task for any investor. QUALCOMM, Inc. (NASDAQ:QCOM) is a great semiconductor play on the secular growth of smartphones and wireless network upgrades from 2G to 3G, and eventually to 4G. QCOM manufactures code-division multiple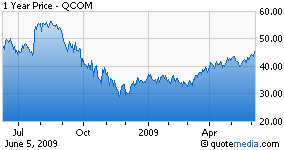 access (CDMA) based integrated circuits and system software used in mobile phones, data cards and infrastructure equipment. They also license over 10,100 U.S. granted and pending patents for CDMA and related wireless technology to more than 150 third party wireless equipment and cell phone makers. QCOM continues to see royalties ranging from $4 to $8 for the sale of each 3G phone.
On April 27th, QUALCOMM reported revenues of $2.46 billion, beating analysts' estimates of $2.33 billion. However, the big news was $891 million will be paid to Broadcom (BRCM) from a litigation settlement charge over the next four years. However, this will save QCOM $100 million in annual operating expenses as well as pay off the litigation charge with offshore cash, thus saving QCOM about 25% instead of repatriating that cash as profits as well as $100 million annually in operating expenses. This ongoing legal battle has hindered QCOM's performance and distracted management, but with these issues now behind them, I believe QCOM will outperform the broader semiconductor market in the near future.
Record high inventory levels in semiconductors have been decreasing over the past two months due to a snapback in demand, evident as channel inventories have been compressing. According to the Wall Street Journal on April 26th, memory chips comprise 14% of the overall broader semiconductor industry but often are a leading indicator for the sector due to their commodity-like status as widely used products that are hard to differentiate. Their downturn that began in early 2007, foreshadowed last year's broader industry fallout. However, the two biggest memory chip makers, Samsung and Hynix, have reported smaller chip losses while Intel (NASDAQ:INTC) and Texas Instruments (NYSE:TXN) have beat expectations in microprocessors and digital signal processors, respectively. Although bookings and billings have been decreasing over the past half year, January and February levels have stabilized further substantiating a semiconductor bottom and an opportunity to invest before the rebound.
3G Growth
Wireless companies Vodafone (NASDAQ:VOD), Verizon (NYSE:VZ) and AT&T (NYSE:T) have reported data revenue growth of 46%, 41% and 51% respectively from 4Q 2007 to 4Q 2008. With data traffic exploding, wireless networks need to be upgraded to third generation (3G) to sustain the increase in bandwidth usage. Today, only 720 million people are 3G subscribers, but by 2013, that number is expected to grow at a 29% CAGR to 2.5 billion 3G subscribers, 1 billion of which in Asia. 3G phones are predicted to increase from 40% of the world cell phone mix to 70-80% by 2012.
Asian countries such as China and India have huge wireless growth potential due to their exponential population boom and under-served rural markets. China is expected to spend over $60 billion over the next three years with help of its stimulus plan to build out its 3G network in both metropolitan and rural areas. India has just began rolling out its 3G network and Indian CDMA net adds more than doubled from the December quarter. Even Korea and Japan have seen increases in CDMA/WCDMA subscribers. In the long run, even 3G will be obsolete, but QCOM is preparing for this; the 4G technology called Long-Term Evolution (LTE) is QCOM's single largest R&D project. All this boils down to one key point: QUALCOMM will capitalize on this significant trend in telecom because they are the major supplier of 3G wireless integrated circuits for both infrastructure and handsets.
Smartphone Growth
A smartphone is a loose term, but I will define it as a mobile phone with advanced capabilities beyond that of standard texting and voice calling, including features such as email, web browsing, Microsoft Office documents, MP3 playback, and much more. Smartphones have continued to grow even amidst our recession; Gartner research predicts smartphone sales to increase 29% in 2009. Last quarter, QCOM shipped 69 million chips, ahead of estimates and the company's high end of guidance of 60-65 million. The company has predicted a 40% CAGR through 2013 and that 31% of all handset shipments will be smartphones in that year. Wireless providers have been aggressively promoting these phones due to their high margins that drive average revenue per user (ARPU) upward. For instance, Verizon has a "buy one get one free" Blackberry promotion and AT&T subsidizes the iPhone $200.
QCOM is also well-positioned to ride the next wave in consumer electronics with its Snapdragon and Gobi chips for higher-end smartphones, mobile internet devices, netbooks and laptops. These devices should be accretive to the bottom line by 2010 and could see more growth than handsets over the next few years as they further penetrate the market as demand increases. The first Snapdragon-based devices were announced this past quarter (Toshiba TG01 smartphone) and should ship commercially this summer. Gobi is also available for commercial shipping and already has nine original equipment manufacturers (OEMs) supporting the platform on 40 notebook models. QCOM has other emerging technologies such as mobile TV called MediaFLO, a mobile commerce platform named FireThorn and eZone, a universal wireless charging technology that can simultaneously charge multiple electronic devices.
Financial Analysis/Conclusion
To sum up, QUALCOMM not only has favorable macro trends, but it's also a fundamentally sound company. They have a strong balance sheet with a diverse revenue breakdown (shown below). Last quarter, QCOM reported strong cash flow once again, increasing $300 million year-over-year to $1.3 billion. Also, out of all non-financial companies in the S&P 500, QCOM ranks among the highest in percentiles for 2008 in return on invested capital (ROIC), return on assets (ROA) and operating margin (shown below).
ROIC - 95% percentile
ROA - 86% percentile
Operating Margin - 90% percentile
Revenue Breakdown:
South Korea = 35%
China = 21%
Other global = 21%
Japan = 14%
United States = 9%
Disclosure: The fund the author is associated with is long VZ and has interests in QCOM. The author's family is also long VZ.