It's hard to believe a year (and one week) has gone by since Conoco Phillips (NYSE:COP) spun off its midstream and downstream businesses into a separately traded company: Phillips 66 (NYSE:PSX). Let's take a look back and see if it has been a rewarding experience for COP shareholders.
One Year Later
According to Conoco's "repositioning document," the average trading price of COP and its spin-off Phillips 66 on the first day of trading (May 1, 2012) was $56.10 and $33.34, respectively. Let's suppose an investor had 100 shares of COP the day before the spin-off. Assuming he held all shares, today he or she would have 100 shares of COP and 50 shares of PSX.
Based on the average trading price on the day of the spin-off, one year ago, the investor would have held shares worth:
(100_COP+50_PSX) = $5610 + $1667 = $7277.
At the close on May 7, those shares were worth:
(100_COP+50_PSX) = $6284 + $3242 = $9526.
That's an annual return of 30.9%. And that is not counting COP's generous dividend (over 4%) and PSX's decent and growing dividend (today at 2%). As Borat would say, "Verrry Niiiiice."
Not all investors held onto their shares of PSX. I myself sold a slice of my PSX shares way too early and learned an expensive lesson.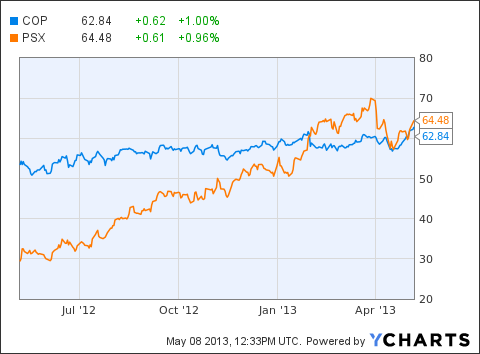 PSX Outperforms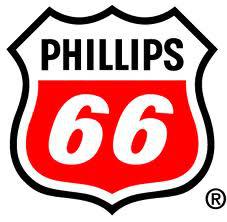 PSX shares, riding the back of a big spread between Brent and North American inland crude prices, as well as low natural gas and natural gas liquids ("NGLs") feedstock for its chemical business, were the clear winner of year #1. The stock has almost doubled following earnings growth that was up 120% in Q1 2013 Y/Y. Today, PSX would account for roughly 34% of the combined share equity, versus 23% on the day of the spin-off.
COP share are up 12% since the spin-off.
Operational Excellence
In addition to the equities' performance, both companies have been operating at a high level.
Phillips 66 continues to replace high cost Brent feedstock with lower cost shale and oil sands crude. It is using its fleet of railcars to transport low cost Bakken and WCS crude to its refineries quickly and efficiently. Its CPChem chemicals company continues to lead the industry in important financial metrics. A planned MLP IPO for Phillips 66 Partners (NYSE:PSXP) will take place in the second half of this year and will open investors' eyes to the wealth of midstream assets PSX has. The company's earnings and dividend growth have been excellent.
The mother ship, COP, has also been operating at a very high level. The company has continued to shed non-core assets according to the strategic plans it laid out prior to the spin-off. It is performing excellently in the Eagle Ford shale, just as planned. COP has working interest in two recent Gulf of Mexico discoveries (Coronado and the massive Shenendoah) and continues to assemble an impressive acreage portfolio in the GOM. Oil sands production was up 30% Y/Y. New project production and margins are growing according to plan.
COP has been a hard company to model the past couple years. Production declines due to discontinued operations make Y/Y comparisons difficult. Quarterly headlines declaring "production down" are sometimes misunderstood by investors not familiar with management's strategic transformation plans. As a result, COP's stock may not be fully valued in relation to the underlying strength of the company and its future potential.
Summary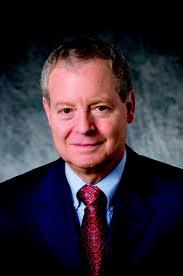 Former COP CEO Jim Mulva's swan song, the spin-off of Phillips 66 and the transformation plan of COP as a pure E&P play, has been an absolute success in terms of unlocking shareholder value. Both of the separate companies are performing very well. COP currently pays a 4.3% dividend and PSX pays 2%, and the outlook for dividend growth at PSX is excellent. Expect COP to announce the sale of its Kashagan asset soon. It should bring in around $5 billion. PSX is looking forward to its MLP offering later in the year. Both companies are fairly valued today, offer compelling long-term value, and are focused on total shareholder returns. Buy both stocks on dips and hold them for the long run.
Disclosure: I am long COP, PSX. I wrote this article myself, and it expresses my own opinions. I am not receiving compensation for it (other than from Seeking Alpha). I have no business relationship with any company whose stock is mentioned in this article.
Additional disclosure: I am an engineer, not a CFA. The information and data presented in this article was obtained from company documents and/or sources believed to be reliable, but has not been independently verified. Therefore, the author cannot guarantee its accuracy. Please do your own research and contact a qualified investment advisor. I am not responsible for investment decisions you make. Thanks for reading and good luck!