While writing an article on Lear (NYSE:LEA) last night I realized that I should perform a checkup on Ford (NYSE:F) because I've actually been a bit enamored with its move lately so I wanted to make sure I was keeping myself in check. Since last writing about Ford back on March 12, the stock is up 6.51% while the S&P500, General Motors (NYSE:GM) and Toyota (NYSE:TM) are up 4.91%, 13.32%, and 14.89% respectively. Generally a person would like to just get a return that beats the market (which in this case Ford does beat the S&P500) but when compared to its peers in the past couple of months Ford isn't really keeping up with the competition.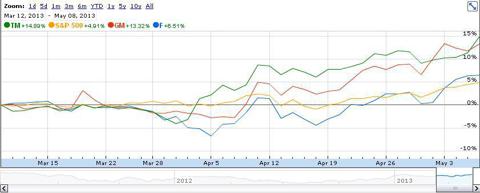 Valuations
Judging by the valuations Ford is still inexpensive with low values for trailing 12-month P/E, 1-year forward looking P/E, and PEG ratios, but those values are no longer cheaper than its peers. GM reported on May 2, and had a blowout quarter beating EPS by $0.12 and revenue by $300 million which caused the stock to vault 3.25% that day and another 3% the following day. GM also said losses in Europe contracted, causing analysts to salivate that GM may be able to break even in that continent in a couple of years, thereby allowing for a cheaper future multiple as can be seen by the 1-year forward P/E and the PEG ratio.
| | | | |
| --- | --- | --- | --- |
| Ticker | P/E | Fwd P/E | PEG |
| F | 10.01 | 8.56 | 0.95 |
| GM | 11.06 | 7.37 | 0.73 |
| TM | 24.38 | 13.4 | 0.54 |
Financials
The last time I evaluated the financials I saw that the dividend yield and the return on equity for Ford were quite a bit higher than its peers and the main reasons why I wanted to park my money in Ford at the time. Two months later the story still appears to be intact with Ford sporting at least twice as much of a dividend and twice as much of a return on equity. The dividend yield obviously dropped a little for both Ford and Toyota because the share prices have obviously increased.
| | | | | |
| --- | --- | --- | --- | --- |
| Ticker | Div Yield (%) 12Mar13 | Div Yield (%) 08May13 | ROE (%) 12Mar13 | ROE (%) 08May13 |
| F | 3.08 | 2.81 | 36.58 | 36.58 |
| GM | - | - | 18.14 | 16.84 |
| TM | 1.31 | 1.14 | 7.23 | 7.23 |
Technicals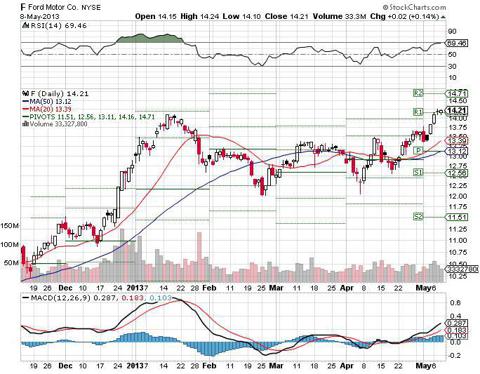 Taking a look at the technicals on Ford I see that the relative strength index is pretty much at a value of 70, which indicates that it is in overbought territory. It can always go a little bit higher as is evidenced around the turn of the year in 2013 on the grab above, but usually it comes down from there. Taking a look at the grab itself the price of Ford is above both its 20-day, 50-day moving averages and above a floor of support at $14.16. I'd watch for how the stock performs tomorrow to see what it does with the $14.16 value, if it closes above that value I would look for it to test the next ceiling of resistance at $14.71, but if it can't I'd look for it to drop to its 20-day moving average and test that support level. Looking at the moving average convergence-divergence chart I see that the graph is topping out a bit at values that were last seen in mi-March prior to which the stock dropped in price a bit, which might mean that momentum is weakening a bit in the stock.
Recent News
On April 24, Ford reported a $0.04 earnings beat of a $0.41 basis and revenue that beat by $2.03 billion of a $35.8 billion basis as North America and Asia offset weakness in Europe and South America.
April U.S. sales were up 18% compared with an estimated 17% from analysts.
Ford keeps adding jobs to factor

ies in order to keep up with increasing demand,

which puts pressures on operating margins

.
Ford went ex-dividend on May1, for a value of $0.10.
Conclusion
I believe the move in Toyota is due mainly to the weakening of the yen and the upside is potentially capped. GM on the other hand had a record quarter, which helped its stock price improve dramatically. Though in my Lear article I mentioned that Ford remains my favorite car company I think in the very short term GM may be the high flier after doing my analysis. Don't get me wrong, I still like Ford a lot, but the technicals and the valuation aren't convincing me enough to buy some more of it right now. I will not be touching GM with a 10-foot poll (because it doesn't pay a dividend) and instead will wait to see if I get a pullback in Ford to possibly pick up some more shares when the dividend yield hits around 3% again. If the yield doesn't get to that value I will still be extremely happy because that means either my current position in the company will continue to climb higher or just flat line. I believe Europe will be looking better at the back half of this year and that's why I believe Ford will be the better play in the long term.
Disclosure: I am long F, LEA. I wrote this article myself, and it expresses my own opinions. I am not receiving compensation for it (other than from Seeking Alpha). I have no business relationship with any company whose stock is mentioned in this article.
Disclaimer: Please remember that these are only my opinions and that you should do your own homework. Only you are responsible for your trades. Happy investing!