As a rapidly growing development company now phasing into large-scale commercialization, renewable oil and biotechnology company Solazyme (SZYM) once again paired a large announcement with its quarterly earnings results. In staying true to its policy of not setting investor expectations through press release updates, Solazyme simultaneously released news of another large partnership on the same day as its quarterly results. Just as it had previously done with the announcement of a partnership with Archer Daniels Midland (ADM), Solazyme released news of another partner found in AkzoNobel (AKZOY.PK).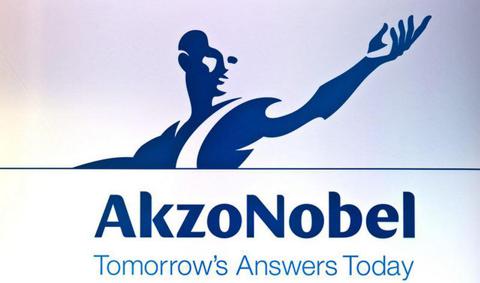 As a global paints and coatings company with a market capitalization in excess of 12.88 billion euros ($17 billion), AkzoNobel operates in more than 80 countries with over 55,000 employees. Despite its size, the company has undertaken a rather ambitious endeavor to reduce its carbon profile. According to an article found here, approximately 45% of the company's carbon footprint lies in its upstream processes, a problem that can only be solved through close cooperation with the company's suppliers. As a result, AkzoNobel has gone about establishing new "future-proof supply chains" that can generate win-win solutions for those involved. The following was taken from the same article:
AkzoNobel is working on several projects to develop new supply chains, most of them focusing on greenhouse gas reduction. Due to the high investment required by these projects, AkzoNobel is building supply chain alliances, involving suppliers and customers who believe in sustainability to create alternative solutions capable of competing in current market conditions.

AkzoNobel has set specific goals for its supply chain initiative. By 2015, a 10% reduction of cradle-to-gate carbon intensity, and a 30% share increase of eco premium products have to be realised. By 2020, AkzoNobel plans to achieve an additional 20-25% reduction in carbon intensity (all figures with base year 2009). If successful, AkzoNobel will not only achieve significant improvement in its corporate environmental profile, but also take a competitive advantage by offering efficient, sustainable products at reasonable prices.

AkzoNobel also expects that all stakeholders involved will gain from this initiative, turning it into a "win-win" solution. By securing AkzoNobel purchasing, suppliers will be able to make important facility investments, and reach the necessary scale to compete within the current market. AkzoNobel's customers will be able to develop and offer competitive new products with improved environmental profiles due to better efficiency and/or green labels. Society and environment will benefit from a decrease in carbon intensity along the value chain.
Why this remains important to shareholders of Solazyme remains somewhat hidden between the lines. In the company's conference call, management explicitly alluded to the lack of information they were able to divulge regarding the terms of the new relationship. However, it's clear by AkzoNobel's ambitions that the company is securing long-term relationships with partners capable of paving the way to sustainable markets. By investing in new supplier relationships that are capable of competitively providing sustainable solutions, AkzoNobel inherently anticipates to establish a comparative advantage in offering eco-premium products. The "important facility investments" suppliers gain through securing AkzoNobel's purchasing may allow growing companies like Solazyme the advantage of long-term planning and possible financing arrangements from lenders.
Introducing New Functionality
By announcing the research and development effort, Solazyme and AkzoNobel further acknowledge the long-term plan in the alliance they now have in mind. As companies have become more aware of Solazyme's unique tailoring capability, large market-moving players such as Unilever (UN), Bunge (BG), ADM, Dow Chemical (DOW), Mitsui & Co (MITSY.PK), and now AkzoNobel have all initiated development agreements for unique oils that are capable of exceeding the standards of today's products.
Through this new relationship, Solazyme now expands its market range to include everything from paints to surfactants. As author Doris de Guzman points out in her article found here, one of the fastest areas of growth within the surfactant industry also happens to lie in fracturing applications for the oil and gas industry. As I pointed out in a previous article found here, this area also appears to be a possible area of interest for the company down the road.
For a relatively small company with a $544 million market capitalization as of May 8, such an array of leading partners continues to stand as a testament to the technology Solazyme is now developing. The company made an extra effort in its conference call today in explaining the unique biological tool kit they've now developed. By highlighting the new tool of "positioning" in its tailoring capabilities, the company gains a competitive advantage in control over the structuring of an oil profile.
Management was clear in asserting that it believes no other company has ever substantially demonstrated the capabilities Solazyme now offers. As the only company thus far capable of offering such design flexibility, characteristic potency, and control in oil profile creation, Solazyme stands poised to capture a meaningful portion of tomorrow's markets which are likely to be dependent on significant characteristic changes in the base materials used to create them. The company has continued to assert that it's abilities to design oil profiles rivals that of agroscience companies such as Monsanto (MON) and DuPont (DD).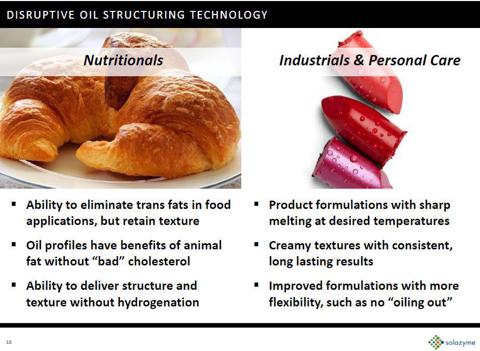 Strong Growth Ahead
The establishment of this new partnership with AkzoNobel now fortifies a base offtake arrangement for the Moema facility now under construction for Solazyme and Bunge's joint venture. Although the details remain sparse, the commitment of multi-thousand ton quantities to AkzoNobel provide further assurance that demand for the future products remains abundant. Yet management has often noted that it remains in the company's best interest to not book the entire facility's capacity. After all, Solazyme is able to leverage the technology's capability of quickly switching between products outputs while capacity remains unreserved. This may allow for increasing value added opportunities as the markets dictate.
As a result of this growing list of partners, Solazyme is beginning to demonstrate that demand for its products is quite abundant. Although the company's revenues fell short of analyst estimates in the latest quarterly results, investors need to remember that they are far from being representative of the company's primary operations to come. Despite the drop in revenue from last year, product revenues actually remained flat year-over-year at $4 million for each quarter. But as the first large-scale facilities come online in late 2013, analysts expect revenues to jump to $284 million by the end of 2014. Such triple-digit growth within the next two years remains the near-term catalyst that investors should bear in mind.
Conclusion:
The establishment of a new relationship with AkzoNobel remains another important milestone that continues to highlight the technology Solazyme has developed. Significantly large partners continue to not only align themselves with this small company, but also pursue joint development agreements for research and development that will be able to push the capabilities of what oils are currently able to do.
Most importantly, Solazyme appears to be one of just a few companies capable of addressing these large markets through sustainable solutions. Likewise, it undeniably appears to be the first to develop a structuring capability alongside chain length and saturation controls. This unique capability allows for Solazyme to develop oils that no other company is able to create and whose characteristics are very well known by large corporate customers.
Yet in light of these strong developments, the market has thus far failed to recognize the value proposition that is very quickly being realized by partner corporations. At a market capitalization of $544 million and with $239 million in cash and cash equivalents at the end of Q1 2013, Solazyme's operations are only being valued at a mere $305 million. This remains disappointing considering that ongoing construction already indicates triple-digit revenue growth in the coming year. Regardless of whether the market remains ready for what lies in store, the construction of the company's primary projects remain on schedule. The company's ability to execute its business plan appears to be the last question to answer.
Disclosure: I am long SZYM, BG. I wrote this article myself, and it expresses my own opinions. I am not receiving compensation for it (other than from Seeking Alpha). I have no business relationship with any company whose stock is mentioned in this article.