"The dollar in danger"
"U. S. dollar set to remain under pressure"
"Dollar declines to new multi-month lows against majors"
These are just a few samples of recent headlines.
The U. S. government's response to the worst financial crisis since the great depression with a massive, more than $13.5 trillion in pledged or potential outlays is taking a toll on the U. S. dollar.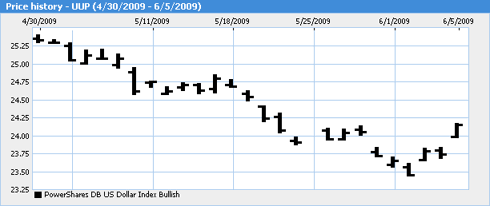 Rising unemployment and slumping corporate profits are crimping the U. S. Treasury's tax revenue. The credit worthiness of the U. S. government is raising concern and its AAA credit rating is something that cannot be taken for granted.
Against this backdrop, it is hardly a surprise that the appetite of foreign governments and investors for the U. S. dollar has diminished. The dollar's standing as the world's de facto reserve currency is impaired. Nations like China are actively looking to diversify their foreign exchange reserves away from the dollar.
The combination of liquidity circulating through the U. S. economy and a tanking dollar stokes inflation. And, investors are increasingly sensing inflation as a threat and seeking a safe-haven in gold.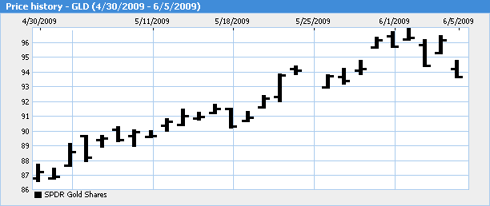 As the price of gold has vaulted, the assets invested in GLD have soared to $35 billion making it one of the largest exchange-traded entities.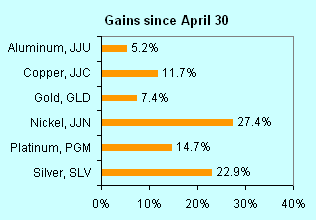 While gold has benefited from the lack of confidence in the U. S. dollar, dollar denominated industrial metals have one more factor going for them. Economic indicators from China, India, and Japan suggest that manufacturing activity is perking up. As a result, industrial metals like nickel and silver and to a lesser extent, copper and platinum have outrun gold. Aluminum has been an exception as supply overhang issues are a negative here.
Will industrial metals continue to lead gold?
The answer to this question depends on two factors: domestic troubles and overseas growth. Gold will shine if troubles for the U. S. economy intensify. Stronger growth in emerging markets will enable industrial metals to sustain the rally.
In any event, it makes sense to have some monies invested in emerging markets. Such investments provide the benefit of not only benefiting from growth in countries like Brazil and China but also gaining from a declining U. S. dollar.
Four Ways to Score.
For starters, you can invest in a broad basket of emerging markets through iShares MSCI Emerging Markets Index (NYSEARCA:EEM). Alternatively, you can focus your investment in Brazil, Russia, India, and China through Claymore/BNY BRIC (NYSEARCA:EEB). Adding more volatile country- or sector-specific investments like iShares MSCI Brazil Index (NYSEARCA:EWZ) or SPDR S&P Metals & Mining (NYSEARCA:XME) to a diversified portfolio can also be rewarding.
Disclosure: I do not have long or short positions in any of the securities discussed.