VimpelCom (VIP) is one of the world's largest integrated telecommunications services operators providing voice and data services through a range of traditional and broadband mobile and fixed technologies.
VimpelCom has a smaller market cap of $23.01B as compared to other mega telecom providers, such as AT&T (NYSE:T) ($205.15B) and Vodafone Group (NASDAQ:VOD) ($148.23B), as well as China Mobile (NYSE:CHL) ($223.96B). However, VimpelCom continues to grow rapidly with a well-executed corporate strategy, consolidating Russian market and expanding into adjacent businesses. VimpelCom covers a wide, diversified market, including Russia, Italy, Ukraine, Kazakhstan, Uzbekistan, Tajikistan, Armenia, Georgia, Kyrgyzstan, Laos, Algeria, Bangladesh, Pakistan, Burundi, Zimbabwe, Central African Republic and Canada.
Dividends and Upcoming Earnings
With strong 2012 results, VimpelCom was paying out $2.0 billion in dividends. The management is committed to paying annual dividends of at least $0.80 per share going forward. VimpelCom is expected to release its Q1, 2012 earnings result on May 15, 2013, where analysts are estimating revenue of $5.64B for the quarter. The company had 1 negative and 3 positive earnings surprises in the past 4 quarters.
Besides the solid dividends, VimpelCom is very strong fundamentally and is valued cheaply. VimpelCom has higher margins and returns compared to the industry average. VimpelCom also has an impressive revenue growth (3 year average) of 38.4 as compared to the industry average of -2.7. VimpelCom generates an operating cash flow of $7.26B with a levered free cash flow of $4.38B, ttm. From the valuation perspective, VimpelCom's P/E of 8.2 is well below the industry average of 41.5 and its Forward P/E of 5.3 is significantly lower than the S&P 500's average of 14.6. VimpelCom also offers a remarkably cheap cash flow (P/FCF of 4.33).
VimpelCom, A Star?
A quick comparison will be reviewed for VimpelCom and other telecom providers with similar cap size, including Telecom Italia (NYSE:TI) and Telefonica (NYSE:TEF). Telecom Italia is an Italy-based telecom company, engaged mainly in the fixed and mobile national and international telecommunications sector. Further, Telefonica, a Spain-based company, mainly provides fixed and mobile telephony services in Spain, Europe and Latin America. These three telecom companies will be compared for their revenues, ROE, ROA and P/E ratios.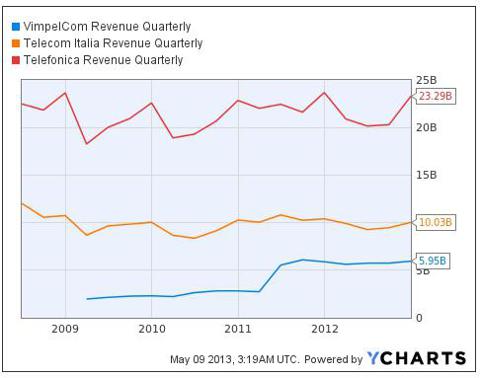 Source: YCharts.com
While Telecom Italia had not recovered its revenue to pre-2009 levels, Telefonica's revenue has been fluctuating in the range of $18B to $24B. VimpelCom, however, showed the real revenue growth since mid-2011.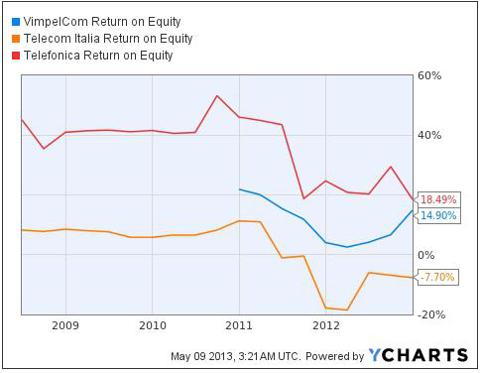 Source: YCharts.com
Telefonica's ROE has been declining since late 2010 while Telecom Italia is currently generating a negative ROE, even though its ROE has rebounded since early 2012. VimpelCom's ROE is picking up since early 2012 and is currently generating a solid ROE of 14.90% with a strong momentum to the upside.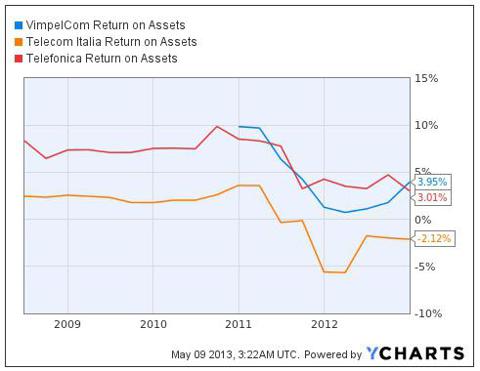 Source: YCharts.com
While both Telecom Italia and Telefonica's ROA are in the declining mode throughout 2011, Telefonica's ROA hasn't improved since late 2011 while Telecom Italia still generates a negative ROA. VimpelCom's ROA is picking up since early 2012 with positive upside momentum.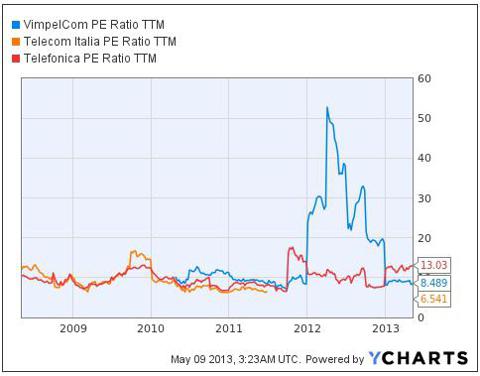 Source: YCharts.com
Telecom Italia has been operating at a loss since mid-2011, thus no P/E chart since then. VimpelCom's P/E has reduced dramatically since reaching its peak in early 2012 mainly due to increasing earnings. VimpelCom's P/E is currently lower than Telefonica, as well as the industry average.
Bottom Line
With well executed company strategy, VimpelCom continues to improve fundamentally with increasing earnings and returns. With solid revenue growth, VimpelCom should deserve higher valuation. At current valuation, VimpelCom offers a great bargain.
Disclaimer: Investors and traders are recommended to do their own due diligence and research before making any trading/investing decisions.
Disclosure: I have no positions in any stocks mentioned, but may initiate a long position in VIP over the next 72 hours. I wrote this article myself, and it expresses my own opinions. I am not receiving compensation for it (other than from Seeking Alpha). I have no business relationship with any company whose stock is mentioned in this article.