This year we have seen equity markets reach news highs in the US and abroad. While many would argue fundamentals remain weak, there is plenty of evidence to suggest equity markets offer much more to come.
Firstly let's start at the beginning - 2013 began with a bang, the US government reached an agreement to delay the fiscal cliff and this spurred investors to buy equities and were looking forward to a prosperous year of returns.
The US took the lead globally as economic data showed signs of recovery. However, Japan with its new Prime Minster coupled with Haruhiko Kuroda, the Bank of Japan governor, set to kick start the economy with aggressive monetary easing and fiscal stimulus. In response, foreign investors piled into Japanese equities sending markets flying.
There have been a few bumps along the way: the eurozone reminded investors there is still much to do before an economic recovery is in sight. The Italian elections first spooked investors, then a poorly handled Cyprus bailout spread fears once again of financial contagion and a run on the banks. Over a fairly brief period of a couple of weeks, markets soon rallied back. Despite a turbulent week during April markets have been somewhat resilient and coupled with better than expected economic data from the US and continued positive corporate earnings, markets continue to reach new highs.
So looking back, why has the market recovered so quickly from corrections?
The Italian election was the first real period of volatility this year, however from the initial digestion of the news, and markets falling over 1%, many investors saw this as an opportunity to buy into the market. The trend followed as the Cyprus bailout was nervously put together and over a period of two weeks markets had recovered from a 3% drop. More recently as gold (NYSEARCA:GLD) shed 13% in two days, coupled with a terrorist attack, markets again recovered over a period of two weeks. Despite the short term psychological impacts, it is evident there is a lot of momentum in equity markets. The chart below shows the S&P 500 (NYSEARCA:SPY) performance year to date.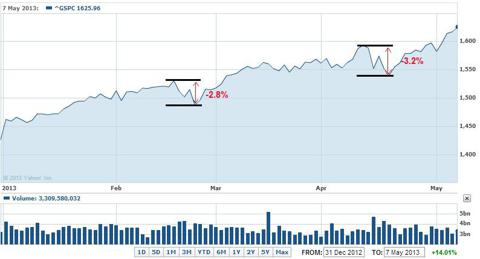 Source: Yahoo Finance
So why are people buying equities? This is down to two fundamental reasons. Firstly, equities look very attractive. Historically value is broadly in line with the historical 10 year average, however since 2008, companies and investors have been deleveraging in order to provide some financial security during times where the economy has been tough. As such, balance sheets became strong, revenues streamlined and companies more profitable. Capex and management aims have become more logical, focusing on both growth and profitability. With many companies sitting at similar or lower values than 5 years ago, with lower levels of debt and a more focused growth path it is evident why investors are keen to put their money to work.
| | | | | |
| --- | --- | --- | --- | --- |
| | Forward P/E | P/B | P/CF | Dividend Yield |
| US Equity Markets | 13.8 | 2.3 | 9 | 2.00% |
| Historical Average (10 yr) | 14.2 | 2.3 | 8.3 | 2.10% |
The second reason why investors are buying equities is the fact that there are not many other places that will offer a real return on your money. Cash and bond yields are next to nothing, many investors moved into bonds over the past few years as choppy markets drove investors to seek safe haven assets (including gold). As such bond prices reached new highs and those requiring liability matching were pushed further and further into a corner. Now a ten year Gilt yields 1.77% and a ten year US Treasury bond yields 1.8%. This will not do much for you if inflation continues at the subdued level of around 2% in the US and higher still in the UK.
Although bond prices have plateaued, developed government debt at these levels offers both a low yield and a fairly high interest rate risk. While some investors have ventured to high yield debt, the reward - risk has diminished. Historically high yield debt would have yielded around 10%, but now offering 5% some investors do not see the attraction.
With cash and bonds offering little solution, many have turned to equity markets despite the additional risk. The first quarter of this year has seen over $80bn net inflows into equity mutual funds, the largest inflow since Q1 2000. This is not just into passively managed funds but active managed funds have seen their first net inflow since the credit crisis. This is a fundamental message about the psychological state of investors and the sum of money that has been sitting on the side lines in cash. It also further highlights the momentum of money supporting equity markets.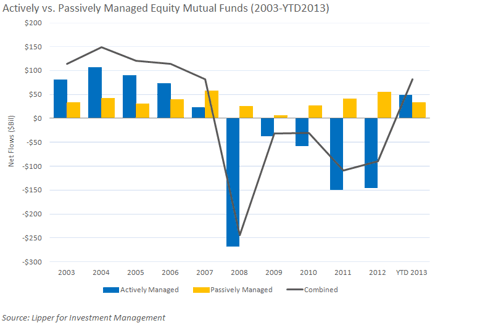 Source: Lipper
Companies that have done exceptionally well are the large cap dividend payers. This is driven by the "hunt for yield" and these generally defensive companies offer a lower volatile approach for those seeking entry into the equity markets.
With pension funds globally relatively slow to act, they may consider moving back to equity markets this year having increased bond exposure and alternative assets since 2008. With assets in excess of $30tn they could provide further support to equity markets over the coming months.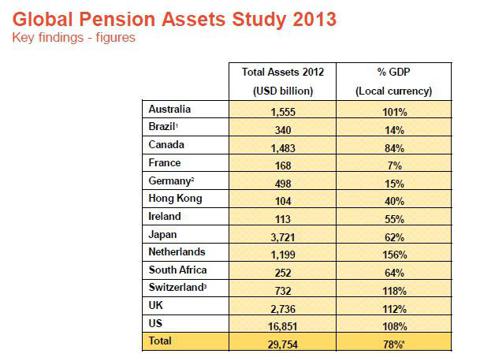 Source: Tower Watson 2013 Pension Study
The following chart shows how they have been positioned since 1995 and the level of equities has remained fairly subdued since 2008, and only a further 5% allocation to equities would equate to over $1.5tn further support to markets.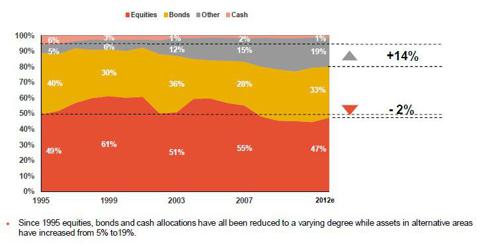 Source: Tower Watson 2013 Pension Study
Summary
Market corrections have been short lived due to periods of high volatility rather than underlying fundamental issues. Companies are attractively valued and the strengthened balance sheets have positioned them nicely for further revenue growth. Continued momentum of inflows to equity markets will provide further support against pullbacks. As pension funds look to alter their strategy as markets evolve, we could continue to see further inflows into mutual funds and equity markets this year. The saying "Sell in May" maybe should be "Buy in May?"
Disclosure: I have no positions in any stocks mentioned, and no plans to initiate any positions within the next 72 hours. I wrote this article myself, and it expresses my own opinions. I am not receiving compensation for it (other than from Seeking Alpha). I have no business relationship with any company whose stock is mentioned in this article.