We are highly leveraged.
These four words, hidden on page 24 of SeaWorld Entertainment's (NYSE:SEAS) prospectus, sum up the story of this newly structured company. Anyone who has looked into how a private equity deal is structured understands that debt is the No. 1 ingredient needed to boost returns for the investor. The least amount of equity you have to put up when making an acquisition, the better.
The Blackstone Group L.P. (NYSE:BX) proved to the world once again that when private equity works, the returns can be staggering. According to my calculations, which will be discussed in greater detail throughout the article, Blackstone earned a minimum return on equity of 177% during its three-and-a-half-year hold (note that I say minimum, because not all the relevant information was available when the company was private). Compare that to a return just shy of 50% for the S&P 500 over the same time period, and the genius of Blackstone reveals itself.
Brief Overview of the Deal
On Dec. 1, 2009, investment funds affiliated with Blackstone acquired 100% of the equity interests of SeaWorld LLC and SeaWorld Parks and Entertainment from Anheuser-Busch Companies, formerly BUD. The purchase price was $2.3 billion with Anheuser-Busch entitled to another $400 million if certain conditions were met (total price $2.7B). Total capital contributed by Blackstone was $1,010,000 with the remainder of the purchase price funded by debt.
Part of what makes Blackstone so good at what they do is the ability and guts to make acquisitions like this one. Think back to the macro environment during December of 2009, our country was in a severe recession and anything, which required discretionary spending seemed like a terrible investment. To invest in an industry plagued with high fixed costs selling a product to financially strapped consumers seemed ludicrous. Additionally, the ability to access debt during this time period was still quite difficult. However, given Blackstone's ties with other financial institutions and demand for high yielding investments, Blackstone was able to find lenders quite easily.
How the Return Is Calculated
The table below lists out all fees, dividends, interest payments and remaining stock Blackstone and its affiliates have accumulated. Blackstone has numerous separate entities established in its corporate structure and many played a role in the SeaWorld acquisition. Since all of these entities are subsidiaries, partners, or affiliates of Blackstone, the prospectus is loaded with sections disclosing the abundant conflicts of interests. Although Blackstone did not exclusively reap all the profits generated (investors in Blackstone funds are entitled to certain gains generated), they have profited on every transaction listed below. Whether through debt origination, advisory fees or management fees/performance fees (2% and 20% structure), the firm has turned a handsome profit thus far.
I also want to stress that my estimated return on equity number of 177.89% is conservative. Since the company has been private for the past few years, no public disclosures were required to be made. The only information provided is found in the Prospectus and S-1 filing. I was unable to locate many of the debt originators from the early years of SeaWorld's private life (these debt originators received interest and debt origination fees). If Blackstone participated in more debt issuance than disclosed in the prospectus, the return would be higher than I calculated.
| | |
| --- | --- |
| Original Purchase Price Dec. 1, 2009 | 2,300,000,000 |
| Incentives in addition to purchase price | 400,000,000 |
| Total purchase price | 2,700,000,000 |
| | |
| Underwriting fees | |
| 1,495,000 shares @ $1.62 per share | 2,421,900 |
| 2009 Advisory Agreement | |
| 2010 advisory fees | 4,704,000 |
| 2011 advisory fees | 6,012,000 |
| 2012 advisory fees | 6,201,000 |
| final terminating advisory fees | 47,000,000 |
| Special Dividends | |
| 2011 | 110,100,000 |
| 2012 | 500,000,000 |
| Senior Notes (rate reduced to 11% in 2013) | |
| 2009 (1 month) interest @ 13.5% | 1,125,000 |
| 2010 interest @ 13.5% | 13,500,000 |
| 2011 interest @ 13.5% | 13,500,000 |
| 2012 interest @ 13.5% | 13,500,000 |
| Premium received for early redemption | 3,850,000 |
| Tranche B Loans ($106.1 million) | |
| 2010 interest @ 3% | 3,183,000 |
| 2011 interest @ 3.5% | 3,713,500 |
| 2012 interest @ 4% | 4,244,000 |
| | |
| Total fees, interest, dividends | 733,054,400 |
| 62,837,008 shares @ $33 per share | 2,073,621,264 |
| Gain as of April 2013 | 2,806,675,664 |
| Return on Equity investment of $1.01B | 177.89% |
Source: SeaWorld Entertainment Prospectus.
The first item to look at is underwriting fees. Blackstone Capital Markets, along with Goldman Sachs (NYSE:GS), JPMorgan (NYSE:JPM), Citigroup (NYSE:C), Bank of America (NYSE:BAC), Barclays (NYSE:BCS) and Wells Fargo (NYSE:WFC) were the lead underwriters. I assume you have already picked up on the clear conflict of interest (Blackstone selling shares to the public of a company they took private). The selling commission was $1.62 per share and Blackstone was allotted 1.3 million shares to sell plus another 195,000, the pro-rata amount of the over-allotment. This gave the firm a $2.4219 million commission.
The second item is the 2009 Advisory Agreement put in place which allowed SeaWorld to receive "certain strategic and structuring advice and assistance" from Blackstone. These amounts were roughly $4.7 million, $6 million, and $6.2 million in 2010, 2011, and 2012, respectively. Pursuant to the "Advisory Agreement" (which indemnified Blackstone and its affiliates from any losses incurred by SeaWorld), upon termination a "termination fee" of $47 million would be paid to Blackstone. Not a bad clause to include in the contract.
The third line item is special dividends. This is a trademark of all private equity deals. Load up on debt, and then pay special dividends with the proceeds. You can see that Blackstone waited perfectly for the credit markets to open up and allow for the cheapest form of borrowing (floating rate loans) before paying themselves these handsome dividends. Investors expecting these robust dividends to continue will be thoroughly disappointed. The $110 million and $500 million dividends paid out during the prior two years will not come close to the $0.80 annual dividend per share SeaWorld expects to pay going forward.
The next line item is senior notes. $400 million of senior notes (the highest ranking in the capital structure) were issued to both Goldman Sachs ($300 million) and Blackstone ($100 million). Upon issuance the interest rate was 13.5% per annum. A call option embedded in the bonds stated that a premium of 111% will be paid for early redemption of the senior notes. Part of the offering proceeds from SeaWorld Shares will be used to pay down $140 million of these notes (proportionately between the two holders). Blackstone will take away $3.85 million from the call premium alone. The remaining principal of these bonds mature on Dec. 1, 2016, have a new coupon rate of 11%, and still contain call options at a premium.
The final line item is the tranche B loans which Blackstone owns roughly $106 million. These loans are floating rate with a floor of 1%-2%. My assumptions above assume interest rates bumped up by 50 basis points per year paying slightly more interest each period.
Adding all these fees, dividends and interest together gives Blackstone a grand total of $733 million in the past three and a half years. Blackstone still owns just under 63 million shares of SEAS, assuming a current share price of $33, and the current value of this position is just over $2.8 billion. With a beginning equity investment of $1.01 billion, Blackstone has earned roughly 178% on the SeaWorld Investment.
Buying SeaWorld Today
Simply looking at the financial statements provided to investors shows a SeaWorld company, which appears leaner and more profitable than a few years ago. While the impressive growth story and turnaround may impress certain individuals, it looks to me like a "pig wearing lipstick." While I am a believer in the brand long term, current valuations on this company are outrageous.
Using a comparison approach we can see what multiples other theme park operators currently trade at. SeaWorld Entertainment trades at 40x TTM earnings, Six Flags Entertainment (NYSE:SIX) trades at 10x TTM earnings, Cedar Fair (NYSE:FUN) trades at 23x TTM earnings, and Walt Disney Company (NYSE:DIS) trades at 20.5x TTM earnings. Since many of these competitors (excluding Disney) had negative EPS during the prior few years, we can simply invert the price-to-earnings ratio and look at the "earnings yield." The higher the earnings yield the more attractive the company. SeaWorld Entertainment has an earnings yield of 2.51%, compare this to the competitors listed below and you can see the massive premium this IPO demands.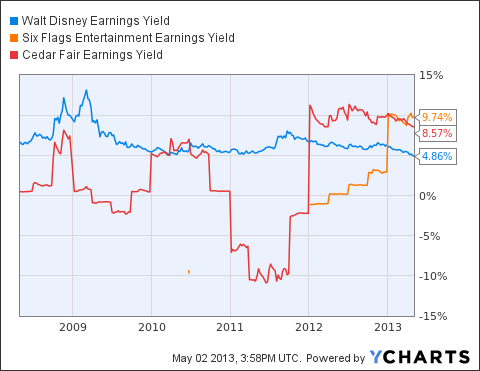 What concerns me the most as a prospective shareholder is the control that Blackstone continues to hold in this company. Even after the IPO, over 63% of SEAS shares are held by Blackstone. The corporate bylaws (which were written by Blackstone attorneys) essentially give the majority shareholders complete control over the company. One could look at this as an opportunity to partner with a brilliant management team and assign a premium to the share price as a result. My personal approach is one of concern. Given the large stake in SeaWorld, I believe Blackstone has every intention of making this company more profitable, but at the expense of who is where my concern begins. I quote page 27 of the prospectus (emphasis added):
Blackstone may have an interest in pursuing acquisitions, divestitures, and other transactions that, in its judgment, could enhance its investment, even though such transactions might involve risks to you. In addition, Blackstone could cause us to make acquisitions that increase our indebtedness or cause us to sell revenue-generating assets.
Call me crazy, but this conflict of interest appears to offer tremendous risk. Additionally, Blackstone owns a substantial stake in Merlin Entertainment Group, the operator of Lego Land Theme Parks, just a few miles from SeaWorld properties. There is no requirement for these two parks to play fairly and one business may be forced compete directly or indirectly with the other.
Other Risks
If the conflicts of interest weren't risky enough, keep reading through the prospectus and you will find more details to keep you up at night. While I recommend you take the time to read all relevant risks SeaWorld poses, which are listed in the Prospectus, I will highlight a few which might require extra attention. In connection with the SeaWorld offering the directors, executive officers, and majority holders of stock have agreed with the underwriters not to "dispose of or hedge any of our or their" common stock for a period of 180 days from the prospectus date (April 18, 2013). Six months down the road could mean heavy selling pressure in SEAS if insiders decide to liquidate after the lockout period.
"We may be unsuccessful in implementing required internal controls over financial reporting." SeaWorld was not required to comply with the SEC's rule of a formal assessment of internal financial reporting controls when it was a private company. They go on to say that in the audit for the years ending Dec. 31, 2011, and Dec. 31, 2012, "we identified significant deficiencies in our internal controls over financial reporting…" What this means to me is that hopefully the data presented to investors is accurate. Caveat emptor.
Conclusion
I am a strong believer in capitalism and think private equity serves a wonderful purpose in the financial markets. As I read through the SeaWorld offering I had to pause on numerous occasions and smile about the sheer brilliance of Blackstone. The ability to buy a struggling company during the worst financial crisis in decades, turn it around how only private equity can do, and then sell it to the public at bloated valuation levels with the issue oversubscribed is incredible. I commend the people behind the scenes wearing a Blackstone badge.
As a retail investor looking to acquire shares in SeaWorld, I would issue a strong word of caution. Although the growth story appears impressive, remember that these results came from significantly depressed levels and should not be expected to continue at this pace for long. When the lockout period expires we will truly see who is willing to stand behind this company.
Investors may be tempted to trade shares while the lockout period remains intact given that heavy selling pressure is not likely to occur. An example of a possible speculative play came from the large hedge fund Scout Capital Management who recently purchased 7.8% of the common stock outstanding. Consider your investment goals and objectives before initiating a position in SeaWorld Entertainment and remember that the value of investments in equity securities, like SEAS, will fluctuate in response to general economic conditions and to changes in the prospects of particular companies and/or sectors in the economy.
Note: All data reported and graphed is pulled directly from SeaWorld Entertainment's SEC filings.
Disclosure: I have no positions in any stocks mentioned, and no plans to initiate any positions within the next 72 hours. I wrote this article myself, and it expresses my own opinions. I am not receiving compensation for it (other than from Seeking Alpha). I have no business relationship with any company whose stock is mentioned in this article.