The set up for future consumer spending is not looking good at all. Higher taxes, poor aggregate hours worked growth, and a very poor savings rate are all lining up for a very weak consumer going forward.
Strong consumer spending is vital to the health of the U.S. economy today since personal consumption expenditures are about 71% of our GDP as of Q1 2013.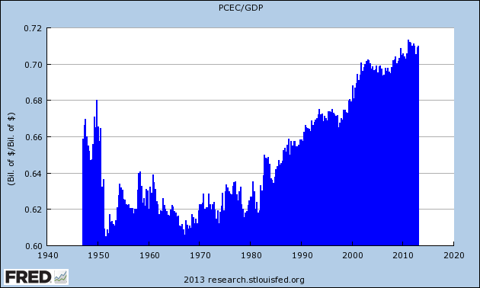 Of that 71% of personal consumption expenditures, retail and food services sales make up about 44% of the total.
Here is a chart of retail and food services sales as a percent of total personal consumption expenditures since 1992: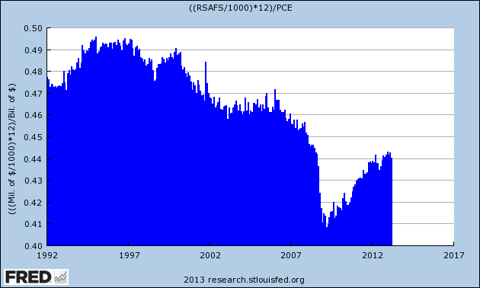 Retail and food services sales took a very big hit in the last recession, going from being 46% of the total of personal consumption expenditures to nearly 41%.
Looking at this chart of real retail sales, we can appreciate the collapse in sales: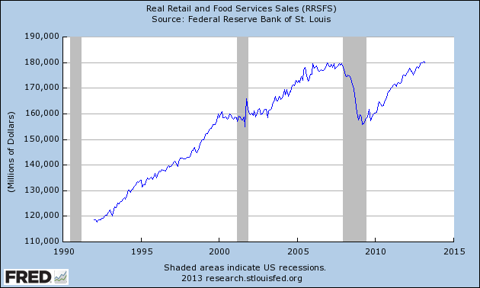 Below is a chart of the percent change from a year ago of both real retail and food services sales (BLUE) and real personal consumption expenditures (RED):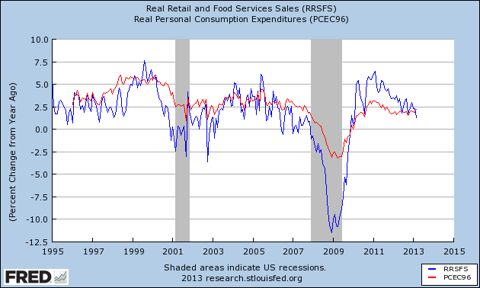 What this shows is that because retail sales were hit so hard in the last recession, going from 46% of personal consumption expenditures to 41%, the rebound to 44% accelerated the growth in retail sales.
That acceleration has come to an end and I believe retail sales at 44% of PCE looks to be the peak. Retail sales as a percent of PCE may well decline, which will actually accelerate the decline in retail sales.
I mentioned three factors in the top of this article that will affect consumer spending and I'll go through each one.
Higher Taxes: The 2% payroll tax cut holiday ended this year, so the average personal paycheck has seen 2% more in taxes being taken out, which has reduced the disposable personal income.
Here is a one-year chart of the percent change from a year ago of disposable personal income per capita where you'll notice the blatant impact of this payroll tax has had on consumers after-tax disposable income: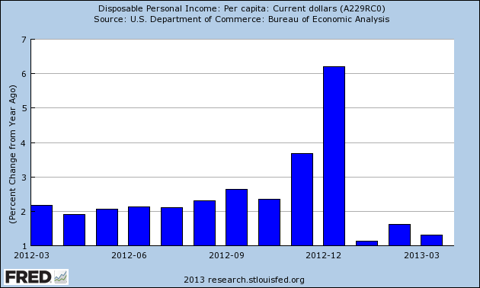 Note: The above chart is not inflation adjusted, but nominal
Poor Aggregate Hours Worked Growth: I had pointed out in a previous article about how the April Jobs report saw the largest month-over-month decline in aggregate hours worked since the recovery began.
It's far more objective when looking at the monthly jobs report to look at aggregate hours worked and not just the number of jobs added or lost.
On a year-over-year percent change of aggregate hours worked, based on total non-farm employees X average weekly hours of private workers, the percent change has been trending down: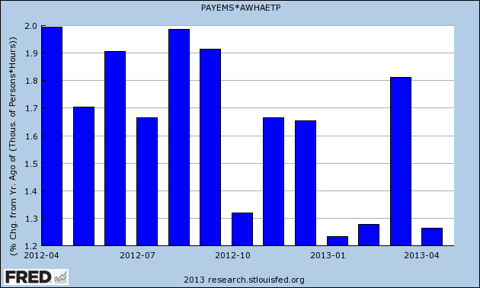 Personal Savings Rate: If there is one reason for why the 2% payroll tax hasn't affected retail sales as bad as economists had expected, it's because consumers simply saved less of their incomes versus cutting expenditures they could no longer afford.
This is a chart of the personal savings rate for the past six years: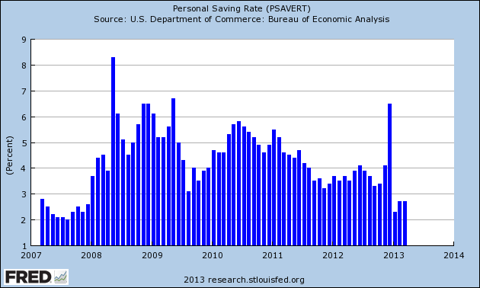 When the recession hit our economy in 2008 and 2009, consumers got very scared and stepped up their savings from the low to mid 2% range to the 6%+ range. That 4-5% jump in the savings rate hit squarely on to retail sales.
Today, we are again back to the low-to-mid 2% range in the personal savings rate.
When the next recession comes, and we don't know when it'll come but we do know it's coming, we can expect two things:
1. The savings rate will rise
2. Consumers will hunker down and slow their discretionary spending
The retail stocks (NYSEARCA:XLY), which went down hard just as retail sales went down hard, rallied back even harder as retail sales saw the accelerated year-over-year gains these past 3+ years.
If retail sales begin to decline again year over year in the months ahead, retail stocks may well face serious pressure on valuation concerns.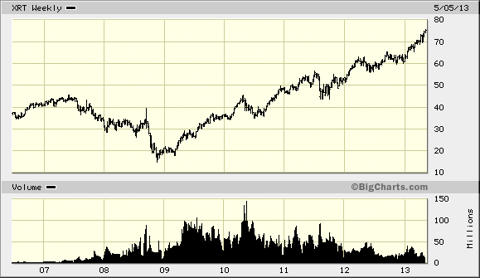 We're already seeing the pain on the sales front.
Clorox (NYSE:CLX) recently reported its 1st-quarter results and management noted the following about sales in its 10-Q:
"Net sales increased 1% in the current quarter, while volume remained flat."
Management noted that for products that saw volume declines like Pine-Sol and Fresh Step Cat Litter, volumes were down due to price increases.
It's very telling that companies are not able to effectively pass along price increases to consumers any more without seeing a dent in aggregate demand. It's also economics 101.
Proctor & Gamble (NYSE:PG) noted in its most recent quarter's 10-Q that ended March 31:
"Net sales increased 2% to 20.6 billion for the third quarter on a 2% increase in unit volume versus the prior year period."
McDonald's (NYSE:MCD) noted in its most recent quarter 10-Q which ended March 31, with regards to U.S. sales, which were down 1% from the prior year:
"In the U.S., the decrease in revenues for the quarter was due to negative comparable sales reflecting the challenging eating-out environment."
Harley Davidson (NYSE:HOG) noted in its most recent quarter's 10-Q ended March 31:
"During the first quarter of 2013, worldwide independent dealer retail sales of new Harley-Davidson motorcycles decreased 9.1% compared to 2012, including a 12.7% decrease in the U.S. and a 1.8% decrease in international markets."
While this is just a sample of some of the largest consumer retail related companies, it's quite telling of the status of what's happening in the retail sector. They are struggling to get both the top line up as well as volume up.
The headwinds are strong. Growing the top line for U.S. sales will be especially tough without growing volume as simply raising prices may well backfire on volume growth. Lowering prices to get volume growth up will likely eat into margins making growing profits even more difficult.
On Monday, we'll get the Retail Sales report for April, in which I expect the year-over-year percent change to get closer to 0% and eventually go negative in the months ahead.
Have low expectations for both sales and profit growth in the retail sector.
Disclosure: I have no positions in any stocks mentioned, and no plans to initiate any positions within the next 72 hours. I wrote this article myself, and it expresses my own opinions. I am not receiving compensation for it (other than from Seeking Alpha). I have no business relationship with any company whose stock is mentioned in this article.