This article analyzes the most recent quarterly and the trailing twelve months ("TTM") results of Buckeye Partners L.P. (NYSE:BPL) and looks "under the hood" to properly ascertain sustainability of DCF. The task is not easy because the definitions of "Adjusted EBITDA" and Distributable Cash Flow ("DCF"), terms typically used by master limited partnerships ("MLPs") to denote the primary measures to evaluate their operating results, are complex. In addition, each MLP may define these terms differently which makes comparison across MLPs very difficult. Nevertheless, this is an exercise that must be undertaken to ascertain what portions of the distributions being received are really sustainable. For example, MLPs distributions that are funded by issuing debt or through issuance of additional partnership units cannot be considered sustainable. In a downside scenario, MLPs that finance distributions from unsustainable sources or are totally reliant on debt and equity to finance growth capital will suffer significantly greater price deterioration.
Revenues, operating income, net income and earnings before interest, depreciation & amortization and income tax expenses (EBITDA) for the periods under review are presented in Table 1 below. Given quarterly fluctuations in revenues, working capital needs and other items, a review of TTM numbers tends to be more meaningful than quarterly numbers for the purpose of analyzing changes in reported and sustainable distributable cash flows. However, I present both:

Table 1: Figures in $ Millions, except million units outstanding
The decrease in revenues for the TTM ended 3/31/13 compared to the prior year period is primarily attributable to a decline in net sales volume for the Energy Services segment, which was partially offset by a significant revenue increase in the Pipelines & Terminals segment, as well as by increased storage revenue as a result of incremental storage capacity brought online at BORCO in the second half of 2012. Pipelines & terminals benefited primarily from the impact of recent acquisitions, including the assets acquired from BP and ExxonMobil in mid-2011 and the Perth Amboy Facility acquired in the second half of 2012.
The favorable comparison of operating income and net income numbers for the TTM ended 3/31/13 vs. the TTM ended 3/31/12 primarily results from a $170 million goodwill impairment charge for the Lodi acquisition in 3Q11. Also, as previously noted, results for the TTM ended 3/31/13 include partial contributions from Perth Amboy and the BORCO expansion, which are absent from the numbers in the prior year period.
The favorable comparison of operating income and net income numbers for 1Q13 vs. 1Q12 primarily results from increased throughput volumes and revenue in the Pipelines & Terminals segment, as well as increased earnings contribution from the Energy Services segment which benefited from improved rack margins,
Adjusted EBITDA is the primary measure used by BPL's management to evaluate each business segment, overall performance, resource & capital allocation, and the viability of, and rates of return on, proposed projects. Adjusted EBITDA improved significantly in the TTM ended 3/31/13 vs. the TTM ended 3/31/12. Contributions to Adjusted EBITDA by segment are presented in Table 2 below:

Table 2: Figures in $ Millions
Management noted that the increase in Adjusted EBITDA in 1Q13 vs. 1Q12 was primarily related to positive contributions from growth capital spending and higher blending capabilities, particularly butane blending, in the Pipelines & Terminals segment, as well as increased storage capacity and customer utilization of the BORCO facility in the International Operations segment. The higher margins at the Energy Services segment were primarily the result of renewable identification number ("RIN") sales. RINs are tradable "credits" that the Energy Services segment generates by blending biofuels into finished gasoline or diesel products. through its ethanol blending and bio-blended diesel activities. The market for RINs, which are legislatively required to be purchased by refiners, experienced a substantial increase in value during the quarter.
The favorable comparison of Adjusted EBITDA for the TTM ended 3/31/13 vs. the TTM ended 3/31/12 was primarily driven by the factors cited above and, additionally, by a full period of operating activities for acquisitions made in 2011.
The generic reasons why DCF as reported by an MLP may differ from what I call sustainable DCF are reviewed in an article titled "Estimating sustainable DCF-why and how". BPL's definition of DCF and a comparison to definitions used by other MLPs are described in an article titled "Distributable Cash Flow". Using BPL's definition, DCF for the TTM ended 3/31/13 was $443 million ($4.45 per unit), up from $304 million ($3.25 per unit) in the prior year period. A comparison between reported and sustainable DCF is presented in Table 3 below: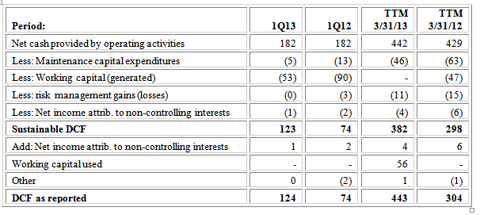 Table 3: Figures in $ Millions
There are no appreciable differences between reported and sustainable DCF except for the TTM ending 3/31/13. In that period, the difference is related to the treatment of working capital.
Under BPL's definition, reported DCF always excludes working capital changes, whether positive or negative. In contrast, as detailed in my prior articles, I generally do not include working capital generated in the definition of sustainable DCF but I do deduct working capital invested. Despite appearing to be inconsistent, this makes sense because in order to meet my definition of sustainability the master limited partnerships should, on the one hand, generate enough capital to cover normal working capital needs. On the other hand, cash generated from working capital is not a sustainable source and I therefore ignore it. Over reasonably lengthy measurement periods, working capital generated tends to be offset by needs to invest in working capital. I therefore do not add working capital consumed to net cash provided by operating activities in deriving sustainable DCF. Cash consumed by working capital accounts for $56 million of the $61 million variance between reported and sustainable DCF in the TTM ending 3/31/13.
Coverage ratios for are presented in Table 4 below:

Table 4 Figures in $ Millions (except Coverage Ratios)
Both reported and sustainable DCF showed impressive increases in 1Q13 over 1Q12. Coverage ratio based on sustainable DCF exceeded 1.0x in 1Q13 after being below that threshold for 8 consecutive quarters (since 1Q11). This is indeed a positive development and the increase in the quarterly distribution, from $1.0375 (where it had been for the past 5 consecutive quarters) to $1.0500 for 1Q13, reflects management's optimism that BPL has turned the corner.
I find it helpful to look at a simplified cash flow statement by netting certain items (e.g., acquisitions against dispositions) and by separating cash generation from cash consumption. Here is what I see for BPL:
Simplified Sources and Uses of Funds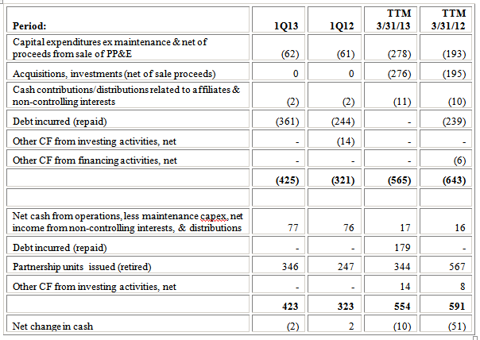 Table 5: Figures in $ Millions
Table 5 indicates net cash from operations after deducting maintenance capital expenditures and distributions was essentially unchanged in the periods under review. But we know from Table 3 that in 1Q12 a much larger portion of that number is was attributable to cash generated by liquidating working capital. Likewise, the number for the TTM ending 3/31/12 benefited from $47 million of working capital liquidation while the number for the TTM ending 3/31/13 was burdened by an investment in working capital of ~$56 million.
Table 5 also indicates BPL did not fund distributions in the periods under review by issuing debt and/or equity and seems to have begun to generate a cash cushion. Hopefully, this will prove to be a sustainable trend.
BPL's current yield has come down significantly as a result of unit price appreciation of close to 50% since year-end 2012. A comparison to some of the other MLPs I follow is shown in Table 6 below:
| | | | |
| --- | --- | --- | --- |
| As of 05/09/13: | Price | Quarterly Distribution | Yield |
| Magellan Midstream Partners (NYSE:MMP) | $52.79 | $0.50750 | 3.85% |
| Plains All American Pipeline (NYSE:PAA) | $58.59 | $0.57500 | 3.93% |
| Enterprise Products Partners (NYSE:EPD) | $61.44 | $0.67000 | 4.36% |
| Inergy (NRGY) | $23.78 | $0.29000 | 4.88% |
| El Paso Pipeline Partners (NYSE:EPB) | $43.16 | $0.62000 | 5.75% |
| Targa Resources Partners (NYSE:NGLS) | $48.16 | $0.69750 | 5.79% |
| Kinder Morgan Energy Partners (NYSE:KMP) | $87.63 | $1.30000 | 5.93% |
| Buckeye Partners | $67.02 | $1.05000 | 6.27% |
| Williams Partners (NYSE:WPZ) | $50.80 | $0.84750 | 6.67% |
| Regency Energy Partners (NYSE:RGP) | $26.47 | $0.46000 | 6.95% |
| Boardwalk Pipeline Partners (NYSE:BWP) | $30.17 | $0.53250 | 7.06% |
| Suburban Propane Partners (NYSE:SPH) | $49.21 | $0.87500 | 7.11% |
| Energy Transfer Partners (NYSE:ETP) | $50.02 | $0.89375 | 7.15% |
Table 6
BPL expects to spend a total of ~$330 million on expansion and cost reduction projects in 2013. As noted, BPL has begun generating some excess cash which could help fund these capital expenditures, but the bulk will have to be funded by debt, equity or asset sales. It had only ~$4.5 million cash on the balance sheet and long-term debt that, at ~$2.5 billion, is at 4.6x EBITDA and 4.1x Adjusted EBITDA. These levels are quite high (although significantly better than the 5.6x EBITDA and 4.9x Adjusted EBITDA levels as of 12/31/12). Given that and the run-up in unit price, I believe it is likely BPL will issue additional equity to partially fund expansion projects in 2013.
Also still of concern is the Federal Energy Regulatory Commission (FERC) order of March 30, 2012, that disallowed proposed rate increases on the Buckeye System that would have become effective April 1, 2012. The proposed rate increases were expected to increase BPL's annual revenues (and, I presume, EBITDA) by approximately $8 million. But if forced to resort to FERC's generic rate setting mechanism, the adverse impact goes well beyond forgoing this increase and could have a substantial adverse affect on BPL because it would lower tariffs on pipelines that account for ~70% of BPL's revenues. Uncertainty remains even post the February 22, 2013 Ratemaking Methodology Order issued by FERC as to the impact on future changes to BPL's rates in markets outside the New York City market. In addition, the ultimate resolution of the complaint of certain airlines regarding jet fuel rates to the three major New York City area airports could impact rates to those destinations. BPL is in active settlement discussions with respect to the ongoing complaint regarding transportation of jet fuel to the New York City airports. I saw this is as a major issue overhanging BPL. Many observers and investors view it much less seriously. With the unit price up so sharply, the latter may be proven right but I remain uncomfortable with the risk.
Disclosure: I am long EPD, EPB, ETP, PAA, SPH, WPZ. I wrote this article myself, and it expresses my own opinions. I am not receiving compensation for it (other than from Seeking Alpha). I have no business relationship with any company whose stock is mentioned in this article.