Other articles in this series have concentrated on articles and brokerage reports demonstrating that the market for memory chips is tightening up and that Micron (NASDAQ:MU) will benefit. The last decade has winnowed the number of players in the memory chip market down to an oligolpoly -- all of them should also benefit. This includes Samsung (OTC:SSNLF), Hynix (OTC:HXSCF), Toshiba (OTCPK:TOSBF), and SanDisk (SNDK) who are the other large players, besides Micron.
Yesterday SanDisk held an Investor Day and presented several excellent slides, in a 6 hour long presentation, outlining their view of the market outlook for non-volatile NAND computer memory. This was a well done event and investors in almost any aspect of the computer memory market would do well to download and study the 200+ slide presentation deck. SanDisk and their fab partner Toshiba are only involved in the NAND part of the business, which is a large part of Micron's revenue. The trends that SanDisk laid out are very helpful.
The following four charts show "Demand Drivers" and SanDisk's estimate of the size of the relevant device market from 2012 to 2016, and, most importantly the NAND content per device (in the black horizontal bar below the vertical bars) at the two endpoints.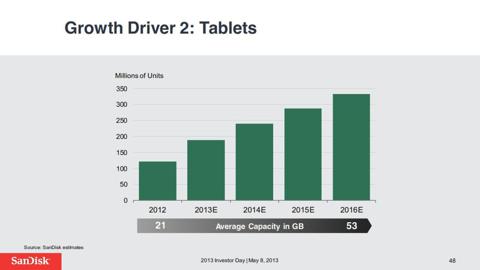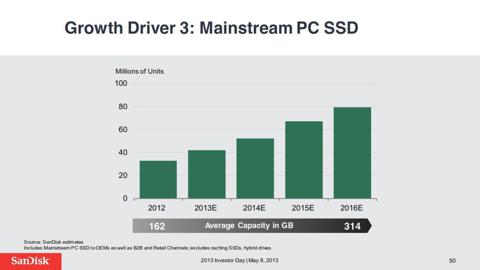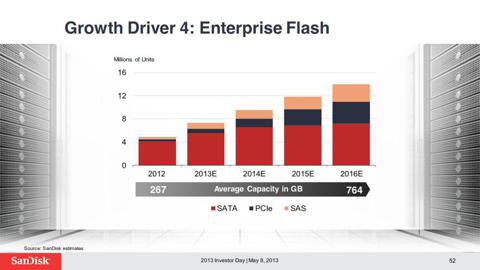 The following table attempts to summarize these charts. Forgive any errors in my attempt to decipher millions of units accurately. The chart takes the beginning market size for each segment and multiplies it by the NAND content, and does the same for the 2016 final year in order to get a total number of GB per segment.
2012
2016

units

(NYSE:MM)

GB

Sub

total

units

GB

Sub-

Total

Multi-

ple

Smartphone
700
12
8400
1200
21
25200
3.0
Tablet
120
21
2520
340
53
18020
7.2
SSD
35
162
5670
80
314
25120
4.4
Enterprise
5
267
1335
14
764
10698
8.0
Total GB
17925
79036
4.4
Comments and Summary: Of the Demand Drivers shown, I believe Solid State Drives could see more explosive growth. An IHS Study that came out earlier this week expects the number of SSDs in 2017 to be 227 million, far above the 80 million in SanDsk's chart. Inserting a slightly lower number of 180 million in the table above, since it is a year earlier, yields 71,278 million GB -- almost 3x the number for that one segment.
In any event, neither SanDisk nor any Wall Street analyst that I have read has laid out the number in the lower right corner of the table. If correct, SanDisk is predicting that the demand bit growth for NAND is 4.4x over the next 4 years. This equates to a CAGR of 45%. The higher case for SSDs would be a CAGR of 63%. In the meeting, SanDisk predicted industry growth rate in NAND capacity of 7% for 2013. Morgan Stanley and others have predicted capacity growth of 30-40% for 2014. It looks like a major squeeze is developing.
Disclosure: I am long MU. I wrote this article myself, and it expresses my own opinions. I am not receiving compensation for it (other than from Seeking Alpha). I have no business relationship with any company whose stock is mentioned in this article.