Pep Boys (NYSE:PBY) auto parts retailers reported first quarter results that surpassed the most bullish of estimates. The company has been in a prolonged restructuring as it was 2005 the last time the company reported an annual profit. This quarter puts the company on the right track towards achieving that goal, as the company reported net income of $11.1 million in the quarter or 21 cents per share. Analysts estimates ranged between profits of 4 cents a share and 11 cents a share, so the actual results were nearly twice the bullish end of the range. The results were aided by $6.2 million gain in bond repurchases, which accounted for more than half of the operating profits. Overall sales and same store sales were both down ever so slightly compared to last year, but not enough to be of any real consequence.
Shares are posed to open higher on the results, as they are up nearly 9% in the pre market. This continues the stocks strong performance over the last few months, which had seen the shares under $3 for a period in early March. Since reaching those lows, the stock has tripled and will likely open over the $9 mark. Clearly, the market is starting to reward the restructuring efforts that have been underway for years, and the overall improvement in the market does not hurt this stock with a beta of close to 2.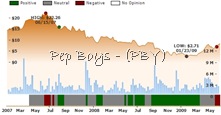 While the performance of Pep Boys seems to be improving over the past few months, as of our most recent report we value PBY as Overvalued. Fundamentally, the stock is too fragile to warrant an upgrade at this time. The stock is currently trading within the historically normal ranges of price-to-sales and price-to-cash earnings ranges. However, sales topped out in 2005 and have yet to make it back to those levels. There is no doubt that the company has benefited from consumers keeping there cars longer, but with new auto sales starting to stabilize, it is unclear how long they can count on this trend to continue. Furthermore, the company's management has found it necessary to suspend its dividends, which is the right move at this point. Still, for a company that has a history of paying a dividend to discontinue its dividend is a negative factor in our analysis.
Pep Boys was dragged down so far in this market that the rapid appreciation over the last few months was a necessary correction to clear the oversold condition. However, now that the stock is trading above $9 it is approaching the top of Ockham's rationally expected price range of $6 to $10. In order to become more positive on the shares we will need to see sales and earnings begin to grow in order to justify the much improved stock price.