With the price of gold once again approaching $1,000 an ounce, UBS has taken another look at its gold sector coverage and raised its price targets on most of the 10 senior gold producers in its coverage universe.
Citing strong operating performance after recent first quarter results and currency adjustments, analyst Brian MacArthur has raised 12-month target prices on average 8%.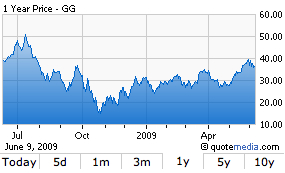 Of note is Goldcorp (NYSE:GG), which has performed so strongly in recent months it has priced itself out of most investors' reach.
"Given the shares are up 19% on one month, we downgrade our rating from Buy to Neutral," Mr. MacArthur said in a note Tuesday.
He has upped the target price to $40 from $37 to reflect the closing of a recent C$840-million private offering to be used to pay off about C$330-million in debt and capital expenditures, as well as low overall cash costs, un-hedged growth, low political risk and exploration potential.
The company also expects to increase production more than 50% in the next five years, to 3.5 million ounces.
Elsewhere in the sector, Mr. MacArthur has raised Alamos Gold (AGIGF.PK) to a "Buy" from "Neutral" with a new target price of C$11.50, from C$11. He is also sweet on Eldorado Gold (NYSE:EGO) and Gammon Gold (GRS), both of which get double-digit increases in their target prices and maintain a "Buy."
The only gold producer with no change is Centerra Gold (OTCPK:CAGDF), which remains at C$9.75 and keeps its "Buy" rating.