BreitBurn Energy Partners (BBEP) is an upstream MLP. This sector has come under heavy fire as of late, with units of BreitBurn losing as much as 8% of their value in less than a week when adjusting for the recent distribution. BreitBurn is unique among the upstream MLPs in that a large chunk of its production is priced at Brent prices. BreitBurn currently offers a $0.475 quarterly distribution and yields about 10%.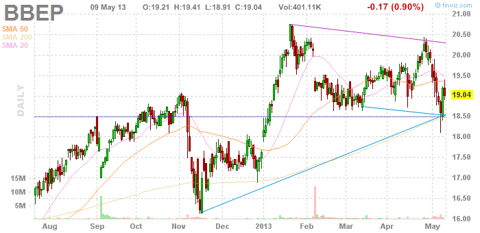 BreitBurn has a diversified asset based, with production throughout the US. During 2012, BreitBurn's production averaged 26,426 BOE/D and estimated proved reserves totaled 149.4 MMBOE. The majority of BreitBurn's proved reserves are located in Michigan and Wyoming, which combined have 60% of proved reserves. During 2012, BreitBurn's production mix was about 42% oil, 2% NGLs, and 56% natural gas.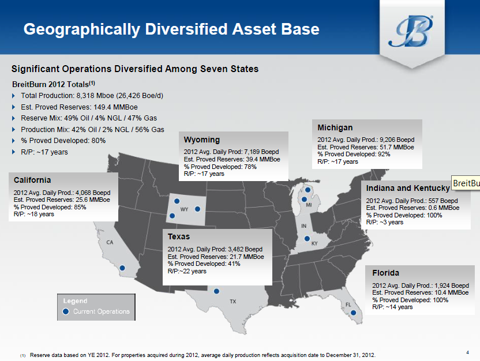 On May 3, BreitBurn reported its Q1 2013 results. BreitBurn saw total production of 2.35 MMBOE, an 18% increase from Q1 2012 levels. However, when compared with Q4 2012, total production only increased 6%. Liquids represented 51% of the total production, or 1.21 MMBOE, 40% higher than Q1 2012 levels. During the quarter, BreitBurn drilled 16 wells, completed 10 workovers, and spudded 22 additional wells. BreitBurn has projected a total of 135 well drillings for its 2013 capital program, with the vast majority of capital dedicated towards oil projects.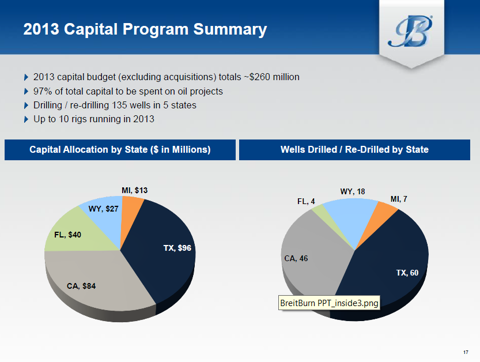 BreitBurn saw total oil and natural gas sales revenues of $120.4M during the quarter, up 6% from Q4 2012. Lease operating expenses also rose 3% to $19.42 per BOE, when compared with Q4 2012. However, BreitBurn did see its G&A expenses decline 4% to $4.29 per BOE, when compared with Q4 2012. During the quarter, realized crude oil and NGL prices averaged $78.12 per BOE, while realized natural gas prices averaged $5.43 per MCF. This is respectively a 15% and 12% decline when compared to the $91.38 per BOE and $6.14 per MCF, in Q4 2012.
During the quarter, BreitBurn saw adjusted EBITDA of $64.1M, a 45 increase from Q1 2012. However, when compared to Q4 2012, adjusted EBITDA actually declined 18%. Most of the decline came from BreitBurn seeing lower realized gains on derivatives, weaker oil differentials in Wyoming and Texas, and softer NGLs prices.
One area of weakness for BreitBurn in the quarter was its distribution coverage ratio. During the quarter, the coverage ratio was only 0.67X, well below the targeted range of 1.10X to 1.20X. However, BreitBurn does expect for the coverage range to improve due to increased production from its capital program and from its shift towards liquids. For Q2 2013, the coverage ratio is expected to be slightly below 1.0X and improve to 1.10X to 1.20X by Q4 2013.
Regarding hedges, BreitBurn's CEO Halbert Washburn explained during the Q1 2013 conference call that:
Our goal is to be 80% hedged in year one, 75% hedged in year two, 78% hedged in year three, 60% hedged in year four, and 50% hedged in year five. We expect to add additional oil and gas hedges throughout the year to achieve these targets. And we'll continue our practice of hedging acquisitions very aggressively.
Assuming the midpoint for its 2013 production, BreitBurn has 79% of its 2013 production hedged, 74% in 2014, 71% in 2015, 49% in 2016, and only 10% by 2017. When compared with similar upstream MLPs, BreitBurn remains one of the least hedged.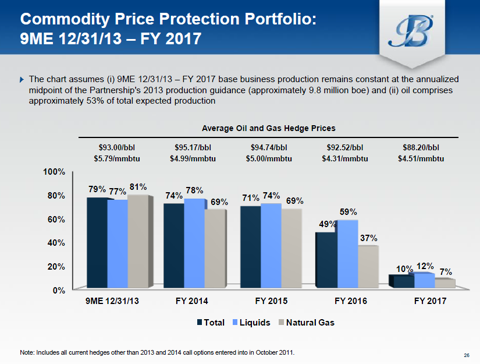 Conclusion
During the quarter, BreitBurn was not able to cover its distribution with its cash flow. BreitBurn also guided for a sub 1.00X coverage ratio for Q2 2013. In addition, it is one of the least hedged upstream MLPs. However, BreitBurn does have some of the better production growth prospects among the upstream MLPs. Its capital budget is relatively large and liquids focused, which should help the company eventually achieve its distributable cash flow metrics and improve its coverage ratio later on in 2013.
Disclaimer: The opinions in this article are for informational purposes only and should not be construed as a recommendation to buy or sell the stocks mentioned. Please do your own due diligence before making any investment decision.
Disclosure: I have no positions in any stocks mentioned, and no plans to initiate any positions within the next 72 hours. I wrote this article myself, and it expresses my own opinions. I am not receiving compensation for it (other than from Seeking Alpha). I have no business relationship with any company whose stock is mentioned in this article.