Bonanza Creek (NYSE:BCEI) Reports 1Q13 Miss On Fewer Well Hook Ups And Higher Costs; Reiterates 60% Year-Over-Year Growth Guidance; Look For The Ramp From Here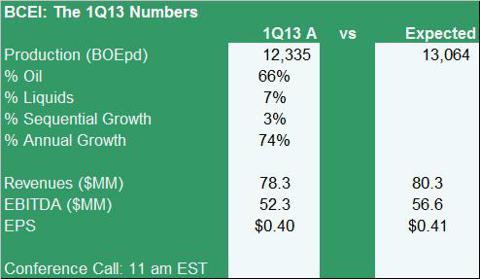 The 1Q13 Numbers: Two items are responsible for the miss relative to consensus.
Volume growth was more sluggish than expected by the Street as seen in the table above. This is not a well performance issue but one of timing. Sequential volume growth was impaired due to a relatively low net well add count in the quarter (6.5 new net wells were tied to sales out of a 64.5 net operated well program for this year). Moreover, half of the wells tied to sales in the quarter fell to March and therefore gave little contribution to the quarter's volumes. Management noted it expects to complete 8 wells per month by the end of this quarter. In progress toward this goal they noted that 6 wells came on line in April alone. So this is a non issue for those with a non day trading investment time line. Look for management to offer a higher current rate or month of April average on the call.
LOE was up sharply on a sequential basis in raw dollar terms and on a BOE basis (4Q12 at $7.42 per BOE vs. 1Q13 at $10.01). Without further detail on the cause here we have to think winter costs and perhaps workover expenses that are less frequently occurring in nature drove the spike. Normally, horizontal wells are lower LOE so again, we will look for color from management on this on the call but know that we don't expect some kind of change in long-term cost thinking here.
Guidance: Management does not provide quarterly guidance but did reiterate full-year 2013 guidance which equates to 62% on the mid YoY. So volume guidance is a little more backend loaded than the Street anticipated.
Highlights:
The Niobrara B program showed a slight drift down in 30 day rates, a slight drift up in 60 day rates, and they released a new 90-day average rate of 350 BOEpd. These results are tracking the expected type curve. I would not expect the company to think about altering that curve at this time.
The previously announced success in the Niobrara C and Codell (1 well each) saw 90 day rates in the quarterly release of 340 and 335 BOEpd, respectively... remarkably consistent with the Nio B results but obviously, the sample size is still too small to extrapolate much meaning from unless we lump in results from PDCE and NBL who are further along in their delineation of these deeper zones. Then we are more encouraged in that although it's the same real estate, it's not that far away either. BCEI has completed a second Codell well that they may talk about on the call and we should hear them communicate the timing of further Nio C and Codell delineation for 2H13.
The previously announced extended long lateral well showed only a slight decline from its 30-day rate (795 BOEpd) to its 60-day rate. (A second one is being completed now. Caveat on this well is that not all of the wellbore was able to be stimulated so on a fractured length adjusted basis we see this rate as encouraging and comparable to the results of NBL's program.)
BCEI noted encouraging early results out of the 5 acre downspacing pilots in the Cotton Valley. We don't expect them to give a go / no go here until closer to year end but the better-than-expected comment regarding three wells in the test is a positive sign that this cash cow will keep pumping dollars over to its sexier Niobrara company counterpart for a long time.
Nutshell: 1Q13 was a miss and we think a completely forgivable one. Moreover, we don't think a $5 mm EBITDA miss is worth a $100+ mm haircut in market cap, especially when the reaction is knee-jerk and not facts based, and we may use Thursday's dip as an opportunity to add to our position if the move gets silly. A little more color on outlier numbers in the press release might be in order in the future, otherwise we say "nice job" and look forward to the re-ramp from here. On the conference call we expect to hear about: 1) early color on the 40 acre program, 2) the timeline this year for the further delineation of the Codell and Niobrara C zones as the early results look quite positive as well as any new thoughts on extent across their position of these two formations, and 3) the timing of results on the second long lateral (guessing that will be once they have 30 days of data at which point they might just wait for the 2Q13 call and at which time we expect them to talk about possibly accelerating that program in 2014).
The nutshell of the nutshell is that one quarter does not make or break a name for us just about ever. Look for them to give a current rate on the call that should help shore up near-term sentiment. Given the oily growth here and high potential for inventory expansion this year into the deeper zones of the Wattenberg, we think 6.1x and 4.2x multiples of 2013 and 2014 are more than reasonable. We continue to own the name in the ZMT and ZLT C accounts and in the ZLT as a top five position.

Disclosure: I am long BCEI. I wrote this article myself, and it expresses my own opinions. I am not receiving compensation for it (other than from Seeking Alpha). I have no business relationship with any company whose stock is mentioned in this article.