On Thursday morning, biotech darling Dendreon (NASDAQ:DNDN) reported its fiscal first quarter earnings report. The quarter for Dendreon was absolutely dreadful. Revenues completely fell apart, falling well below even the most bearish of analysts' and whisper numbers. The company's Q2 revenue guidance detailed another year-over-year drop. The company also burned through a substantial portion of its cash and investments pile. Today, I'll detail the terrible quarter, and analyze whether Dendreon is finished.
Q1 results:
Total revenues for the quarter came in at $67.6 million, and that is not a typo. That number represented a decline of more than 17.6% over the prior year period. Worse yet, analysts were expecting $80.15 million, with a range from $75.84 million to $86.17 million. Even some whisper numbers recently in the low $70 million range turned out to be too optimistic. Q1 was absolutely dreadful, and Dendreon provided the following reasoning in its 10-Q filing.
Net product revenue from the commercial sale of PROVENGE was $67.6 million and $82.0 million for the three-month periods ended March 31, 2013 and 2012, respectively. The decrease in the first quarter of 2013 was primarily attributable to new competition entering into PROVENGE's labeled indication, with the FDA approval of ZYTIGA® (abiraterone acetate) in December 2012 and the compendia listing for Xtandi (Enzalutamide). We are feeling the competitive effect primarily in small and low-volume accounts. Approximately 835 parent accounts, some of which have multiple sites, had infused the product as of the end of March 2013.
Zytiga is a product from Johnson & Johnson (NYSE:JNJ) while Xtandi is from Medivation (NASDAQ:MDVN). I'll have more on these two names later.
Dendreon reported GAAP gross margins of 35.83%. While this marked a significant improvement over last year's Q1 mark of 26.85%, it fell slightly sequentially from Q4's 36.40%. Dendreon is undergoing a major restructuring and cost cutting initiative, and they have been expecting to get gross margins above 50% by the third quarter of this year. Of course, if revenues continue to disappoint, gains in gross margins won't be as critical.
However, the restructuring plan is starting to provide some benefits on the operating side. Dendreon's Q1 operating expenses (excluding the cost of goods sold) were just $82.85 million in the period, down from $112.53 million in the year-ago period. Dendreon's operating loss significantly improved as a result.
On the bottom line, Dendreon reported a GAAP net loss of $72 million, or $0.48 per share. This was a significant improvement from last year's loss of nearly $104 million, or $0.70. Dendreon's loss in terms of earnings per share was actually helped out by the nearly 4 million diluted share count increase. While rising share counts are usually bad for investors, as they mean further dilution, they do help your earnings per share when you are losing money.
On a non-GAAP basis, Dendreon's loss in the quarter was $53.8 million, compared to a $50.95 million loss in the year-ago period.
Q2 and current estimates:
Going into the Q1 report, analysts were expecting $84.80 million in Q2 revenues for Dendreon, compared to just under $80 million in the year-ago period. Based on the weakness from Q1, this seemed like an unreasonable expectation. Management confirmed this on the conference call, saying they are targeting revenues in the mid $70s (million) for Q2.
On the call, management said that they still believe full-year revenues will grow over 2012's figure of $325.53 million. Given a Q1 figure of $67.6 million, and let's say $75 million for Q2, that means about $183 million will be needed in the second half of 2013. Dendreon is confident that they can do this, as they have started a large marketing push. You may have even seen the Provenge TV commercial by now. I have seen it a number of times.
One thing I've been detailing for Dendreon is the company's trek to $100 million in quarterly sales. Dendreon still believes that they will be cash flow positive from US operations when they hit $100 million in quarterly revenues. I've been detailing for some time now how likely this possibility is. The table shows where analyst estimates have trended over time.

The number above was the expectation going into this report. It will be interesting to see what analysts think after this Q1 disaster and weak Q2 guidance. I've been saying that the chance of a $100 million quarter this year looked like a certainty about a year ago, but those percentages have been declining steadily. After this Q1 disaster, I'm even more skeptical, but I'm not completely ruling it out just yet.
The ever weakening balance sheet:
One of the biggest problems with Dendreon is their financial flexibility. As losses have piled up, the company continues to burn through more and more cash. You'll see in the table below how dreadful the cash burn was in Q1. The company did say on the conference call that there were a bunch of one-time items that caused cash burn to be significant. These items are not expected to carry forward, so cash burn should be less in Q2 and going forward. If the company's restructuring plan cuts losses, that will help cash flow as well.
The table below shows some key financial ratios for the company going back to Q1 of 2011 (dollar values in thousands). A couple of notes on the data provided below. First, the senior notes number includes those due in both 2014 and 2016. The second note is on those senior notes due 2016. In the March 2011 to September 2011 reported quarters, Dendreon reported those notes as current liabilities. Starting in the December 2011 quarter, they were shifted to long-term liabilities. For consistency and easy comparisons, I have included them as long-term liabilities for each of the quarters below, to get a more accurate view of the financial picture.

In just two years, the cash and investments pile, which includes both short and long-term investments, has decreased from $779 million to just $337 million. Strangely enough, the current ratio actually rose in the quarter, only because the drop in current liabilities was faster than the drop in current assets. Working capital plunged though, and the amount of senior note debt increased to a new high.
There is one especially troubling number I'd like to point out, and it is the debt ratio, also known as the liabilities-to-assets ratio. The chart below shows how this ratio has essentially "doubled" over the past two years, and that's not good.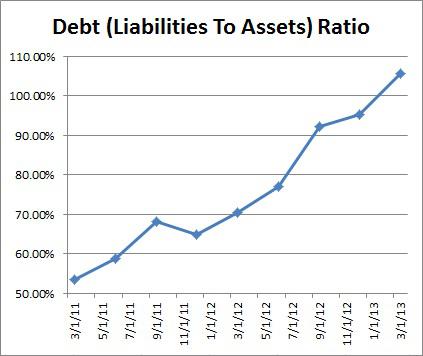 Why is this number so important? Well in Q1 of 2013, the ratio went above 100%. That means that the company has negative equity, because the dollar value of total liabilities is greater than the dollar value of total assets. The book value of Dendreon's equity, which was $280 million a year ago and $35 million at the end of 2012, is now a negative $36 million.
What are the key takeaways here? Well, the cash pile continues to dwindle, and debt is piling up. Equity has gone negative. But don't forget, these numbers are as of March 31st. We are nearly halfway through Q2, meaning these numbers are likely even worse. Even if Dendreon's cash burn in Q2 is just half of what it was in Q1, you're looking at the cash pile going under $300 million.
I've been arguing for many months now that Dendreon might need to raise more capital, and these Q1 numbers increase that possibility. Dendreon management believes that they will be okay on cash and won't need to raise funds. However, if we get another quarter or two of extreme disappointment, I can't see how fund raising is not possible. Q1 pushes Dendreon closer to the cliff's edge. Most likely, if the company is forced to raise funds, it will have to come through equity, because who would lend to a company who already has more liabilities than assets? Dendreon's interest rate would be huge. With a market cap of just $605 million, even a $50 million equity raise would be highly dilutive. Imagine if they need $100 million or more.
A potential delay in Europe:
As I mentioned in my previous article, Dendreon was looking for a regulatory decision on Provenge in Europe during the middle of this year. Here is what the company stated on the call.
In Europe, we have filed our application with the EMA as PROVENGE is an autologous cellular therapy requires review by both the Community for Advanced Therapies or CAT. In addition, the Committee for Medicinal Products for Human Use, or CHMP, we will be participating in an oral explanation with the CAT, mid-year.

We have recently learned that for procedural reasons a possible subsequent oral explanation with CHMP would not occur for a month or two after the CAT oral explanation. We therefore now anticipate a regulatory decision in the second half of 2013. As we have previously disclosed, we are evaluating partner strategies in Europe and continue to enroll patients in the European open label study.
So now their European decision has been pushed back a little, which is not a good sign. This could push the company further towards the brink, but I don't think a month or two delay would be the primary reason for the company's downfall. Failing to grow revenues in the United States would be the main issue.
Dendreon in this space:
As I mentioned above, Johnson & Johnson and Medivation are also in the prostate cancer treatment space. I am not a medical expert, and I don't try to be one, so I won't go into the medical side of this. Here's a good article from fellow SA writer Theodore Cohen, and he has an extensive history of writing on the medical side of this. If you're looking for the medical side, check out his articles.
But I can do a brief financial comparison, which is seen in the table below, between the three companies. The market caps and 1-year returns are as of Thursday's close. The revenue numbers are the current estimate from analysts, with the Dendreon number being the one going into today's earnings report.

Obviously, Johnson & Johnson is an enormous healthcare company. If you are looking for a safer investment, JNJ provides some safety as well as a 3.1% annual dividend yield. It is not a stock that will double your money in three months, but you won't lose 50% of your value in that time period either.
Medivation at the moment has a smaller revenue base than Dendreon, but a much higher market cap. Analysts are looking for more than 73% revenue growth for Medivation in 2014, and actually are expecting the company to be profitable. Dendreon, even with a revenue estimate of nearly $430 million in 2014, is expected to lose more money.
One risk for the shorts:
If you are looking to short Dendreon at these levels, you must realize that there is more risk for shorts than longs in this name. Any positive news for Dendreon could easily send this name much higher. Dendreon has been known for going from the low-single digits to the mid teens or even twenties in a short period of time. The 2009-10 extended rally sent shares above $50 at one point.
The problem for shorts is that there are too many of them. What do I mean there? Well, as you can see in the chart below, short interest in Dendreon is at a new yearly high. At the end of April, more than 54.1 million shares were short, compared to under 33 million a year ago. Dendreon had almost 158 million shares outstanding at the end of Q1, so more than 1/3 of shares are short. If you don't know how a massive short squeeze works, just go back and look at Netflix (NASDAQ:NFLX) after its first quarter earnings in January.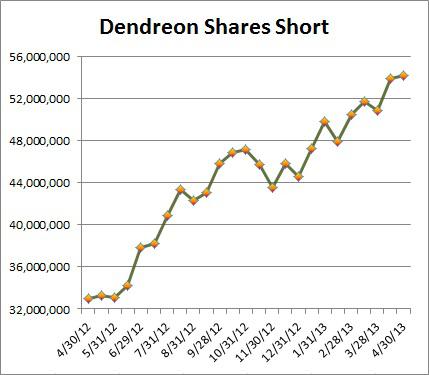 Conclusion / Final Thoughts:
To answer the question posed in my title, Dendreon is not done just yet. However, the extremely poor Q1 and expected weak Q2 is going to push them even closer to the edge. If Dendreon does not have the strong second half of 2013 that they are looking for, questions surrounding this company will increase exponentially. It's still unclear if Dendreon will be able to hit a $100 million revenue quarter this year, and their first half of 2013 will certainly bring out the bears. Dendreon saw a huge cash decrease in Q1, but they state that further quarters will not have as much of a decline. The company better hope so, because a capital raise at this point would be very costly. Debt seems out of the question with a negative equity balance already, and a share offering would be extremely dilutive to shareholders.
Dendreon may not be completely done just yet, but Q1 was an absolute train wreck. They didn't take just a small step back. It was a giant leap for mankind. I was surprised that shares only fell by 15% on Thursday and were able to hold the $4.00 level. When I saw these numbers Thursday morning, I thought a new 52-week low was a certainty. It didn't happen just yet, but could happen rather soon. Dendreon remains a solid short candidate if you believe that they will disappoint. With such a high short base, you might want to wait for the next pop before shorting, because any good news could lead to a massive short squeeze. One thing is certain. Dendreon is an even more riskier investment after Q1, and the stock's level of risk was extremely high to begin with.
Disclosure: I have no positions in any stocks mentioned, and no plans to initiate any positions within the next 72 hours. I wrote this article myself, and it expresses my own opinions. I am not receiving compensation for it (other than from Seeking Alpha). I have no business relationship with any company whose stock is mentioned in this article.
Additional disclosure: Investors are always reminded that before making any investment, you should do your own proper due diligence on any name directly or indirectly mentioned in this article. Investors should also consider seeking advice from a broker or financial adviser before making any investment decisions. Any material in this article should be considered general information, and not relied on as a formal investment recommendation.