Techne Corporation (NASDAQ:TECH) has been infected with a plague of negative earnings surprises. The company has posted only one positive surprise in the last seven quarters and has seen earnings estimates decline. The stock is a Zacks Rank #4 (Sell) and is the Bear of the Day.
Negative Earnings Surprises
The company is currently riding a streak of four negative earnings surprises, and has missed in six of the last seven quarters. Investors generally want management to have a better handle on handling the expectations of Wall Street.
The misses are small, but they are misses nonetheless. The June 2012 quarter saw a 5.8% miss while the September 2012 quarter missed by 5%. The December 2012 quarter posted a negative earnings surprise of 2.6% and that was followed by the most recent miss of 1.1% for the March 2013 quarter that was posted on April 30.
Expectations on the top line have seen similar trouble, with the company coming in light on the top line in each of the misses by as much as $3M or 3.1% and as little as $1M or 1.7%.
Company Description
Techne makes biotechnology research & diagnostic products and hematology calibrators and controls. The company was founded in 1976 and is headquartered in Minneapolis, Minnesota.
Estimates Slide
Over the last four quarters, TECG has posted a negative earnings surprise in each quarter. This has led to a lowering of expected earnings, a key component investors use to determine a buy from a sell. The Zacks Consensus estimate for 2013 was $3.49 in June 2012, it tailed off follow each earnings report. The estimate is currently at $3.19 after dropping another $0.02 from last month.
The 2014 earnings estimates aren't being spared. They have moved from $3.67 to $3.31 over the same time period. A more dramatic recent reduction saw the estimates move from $3.37 in April to its current level.
Valuation
The lower estimates and earnings will typically inflate the valuation metrics if the stock is not moving lower as well. That is the case here as TECH is trading at 21x trailing earnings while the industry average is 18.7x. The forward PE of 20.9x is also higher than the 18.3x industry average. The price to book at 3.4x is slightly higher than the 3.2x industry average while price to sales of 8x is well above the 2.6x industry average.
The Chart
The 3 month chart below shows the stock trading off but also rebounding of late. Investors would be wise to show caution and take a hard look at other comparable companies before making any decision on an investment in TECH.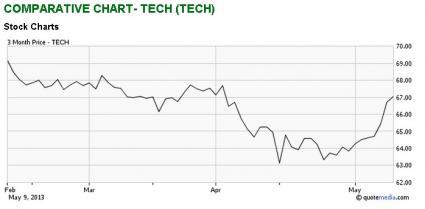 TECHNE CORP.: Free Stock Analysis Report
(email registration required)