We have been watching the Japanese market closely for hints to risk-on and risk-off lately and as an indicator it continues to tell us we have higher to go. It is more of a general barometer and not one that applies to the commodity space, but it does have some correlation, thus our interest.
Today we might sell some exposure into the weekend to adjust our portfolios and take some risk off of the table while locking in some profits. We have come pretty far in the past couple of weeks and we want to at least partially take a second to take a breath and reevaluate the field. We will keep our core holdings, but shall probably sell one or two of our trades.
Commodity prices this morning are as follows:
Gold: $1446.50/ounce, down by $22.10/ounce
Silver: $23.59/ounce, down by $0.321/ounce
Oil: $95.71/barrel, down by $0.68/barrel
RBOB Gas: $2.8744/gallon, down by $0.0107/gallon
Natural Gas: $3.948/MMbtu, down by $0.035/MMbtu
Chart of the Day:
A strong US dollar is not good for commodities, but a weak Japanese Yen in the long-run is. If this monetary policy leads to new growth in Japan, and we do not mean just inflation but real growth, then one has to be bullish of the world economy and thus commodities.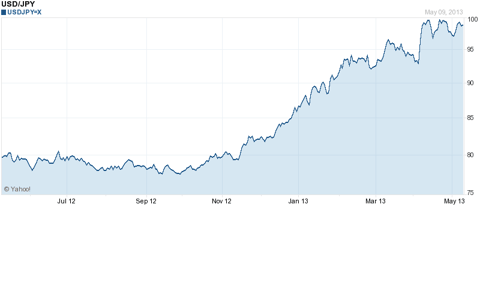 Chart courtesy of Yahoo Finance.
Oil & Natural Gas
Diamondback Energy (NASDAQ:FANG) saw Howard Weil raise their price target on the company's shares to $36/share from $31/share as the firm noted that the company saw earnings below expectations only because of well tie-in delays but their production is much more oily than anticipated as results improve from the Wolfcamp B play and costs are declining as well. As readers know we are bullish of this name long-term and believe that the Permian assets shall turn out to be very desirable in the future.
Wunderlich, a firm we are beginning to respect more and more as it pertains to their opinion on oil and natural gas E&P players, placed SandRidge Energy (NYSE:SD) as a 'Hold' after the company's latest quarterly report. Their view is that the new Board of Directors is putting into place a new strategy whereby the company will focus on improving results while managing risk more effectively. If you ask us it sounds like SandRidge is headed down the same path we have seen Chesapeake Energy (NYSE:CHK) venture down. With the company's history, that is not a bad thing either.
While watcing CNBC's Fast Money for the first time in a very long time yesterday we heard Guy Adami recommend one of the names we have trended towards as of late in the oil and natural gas area, Apache (NYSE:APA). The shares were up $3.71 (4.77%) yesterday to finish the session at $81.47/share with volume rising to 9.8 million shares after the company announced their intentions to sell $4 billion in assets in order to pay down debt and boost their share price. This will double the size of their previously announced plan to sell assets and they will now buy back shares with a portion of the proceeds. We still got little clarification on what would be for sale, but it still appears that the Gulf of Mexico assets are on the block and we would assume their Egyptian assets.
Well it sure looks like we called this one at the lows...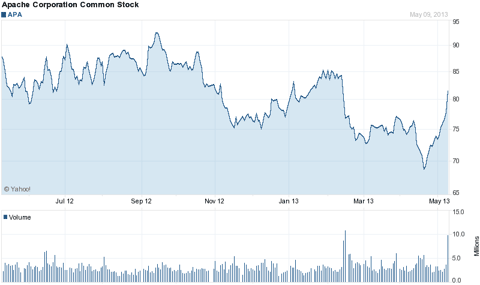 Chart courtesy of Yahoo Finance.
Uranium
We continue to see minor rallies in the uranium sector with various names seeing pops here and there. Yesterday it was Uranium Energy Corporation (NYSEMKT:UEC) which saw shares rise $0.16 (10.62%) to close at $1.72/share on higher than normal volume of 1.1 million shares. There was no news specific to the company, but with Japan returning nuclear reactors to service and having to resume buying uranium fuel to power those reactors we believe that this is another added benefit for uranium bulls and shall add further fire to the thesis that prices shall rise as Russia removes their uranium from the market and pushes prices more in line with mining costs. We stress not to chase these individual rallies and instead buy on the dips. Readers should make their list and buy when appropriate...on the dips and not the rips.
Coming off of four year lows we think this could be a buy so long as we break above the lower highs trend line or simply stay above the lower lows trend line.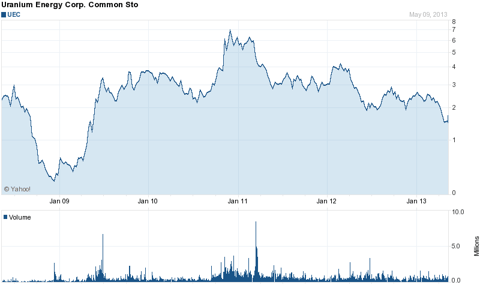 Chart courtesy of Yahoo Finance.
Copper/Gold/Moly
BB&T Capital Markets upgraded Thompson Creek (TC) to a 'Buy' yesterday from their previous recommendation of 'Hold' while setting a price target of $5/share. The thinking behind the raise is that the company will be winding down their spending and ramping up their production which will increase cash flow and provide for a deleveraging opportunity which will clean up the balance sheet a bit. Shares rose $0.58 (17.96%) on the news to close at $3.81/share, leaving plenty of room for investors moving into the shares after the fact. We would warn about the start-up risks associated with a new mine and want to remind investors that nearly every project faces some type of issue when starting up.
Disclosure: I have no positions in any stocks mentioned, and no plans to initiate any positions within the next 72 hours. I wrote this article myself, and it expresses my own opinions. I am not receiving compensation for it (other than from Seeking Alpha). I have no business relationship with any company whose stock is mentioned in this article.