Following the successful poaching of 4 AIG's (NYSE:AIG) deep bench executives, Berkshire Hathaway (NYSE:BRK.A) (NYSE:BRK.B) CEO Warren Buffet went on the record with Bloomberg's Betty Liu:
Buffett: "..They are very, very good insurance people and we (Berkshire) would like to get into the Commercial Insurance business very big time."

Liu: "So, that's primarily why you hired them?"

Buffett: "We hired them because they're very good at the commercial insurance business. We would like to be in it very big. We're not in it big, we're in personal auto, we're in reinsurance, but we're now going to go full bore into commercial insurance."
Yet, many longtime Berkshire investors were puzzled. Why was Buffett doing this?
The answer is the float -- that is, the money Berkshire holds to pay insurance claims in the future that in the meantime can be put to work via stocks and investments for the company's benefit.
Just as banks are allowed to loan money and make investments using customer deposits, insurance companies are allowed to tap their float, which in turn allows Buffett to acquire businesses and assets beyond what Berkshire's equity alone would typically allow without taking on a massive amount of debt. The idea is that investment returns generated by Berkshire will outpace its insurance liabilities over the long term. The more premiums, the larger the float.
The table below illustrates just how spectacular that growth has been over the last 40 years.
Growth of Berkshire's Insurance Float (By Decade)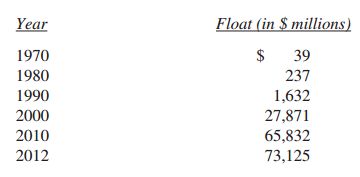 The next chart gives Berkshire's stock performance from May 1990 - May 2013. As you can see, the appreciation in Berkshire's value roughly -though by no means perfectly- tracks the growth of its float.
For example, in 1990-2000, the size of Berkshire's float increased by roughly 1,700%. During the same time period, the price of Berkshire "A" shares increased by approximately 754.7% (May 29th, 1990 - May 23rd, 2000). Over the next decade, the size of Berkshire's float almost tripled (262.2%), while the value of Berkshire's equity doubled.
Berkshire's Stock Price (1990-2013)
As Buffett wrote in the introduction of his 2011 annual letter to shareholders (PDF):
we've now had nine consecutive years of underwriting profits, totaling about $17 billion. Over the same nine years our float increased from $41 billion to its current record of $70 billion. Insurance has been good to us.
Commercial Insurance Is A Growth Industry
Commercial underwriting makes up such a large share of both the domestic and international insurance market that Berkshire can't afford to stay on the bench. According to Swiss Re's latest sigma study, titled "Insuring Ever-Evolving Commercial Risks," commercial insurance premium growth was nearly three times higher in emerging markets compared to advanced markets, growing by 14% from 2000-2010, compared to 5.4% annual growth during that period in advanced markets.
The Commercial Insurance Market (2012)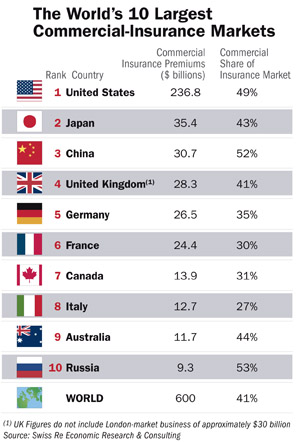 (Source: Property Casualty 360)
Commercial insurance are also increasing faster than any other type of coverage, excluding Worker's Compensation.
Premium Trends by Coverage Class (April, 2013)
(Source: MarketScout)
Asset Utilization
However, the real measure of Buffett and Co.'s performance is how many insurance premiums it collects, but how efficiently those premiums are allocated. While Buffett's stewardship in this regard has been exceptional (see chart below), Berkshire's asset allocation efficiency declined sharply in 2010 and continued to deteriorate through the first half of 2012, before recovering sharply.
Takeaway
People buy insurance because they can afford it. While Berkshire's entry into the commercial underwriting will undoubtedly lead to softer pricing in the near term, the combination of lower unemployment and rising interest rates will ultimately boost profitability.
Berkshire's aggressive entry into the Commercial insurance market will potentially double the size of the company's float over the next decade. Despite Buffett's previous assertion that the float was already outsized in relation to Berkshire's premium volume, it's reasonable to assume that Berkshire's M&A activity will likewise accelerate. Whether for Ted Weschler and Todd Combs benefit, or simply out of a desire to leave it all on the field, Buffet and Munger have decided to swing for the fences.
This fact, along with the sharp increase in future M&A activity that it implies, is currently underappreciated by the market, and as such, I believe that Berkshire's current valuation (book value x 1.37) provides an attractive entry point for both mid-term and long-term investors.
Disclosure: I have no positions in any stocks mentioned, but may initiate a long position in BRK.B over the next 72 hours. I wrote this article myself, and it expresses my own opinions. I am not receiving compensation for it (other than from Seeking Alpha). I have no business relationship with any company whose stock is mentioned in this article.