Newly formed Spyglass Resources (OTC:SGLRF) calls itself an "Intermediate Sized, Commodity Balanced Resource Company with a Sustainable Dividend Model." Whether or not this proves to be true is yet to be determined, but if it does, new shareholders will be richly rewarded.
Closing Price (5/7/2013): $1.74
Shares Outstanding: ~129 million
Mkt Cap: ~$227 million
Net Debt: ~$300 million
Yield: ~15.5%
History & Management
The company was formed when Pace Oil & Gas Ltd., AvenEx Energy Corp. and Charger Energy merged at the end of March 2013. The stock trades on the Toronto Stock Exchange under the symbol SGL. After several changes to the US ticker, it has been corrected to SGLRF as of this week. CEO Tom Buchanan has over 30 years of experience in the oil and natural gas sector including a successful run as CEO and Director of Provident Energy Trust which was formed in 2001 from Founders Energy of which he was co-founder, President and CEO. Provident was acquired by Pembina Pipeline Corporation (NYSE:PBA) in 2012.
Brief Background of Pace, AvenEx and Charger
I have been following this story closely since the merger was announced last year with the original intention of playing the arbitrage as I believed the deal had a very high probability of success.
CHX - Charger, the smallest of the 3 companies represented ~7% of the merged entity in the deal. Alone, Charger was unsustainable and quickly deteriorating. The company held solid drilling prospects but had accumulated debt and lacked the financing to develop its assets. Shareholders received 0.18 Spyglass shares for each Charger Share. With the vote on the merger approaching, opposition from activist shareholder Nova Bancorp increased doubts, and CHX slid to the mid $0.20s while the merged value based on Pace's valuation was above $0.40. This created a high probability opportunity that first drew my attention. The merger was approved by all three companies in early April and this quick trade proved lucrative. Based on my research, however, I felt that the assets and potential of this new unknown entity were being significantly undervalued by the market, but continued to expect short-term weakness caused by many unhappy long term holders.
AVX - AvenEx shareholders received Spyglass shares on a 1:1 basis, representing ~40% of outstanding shares. AvenEx was a dividend paying company with a deteriorating outlook that had already been forced to cut the dividend multiple times. Through the first 9 months of 2012 (full year results were not released), the company recorded a loss of ~$10 million compared to a profit of $27 million in 2011.

The weaker numbers were largely the result of lower realized oil and natural gas prices as well as a small decrease in production. In February, the company completed the sale of its Elbow River Marketing Business for $80 million in an effort to shore up its balance sheet as the merged entity was going to (and still does) have a sizeable debt burden. This sale, however, raised a red flag in my opinion as this asset was very important to AvenEx's potential as a standalone company and made the merger a more attractive option to shareholders.
PCE - As the largest of the 3 components, Pace shareholders received 1.3 Spyglass shares representing just over ~52% of the new company. Pace contributed current production of about 12 000 boe/d, the majority of Spyglass's approximately 18 000 boe/d. At year end 2012, Pace had about $200 million in long-term debt. 2012 was a very bad year for Pace and a quick look at results is quite telling.
Although a slight production decline negatively impacted results, the biggest hit came in the form of impairments. The company recorded a $67.2 million exploration and evaluation impairment in the Haro South area because of changes to management's development plans and weak performance. The company included $144.1 million compared to 2011's $191 million in future development costs of Pace's proved + probable reserves in its depletion calculation. Due to a decline in forecasts for oil and natural gas prices, the company also recorded $123 million in impairments that included $52.3 million in the Northwest Alberta gas CGU, $43.5 million in the Deep Basin gas CGU, $16.6 million in the Peace River Arch Red Earth oil CGU, and $10.6 million in the Southern Alberta gas CGU. These CGUs were written down to fair value less cost using after tax discount rates of 10 to 14 percent and the post weighted average cost of capital for Pace's peer group.
Combined Assets & Production
Spyglass has a balanced portfolio but is heavily gas weighted (2013 estimates 51% Oil & Liquids). Weak gas prices have been the single biggest factor in the underperformance of the merged companies. Current production has averaged 18,000 boe/d over the past year. Spyglass has a relatively low decline rate of approximately 20% on producing assets. The company has an extensive portfolio of capital efficient light oil development opportunities with estimated average costs of ~$25,000 / boe/d.
Its assets are distributed fairly evenly across various oil producing areas of Alberta providing diverse development opportunities.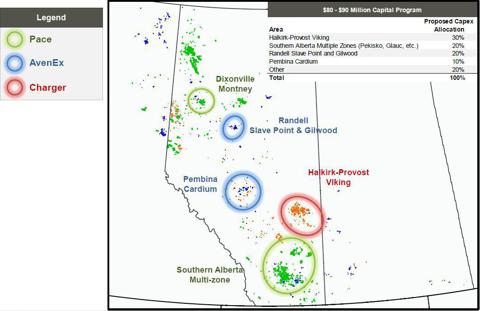 Current Production Portfolio (Source: Company presentations):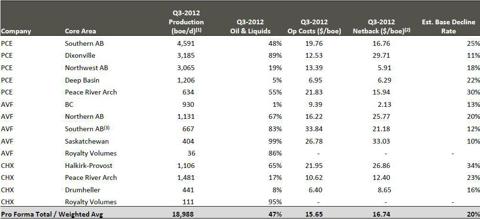 Potential Development Portfolio (Source: Company presentations):

Financial Highlights & Outlook
When the company originally announced the merger, the planned monthly dividend was to be $0.03 per share. Before closing, however, management reduced this to $0.0225 in order to ensure sustainability. This was a prudent and necessary move, although it has likely hurt the share price and confidence in management's ability to meet targets in the short term.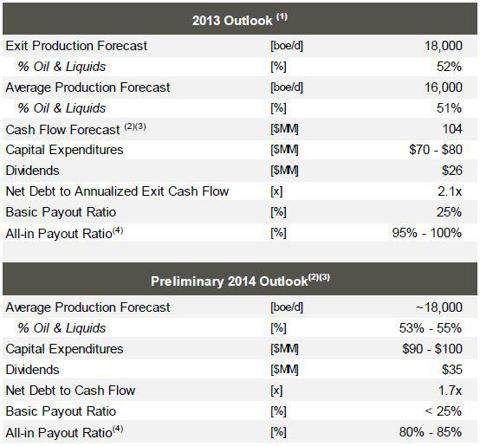 Source: Company presentation
Spyglass has $107 million of undrawn bank line which will give the company some breathing room in the near term. The targeted payout ratio is reasonable and should be achievable. Management plans to institute a dividend reinvestment program that could help fund modest growth. The company has increased its use of hedging and as of April has approximately 34% of its estimated crude oil production hedged at an average floor price of $94.84/bbl and 41% of estimated gas production at an average floor price of $3.02/GJ.
In my opinion, there are 3 key factors that will determine the success of this newly formed company:
1. Increasing Natural Gas Prices & Narrowing Differentials
In their merger projections, management assumed the transaction would close March 31, 2013. The merger closed at the start of April within days of the target date. For this year, they expect Edmonton Light to average $88.89 with a realized price of $74.23 and AECO (Alberta natural gas price) of $3.39/Mcf. For 2014 they used Edmonton Light at $88.54 and AECO of $3.79/Mcf.
Based on a weak natural gas price at the start of the year, I believe that their original 2013 estimates were likely optimistic. However, with the recent rebound in the AECO-C (spot) price, which is averaging about $3.49/GJ (1 Mcf is approximately 1.05 GJ) so far in May, current gas prices are now above what has been used in the projections.
The Edmonton light oil price is approximately $87, close to in line with the $88.89 used in projections. Differentials with WTI have been narrowing, and I believe upcoming catalysts like the probable approval of Keystone XL and other pipeline projects should continue to close the gap. 2013 results will be far more sensitive to changes in the natural gas price which I believe should at least hold its current level with potential for some upside.
Commodity Price Sensitivity:


2. Drilling results and effective use of capital
Spyglass has 93.9 MMboe of Proved plus Probable Reserves and over 1,000 quality light oil drilling targets which are estimated to represent more than 20 years of sustainable development. The company's 645,000 acres of undeveloped land is spread across 5 different oil producing areas in Alberta. With so many targets the company should be able to focus on top quality prospects in the most promising regions in the short term, and as such, should be able to achieve a decent return on capital.
3. Improved sentiment
The past couple of years have not been kind to Canadian producers, particularly the juniors. I believe that as differentials narrow and new export projects are approved the sentiment should begin to shift even if the supply glut continues for the next couple of years. Also, the merger has almost certainly damaged opinion of the company and management. Combined with the other negative factors and risks including weak gas prices, large differentials and a significant debt burden, I believe that these factors are likely to have recently culminated in point of maximum negativity and we may see an inflection point as more information becomes available.
Conclusion
While I definitely feel for any long-term shareholders who have lost the majority of their investment in any of the 3 merged companies over the past couple years, I believe that this merger was a necessary reset. The current share price says that the market expects (with near certainty) that the company's business plan will prove unsustainable and further dividend reductions will be necessary. Barring any significant deterioration in natural gas prices or macro outlook I believe that this assumption is likely to prove wrong. I recommend buying a speculative position at or near the current share price which appears to finally have found some support. If management's projections prove true and the dividend is sustainable new shareholders will be rewarded with a ridiculously high yield and significant capital gains. With that said, investors must monitor progress closely and be prepared to abandon any position on the first sign of any deterioration as Spyglass Resources remains a largely unknown entity with little information available and several unanswered questions.
Additional Note: As of submission the stock price has bounced slightly to ~$1.83 (~14.8%) yield. This is further evidence that the stock may finally be finding support at or near its current price, and with a tight stop in case it breaks down to new lows, this remains an attractive entry point with a favorable risk reward profile.
Disclosure: I am long OTC:SGLRF. I wrote this article myself, and it expresses my own opinions. I am not receiving compensation for it (other than from Seeking Alpha). I have no business relationship with any company whose stock is mentioned in this article.