In February I asked if homebuilders, Toll Brothers (NYSE:TOL), Lennar Corporation (NYSE:LEN), KB Home (NYSE:KBH), Beazer Homes (NYSE:BZH), Hovnavian Enterprises (NYSE:HOV), DR Horton (NYSE:DHI) and PulteGroup (NYSE:PHM) were headed for a fall. According to the article, 7 Housing Stocks Headed For A Fall,
Amid record low interest rates created by Fed Chairman Ben Bernanke's quantitative easing program, housing has shown signs of life. Housing starts for privately owned homes rose from a trough of 554 thousand in 2009 to approximately 587 thousand, 609 thousand, and 780 thousand in 2010, 2011 and 2012, respectively. And as housing starts have risen, so have the earnings and stock prices of home builders. But have they risen too far?
I thought I had my answer. From February 5 (date of the original article), to April 18, the stock prices of select homebuilders had fallen a median of 13.2%; multiples of net income and book value for select homebuilders were a median of 11.2x and 2.0x, respectively. The median p/e ratio and book value multiples in February were 26.2x and 2.2x, respectively. Not only had trading multiples declined for homebuilders, but in my opinion, so had their business prospects. Then came a surge in the S&P 500 (SPIX) which has risen nearly 6% from 1542 on April 18, to a record high of 1633 on May 9. Housing stocks have since risen in lockstep. Below are the trading multiples of housing stocks.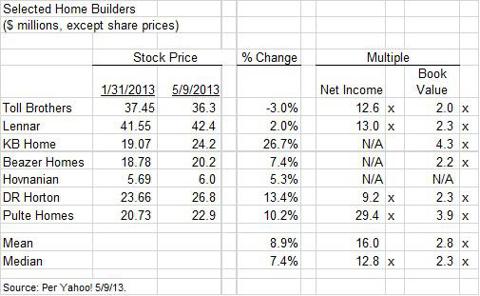 Toll Brothers
In first-quarter 2013 Toll Brothers generated revenue and net income of $424.6 million and $4.4 million, respectively, as compared to revenue of $322.0 million and net income of $2.8 million for the same period in 2012. The 31.9% increase in revenue was driven by an increase in new homes sold of 746 homes in 1Q 2013, versus 564 in 1Q 2012. Cost of revenue was 81.5% and 84.4% in 1Q 2013 and 1Q 2012, respectively. Meanwhile, SG&A as a percentage of revenue declined to 18.4% in 1Q 2013 from 21.6% in 1Q 2012. The cost of revenue percentage decline was due primarily to lower interest expense. The SG&A percentage declined due to economies of scale. Toll Brothers trades at 10.7x earnings, which is below the median of 11.2x for selected homebuilders.
Lennar
For 1Q 2013 Lennar achieved revenues of about $990 million, a 36.5% increase over 1Q 2012 revenues of $725 million. New home deliveries (excluding unconsolidated entities) increased to 3,174 versus 2,472 in 1Q 2012 - a 28.4% increase. Meanwhile, the company's average sales price of homes delivered increased 9.3% to $269,000 in 1Q 2013 versus $246,000 in 1Q 2012.
Gross margin was 22.1% for 1Q 2013 versus 20.9% for 1Q 2012. Gross margin improvements were driven by [i] more home deliveries from higher margin communities, [ii] an increase in the average sales price and [iii] fewer sales incentives offered to home buyers vis-a-vis 1Q 2012.
KB Home
KB Home achieved revenue of $405 million in 1Q 2013, up 60% over the $255 million it achieved in 1Q 2012, reflecting an increase in the number of homes delivered and the average selling price.
The company delivered 1,485 homes for 1Q 2013, up 29% over the 1,150 homes delivered in 1Q 2012. The average selling price of $271,300 was an increase of 24% over the $219,000 average selling price in 1Q 2012.
However, KB generated a pretax loss of $12.4 million, which was an improvement over the $47.4 million pretax loss it generated in 1Q 2012. The company's high cost of sales (85% of revenue) SG&A expense (15% of revenue) left it unable to cover borrowing costs of $15.2 million related to land purchases and housing inventory.
Beazer Homes
Beazer achieved revenue of $288 million and $192 million for the three months ended March 31, 2013, and March 31, 2012, respectively; revenue grew approximately 50%.
Operating income was $311 thousand for March 2013, versus an operating loss of $18 million for March 2013. However, the company reported a loss from continuing operations of $19 million and $39 million for three months through March 31, 2013, and March 31, 2012, respectively. On an annual basis, the company has not reported an operating profit since 2006.
Given Beazer's operating losses for six consecutive years, in my opinion, the company is no longer a going concern. If the company cannot turn a quarterly profit after revenue nearly doubled over last year, then when can it?
Hovnavian Enterprises
For 1Q 2013, Hovnavian achieved revenue of $358 million, up 33% from $270 million in revenues for 1Q 2012. The company reported a loss before taxes of $21 million and $18 million for Q1 2013 and Q1 2012, respectively.
Its high cost of sales (84%) and SG&A expense (10%) renders it unable to cover interest expense and corporate overhead. With an operating margin of around 6%, I don't see Hovnavian being able to achieve consistent long-term profits.
DR Horton
Revenue for the three months ended through March 31, 2013, was $1.4 billion, up 49% over the $935 million the company generated during the same period last year. The number and value of net sales for three months ended March 31, 2013, increased 45% and 43% as compared to the same time last year. Meanwhile, the average selling price of homes increased 10%.
Cost of sales declined from 82.0% to 79.8% in the current period, while SG&A expense declined from 13.6% to 11.1% in the current period. Operating income (prior to financial services related income) nearly quadrupled to $127.4 million for three months ended through March 31, 2013, versus the same time last year.
Pulte Group
Pulte generated revenue from sales of homes and land of $1.1 billion in 1Q 2013, up 32% over 1Q 2012. Closings (units) were 3,833 and 3,117 for 1Q 2013 and 1Q 2012, respectively, an increase 23%. Meanwhile, the average selling price increased 10% over the average selling price for 1Q 2012.
Gross margin from home sales was 18.0% for 1Q 2013, versus 12.5% for 1Q 2012. SG&A expense as a percentage of home sale revenue was 11.8% for 1Q 2013, an improvement over the 15.2% the company achieved the same time last year.
As Good as it Gets?
With both unit sales and average sale prices of homes rising simultaneously, homebuilders are enjoying a double-digital growth in revenue and earnings. However, given the record low interest rate environment, this may be as good as it will ever get for selected homebuilders.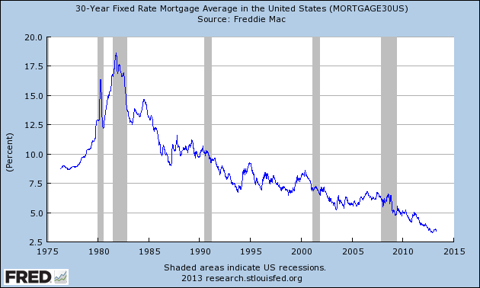 The average fixed rate mortgage for the week ending April 18, 2013, was 3.41%, just off the record lows of 3.31% in November 2012. The interest rate environment represents the best-case scenario for homebuilders. That said, rates can't fall from the floor and I expect rising rates to choke off housing starts and with it, homebuilders' earnings.
Conclusion
The recent run up in housing stocks appears to be driven by company-specific earnings results. Also, more money has been flowing into the market over the past few months, driving the S&P 500 to record highs, and housing stocks have benefited from those fund flows. I think this is as good as it for homebuilders and expect another pullback. That said, I rate the industry a "sell."
Disclosure: I am short BZH, HOV. I wrote this article myself, and it expresses my own opinions. I am not receiving compensation for it (other than from Seeking Alpha). I have no business relationship with any company whose stock is mentioned in this article.
Additional disclosure: I own puts on Beazer and Hovnavian