On March 28, 2012 I wrote an article called: The U.S.'s New Industrial Revolution: Natural Gas. From the stocks mentioned in the report only International Paper (NYSE:IP) performed better than the Dow Jones Industrial Index (+15.14%) in the same time period.
Where do we go from here?
As energy prices decline, consumers and certain energy intensive industries will benefit.
U.S. natural gas customers have seen a price decline of more than 40% since the peak in July 2008.
Lower natural gas prices will boost chemicals, steel and paper manufacturing companies, as well as industrial gas suppliers and certain fertilizer producers.
According to the International Energy Agency in its World Energy Outlook 2012, the extraordinary growth in oil and natural gas in the U.S. is a "sea-change in global energy flows". By around 2020, the United States is projected to become the largest global oil producer and starts to see the impact of new fuel-efficiency measures in transport. The result is a continued fall in U.S. oil imports, to the extent that North America becomes a net oil exporter around 2030.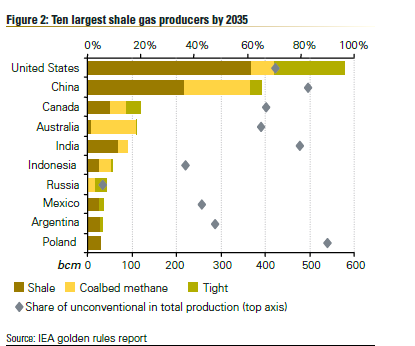 With the price of U.S. natural gas now significantly below the prices in the rest in the world, the development of liquefied natural gas ("LNG") will narrow this spread. Meanwhile, energy demand will keep rising by some 30% by 2035. China, India and the Middle East will account for 60% of this growth.
As the impact of rising energy supplies and more investment in the exploration of shale oil and gas hits home, equity investments will need to be reconsidered. In general, lower energy prices is a great condition for an economic growth and prosperity.
Below I will discuss the main beneficiaries of a lower energy price.
Industrial Users
For energy-intensive industries such as chemicals, steel and paper manufacturers as well as industrial gas suppliers and nitrogen-based fertilizer producers the low price of gas and the subsequent easing of the price of crude oil is a positive trend. Companies such as Dow Chemical (NYSE:DOW) and International Paper will gain.
Energy Service Sector
The energy services sector, specializing in equipment and know-how, is now in demand. New fields have to be researched and developed. Two companies that will profit going forward are of course Baker Hughes (NYSE:BHI) and National Oilwell Varco (NYSE:NOV).
Infrastructure Providers
Owners of existing pipelines and those involved in the construction of new infrastructure are also in a good position. One of the largest owners of US gas pipelines is Kinder Morgan Energy Partners (NYSE:KMP).
We, The Consumers
We, the consumers are the most important category to experience the direct impact of lower gasoline and heating costs. Households are already seeing some lower heating and conditioning bills.
Final Note
The shale gas revolution has just been started across different industrial sectors. The big winners are going to be U.S. companies and U.S. consumers.
The revolution will drive economic growth which will lead to more jobs. We will prevail!
Disclosure: I have no positions in any stocks mentioned, and no plans to initiate any positions within the next 72 hours. I wrote this article myself, and it expresses my own opinions. I am not receiving compensation for it (other than from Seeking Alpha). I have no business relationship with any company whose stock is mentioned in this article.