Operators of hotels have been solid performers over the last six months. Major players like Starwood (HOT) and Marriott (NYSE:MAR) have easily outperform the overall market (see chart). Both occupancy levels and RevPAR continue to improve for the sector. The industry is also benefitting from the lack of new property builds during the financial crisis and its immediate aftermath. A lot of the larger firms in the industry have moved to an "asset light" model, but I prefer companies right now that own their properties. I believe these properties' values will increase much faster than overall inflation as Federal Reserve policies continue to ignite asset inflation in equities and real estate. I also like some of the operators for the solid dividend yields they provide. Here are two operators that investors looking for income and as an inflation play should consider.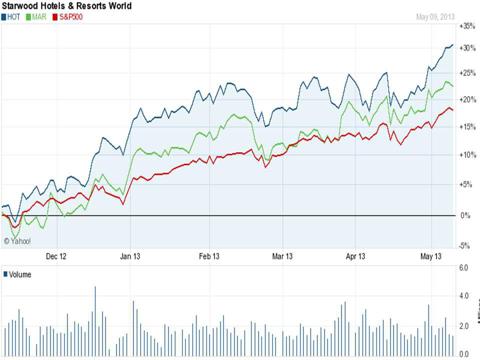 Chatham Lodging Trust (NYSE:CLDT) - I have owned and written about this lodging entity since early in 2012 when it was trading at under $13 a share. CLDT now trades north of $18 a share but I still like the REIT's long term prospects. It owns or has pieces (through joint ventures) of over 80 hotels and over 10,000 rooms. CLDT has a 4.6% yield. The company has moved to a monthly dividend payout and raised its dividend more than 20% since I first bought shares in February 2012. CLDT was upgraded to a "Buy" this week at TheStreet and they have a price target north of $23 on the shares. FBR Capital also boosted its price target from $19 to $21 a share this week. Consensus earnings estimates for both FY2013 and FY2014 have ticked up over the last three months and CLDT sells for just over 10x 2014's projected earnings. The company is expected to produce double digit revenue gains in FY2013 as well. CLDT has a five year projected PEG of less than 1 (.40).
DiamondRock Hospitality Company (NYSE:DRH) is a lodging focused real estate company and owns premium hotels and resorts in North America. It owns 27 hotels with ~12,000 rooms. DRH is selling at $10 a share and the company just reported results that beat top and bottom line expectations. The shares yield 3.4% and the company raised its payout 6% earlier in the year. 13 of its 27 hotels are unencumbered and DRH sells at just 14% over book value, which is understated given its properties locations (18% of rooms are in NYC) and holding period. Its margins are still 5% below its peak before the crisis as is RevPAR so it still has additional opportunities to increase both over time as the economy continues to recover. Analysts expect revenues to grow 7% to 9% annually over the next two years. DRH is priced at 11.6x 2014's projected earnings.
Disclosure: I am long CLDT. I wrote this article myself, and it expresses my own opinions. I am not receiving compensation for it (other than from Seeking Alpha). I have no business relationship with any company whose stock is mentioned in this article.