The Wynn Resorts (NASDAQ:WYNN) owns and operates Wynn Las Vegas, Encore and Wynn Macau. Wynn Las Vegas, a luxury hotel and destination casino resort located on the Las Vegas Strip.
I'm very much attracted to the casino operators that hold licenses in Macau (CHINA) because this insulates them to some extent from competition, at least for the foreseeable future. That's why I'm writing a short series on these stocks, which started with my earlier article on Las Vegas Sands (NYSE:LVS).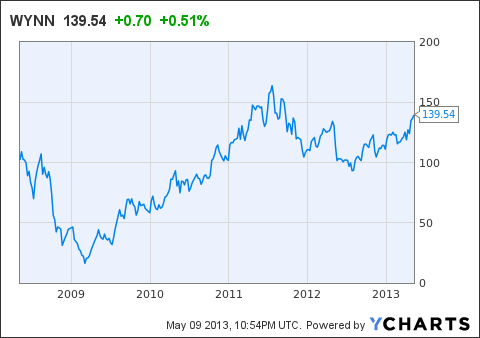 WYNN data by YCharts
1. One of Six Licenses to Operate in Macau
Wynn Resorts is one of the six companies that have a license to operate Casino's in Macau. These are: Wynn Macau Ltd (OTCPK:WYNMY), Sands China Ltd, Galaxy Entertainment Group Ltd (OTCPK:GXYEY), SJM Holdings Ltd, MGM China Holdings Ltd (NYSE:MGM) and Melco Crown Entertainment Ltd (MPEL). Macau has the highest population density in the world. The six companies operating there now and being able to set up casinos and operations have the opportunity to build out their brand and properties on the small island with relatively few competitors.
2. Market Leader in the VIP segment
Wynn Resorts is focused on the high-end luxury segment of the gaming industry. It specifically targets VIP customers and is the premier luxury brand. Although this segment is more vulnerable to changes in the macro economy, at the same time building a premier brand is a valuable asset that will pay dividends for years to come.
3. EBITDA / Table
Wynn Resorts attains the highest Return and Ebitda/table, which is comparable to the importance of sales/square foot in retail. Certainly an advantage in the densely populated city of Macau, where the government only allows the number of gaming tables to grow by 3% a year.
4. Insiders own 39% of Stock
Wynn Insiders and Officers together own about 39% of the stock. This sufficiently lines up their interests with those of shareholders. Although Steve Wynn owns 9%, there is still a sizable chunk owned throughout management.
5. Asian Supply and Demand
There is a large imbalance in the Asian gaming market between supply and demand. As it stands there are only three places in Asia to go for entertainment of this nature: Macau, Singapore and the Philippines. Both in Singapore and Macau the authorities have only given out a limited number of licenses. This leads to an imbalance in the supply and demand for gaming facilities, which is great for the companies that currently hold a license.
6. Steve Wynn's Track Record
Steve Wynn has an excellent trackrecord in business and managing casino's. If you invested $10,000 backing Wynn in 1973 that sum would now be worth more than $30 million today, assuming reinvestment in each of Wynn's companies, according to Morningstar. The biography that's out about him isn't that great but there are also a few fun books about Las Vegas History in which he plays a role, like Winner Takes All.
7. 70% of Revenue from Asia
Wynn Resorts generates 70% of revenue in Asia and only 30% in the USA. That makes Wynn a stock that is well suited to get some global exposure. Growth rates of revenue from Macau have been great. At the same time, it's not a great choice if you don't have the right appetite for risk. Stocks - and those of companies operating in emerging markets especially - carry a lot of risk. Wynn Resorts is no exception.
Valuation
The company is trading at a P/E (TTM) of 23.16 and a forward P/E of 20.8. To put these valuations into perspective its five-year average revenue growth has been 13.91%, five-year operating income growth 19.11% and five-year net income growth stands at 14.23%. Wynn's financial position is reasonable. At this time it has ample cash flow to meet its financial obligations.
When evaluating the Macau casino operators without taking valuation into account, I prefer an investment in Las Vegas Sands like I wrote earlier this week. Given the more modest valuation of Wynn Resorts I think at this moment WYNN is the better pick, if you like the industry. The stock will hold up slightly better under unknown adversities that may lie ahead. At the current price of $ 139.55/share I would like to buy into the business, though there are many uncertainties surrounding the future of the casino industry. Like online gambling and the regulatory risk, to mention two big ones.
Disclosure: I have no positions in any stocks mentioned, and no plans to initiate any positions within the next 72 hours. I wrote this article myself, and it expresses my own opinions. I am not receiving compensation for it (other than from Seeking Alpha). I have no business relationship with any company whose stock is mentioned in this article.