International Business Machines Corp (NYSE:IBM) has returned over $150B to investors through dividends and share repurchases. When you take into account that the market cap is $225.35B, this is a good total return for shareholders. My analysis here is based on the common stock valuation ratios in the financial statements of IBM over the last five years.
An investor looks at valuation ratios to gain an estimate of valuation to ascertain the attractiveness of a potential or existing investment. The valuation numbers that I came across for IBM were encouraging. Keep in mind, however, that this is just one of the many ways to analyze a stock.
IBM matured some time ago and the tech firm made a decision to increase profitability and value added business lines such as software and services. IBM did this by sacrificing sales in low margin areas like hardware and this strategy has paid off.
An analysis of the valuation ratios of a company involves looking at a class of financial metrics to determine whether a firm's stock price is too high, reasonable or a bargain as an investment opportunity.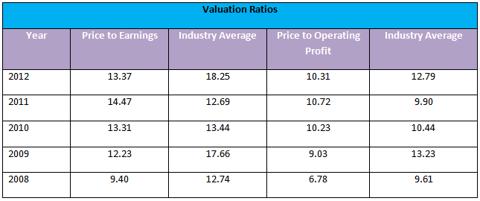 Source: IBM annual reports.
Market Value per Share divided by Earnings per Share [EPS] is the calculation used to obtain the price-to-earnings (P/E) ratio. The most well-known investment valuation ratio is the P/E ratio, which compares the current price of a company's shares with the amount of earnings it generates. The purpose of this ratio is to give users a quick idea of how much they are paying for each $1 of earnings. And with one simplified ratio, you can easily compare the P/E ratio of one company with its competition and to the market.
IBM's P/E ratio has been slightly lower than the industry average over the last five years except for 2011. IBM has clearly been hurt by the dying PC market.
The Price to Operating Profit (P/OP) ratio is something investors like to analyze instead of the P/E ratio. This is because the P/E ratio is calculated using net income and therefore the ratio can be quite sensitive to things like capital structure and nonrecurring earnings.
In IBM's case, the P/OP ratio values reveals a similar story as the P/E. SAP AG (NYSE:SAP) is the trailblazer in the industry with the highest values.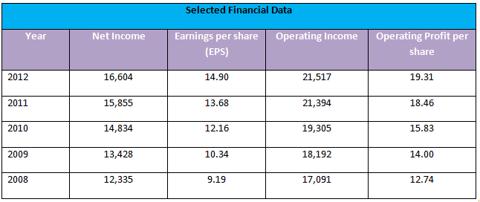 Note: U.S. dollar in millions except for EPS and Operating Profit per share.
The numbers used to obtain the P/E and P/OP ratios are shown in the table above. These numbers are higher than its closest competitors over the last five years. IBM has had much higher EPS figures than SAP, Cisco Systems, Inc. (NASDAQ:CSCO) and Oracle Corporation (NYSE:ORCL).
In 2012, IBM recorded a net income of $16.6 billion and this represents a growth of 23.7% over 2009. But since 2011, net income has only grown 4.72%.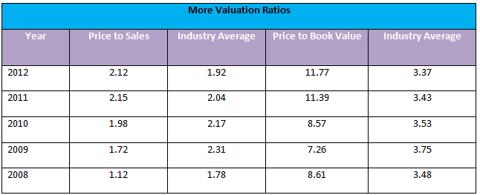 Like the P/E ratio, the P/S reflects how many times investors are paying for every dollar of a company's sales. IBM has a low P/S ratio compared with other firms in the industry and this makes it a very attractive investment. This is great to hear, but it must be remembered that the P/S ratio only offers another perspective that complements the other valuation indicators - particularly the P/E ratio - and is a worthwhile addition to an investor's stock analysis toolbox.
As for the P/B ratio, value investors utilize it to find discounted equities. The trouble with book value especially when attempting to value a technology firm is that it ignores intangibles like goodwill, brand name and intellectual property. IBM has a lot of asset value that is determined by intellectual property. According to Interbrand, IBM has the second-most valuable global brand behind Coca-Cola (NYSE:KO).
The P/B ratio may have its drawbacks, but it is an easy-to-use tool for finding companies that are under or overvalued. IBM's P/B ratio is much higher than the industry average and this is indicative of the very high expectations that investors have for the tech giant.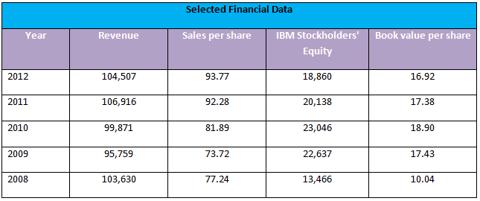 Note: U.S. dollar in millions except for Sales per share and Book value per share.
IBM has a very strong balance sheet and great revenue numbers over the last five years. The numbers used to arrive at the valuation ratios listed in the 'More Valuation Ratios' table are shown in the table above.
In 2012, IBM recorded revenue of $104.5 billion and this represents a growth of 9.1% over 2009. Compared with 2011, sales have declined 2.25%.
The trend that can be seen across the board is that large-cap tech stocks have continued to grow their assets and revenues rapidly over the past five years. But this is not as apparent with IBM as seen from the table above.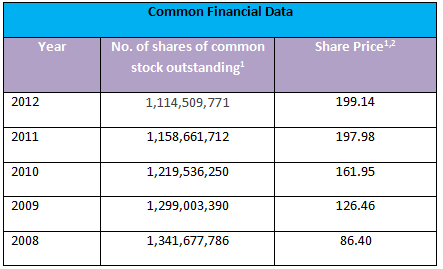 1 Data adjusted for splits and stock dividends.
2 Close price on the filing date of IBM's Annual Report.
The share price has continued to rise, whereas the number of shares of common stock outstanding has been declining indicative of the share buyback programs IBM has initiated.
Conclusion: Great time to buy IBM shares
The common stock valuation ratios are reflective of IBM being renowned as the industry leader. Additionally, highly successful value investor Warren Buffett recently stated that he would buy more IBM stock "from time to time."
The stock price has risen above the 100-day moving average [MA] and also the 50-day MA. This is a perfect entry point to buy more IBM shares.
It is true that IBM's leverage is relatively high and its growth isn't as good as some of the other firms in the industry. Nonetheless, I expect IBM to continue to be innovative and this is a must especially in view of the increasing move to mobile devices. The net profit margin has expanded from 14% in 2009, to 15.9% in 2012, and this signifies the change in IBM's business model to focus on profitability.
Large-cap tech companies are always a great investment idea. After all, innovation drives the global economy. There will always be tech booms and busts, but it is innovation that will lead the American recovery and the growth in China. IBM is a giant of the technology world and a major driver of innovation in its segment.
All material is sourced from Morningstar and MSN Money.
Disclosure: I am long IBM, SAP, CSCO. I wrote this article myself, and it expresses my own opinions. I am not receiving compensation for it (other than from Seeking Alpha). I have no business relationship with any company whose stock is mentioned in this article.