Things are looking up for Nicholas Financial (NASDAQ:NICK), a microcap specialty auto finance company. Management just announced that its 4th quarter earnings were $0.40 per share, halting the consecutive earnings declines experienced over the last several quarters. Book value per share increased $0.28 from $10.34 to $10.62, 10.8% annualized, reflecting earnings minus a $0.12 dividend paid on March 29. Revenue is up 3% year over year, which partially offset increased expenses related to expansion, higher interest expenses, and increased charge-offs. So while the algos are probably focusing on a 20% year-on-year EPS decline, I believe that patient investors will be well rewarded if they buy and hold. As I have argued elsewhere, NICK is a very well-run company that has weathered past storms and has a bright future.
An important reason for my optimism is the loan portfolio. The recent disclosure indicates a considerable improvement in credit quality since the beginning of the year. Here's the state of delinquencies in December, with a year-on-year comparison:

Ouch. Loan quality significantly deteriorated during 2012, which was weighing down the bottom line. Loans 31-60 days past due as a proportion of the portfolio increased 25%, while loans 61-90 days past due increased 42%, and 90+ days past due doubled (while the direct loan book was pretty stable, it is still too small to make much of an impact). Now the year-on-year comparison looks much more favorable:
Contracts

Gross Balance Outstanding

31-60 Days Late

61-90 Days Late

Over 90 days

Total

March 31 2013

$386,940,093

$10,557,122

$2,723,456

$1,373,507

$14,654,085

 
 

2.73%

0.70%

0.35%

3.78%

March 31

2013

$382,766,667

$8,994,485

$1,889,643

$663,521

$11,547,649

 
 

2.35%

0.49%

0.17%

3.01%

Direct Loans

 
 
 
 
 

March 31 2013

$8,781,637

$72,364

$21,509

$13,790

$107,633

 
 

0.82%

0.25%

0.16%

1.23%

March 31

2013

$6,221,688

$48,899

$14,257

$4,933

$68,089

 
 

0.79%

0.23%

0.07%

1.09%
It is important to note that subprime credit quality usually improves during the Spring quarter as the seasonal labor market picks back up and tax checks come in. So while a significant improvement is expected, the year-over-year total delinquency spread tightened from a 1.55% differential in December (6.32% fiscal Q3 2013 vs. 4.77% fiscal Q3 2012) to 0.77% in March. Despite the headline 20% year-on-year EPS decline, the ship is righting itself and is moving towards future growth.
Valuation and Strategy
At a price of $14.34, NICK is trading at a trailing p/e of 8.9 and a p/b of 1.4. This means that the market is still valuing NICK's earnings at a 50% discount to the S&P 500, pricing the company for long-term decline. This is way too pessimistic in my opinion, and others are coming around to my point of view. Since my March article on NICK, investors have bid the stock up about $1.00, or 7.5%. The main catalyst in the recent run-up was the announcement on March 20th of an unsolicited buyout offer from a third party: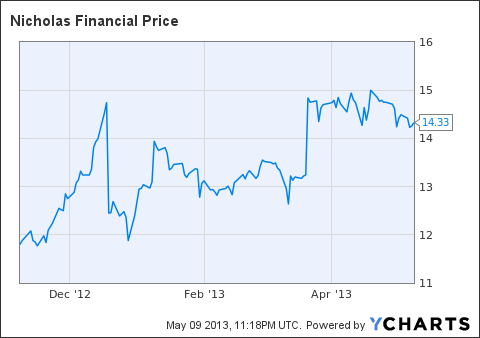 My guess is that this was one of the many medium-sized banks trying to break into the auto finance business, but so far the public has not heard about any further developments. In recent days, the price has started to slip and the initial excitement is wearing off. Given the lengthening period of silence from management on this matter, I would not be too surprised if we did not hear about it again.
While a buyout at a premium to market would certainly be nice, this possibility is only an added bonus and not the primary consideration in maintaining my NICK position. Instead, I look for the fundamentals to keep improving, generating earnings growth within the next few quarters. At current prices, there is minimal valuation risk, and the strong possibility of multiple expansion if my optimistic earnings prediction proves correct.
Disclosure: I am long NICK. I wrote this article myself, and it expresses my own opinions. I am not receiving compensation for it (other than from Seeking Alpha). I have no business relationship with any company whose stock is mentioned in this article.