Tesla Motors (NASDAQ:TSLA) has been on a tear this week. The company announced its first quarter numbers, which included revenues of $562 million, a 1762% increase year-over-year, and the company's first quarterly profit, of $11.3 million. The company announced it had delivered 4,900 cars in its first quarter, versus the 4,500 it had predicted in its previous guidance. On top of that, Consumer Reports gave Tesla's flagship Model S sedan a superlative review, according to Business Insider. The stock had soared nearly 25% by Thursday's close.
Eddy Elfenbein may have best captured the current sentiment on the company in this tweet of his:
$TSLA reminds me of the old Soviet hockey teams; dominant, unstoppable, crushing every opponent. Nothing can go wrong.

- Eddy Elfenbein (@EddyElfenbein) May 8, 2013
A Skeptical Take On Tesla's Quarter
After Tesla reported its earnings, on Bloomberg West (starting at about the 21 minute mark) senior editor Cory Johnson raised two key questions about the company.
What Does Tesla's Decision To Stop Announcing Backlog Portend?
After noting that the company had announced it would no longer offer backlog numbers to investors, Cory Johnson suggested a negative implication of that change:
In my experience, when a company stops telling you what a number is it's because the number isn't getting good anymore. We'll never know, because they won't tell us that important number anymore. But that was the number that they told us, for over a year, was so very important in understanding the success of their business. Now they're not showing us that number.
Can Tesla Make A Profit From Selling Cars?
Cory Johnson pointed out that the company's profits on the quarter came despite a $6 million operating loss; that loss was offset by a non-cash $17 million stock warrant reversal, resulting in an $11 million profit. Despite previously announcing that it would achieve "full profitability", the company failed to post an operating profit on the quarter
Have Tesla Shares Gotten Ahead Of Fundamentals?
Value investor Elliot Turner seems to think so. He noted an interesting comparison between Fiat (FIATY.PK) and Tesla on Twitter Thursday:
$TSLA delivered 4,750 cars this Q and $FIATY delivered 1.02 million, guess which is "worth" more in market cap: bloomberg.com/news/2013-05-0…

- Elliot Turner (@ElliotTurn) May 9, 2013
As of Thursday's close, Tesla's market capitalization was $8 billion; Fiat's was $7.8 billion.
No 5 Star Safety Available For Tesla Shareholders
In an article about BlackBerry (NASDAQ:BBRY) last quarter, we mentioned that the company was too expensive to hedge against a greater-than-20% drop over the next several months with optimal puts*, but fairly inexpensive to hedge with an optimal collar**, if an investor was willing to cap his potential upside by 20% over the same time frame. Although BlackBerry was too expensive to hedge using optimal puts, the net cost of that optimal collar, as a percentage of position value, was only 1.18%. Unfortunately for Tesla shareholders, as of Thursday's close, it was too expensive to hedge the stock with a similar optimal collar so, we'll look at a less expensive way of limiting risk.
Diversification + Hedging Against Market Risk
Because Tesla is so expensive to hedge directly, investors may want to ameliorate their stock-specific risk by making sure they are properly diversified. That may mean taking some money off the table after Thursday's big gains if, given the appreciation in Tesla's share price, its shares now constitute a larger percentage of an investor's portfolio than the investor is comfortable with.
Although diversification ameliorates stock-specific risk, it doesn't protect against market risk. An investor who owns TSLA as part of a diversified portfolio of tech stocks could buy optimal puts on the PowerShares QQQ Trust ETF (NASDAQ:QQQ), which tracks the tech-heavy Nasdaq 100 index, as a hedge against market risk. We laid out a step-by-step example of how to do this for a $500k tech stock portfolio in a recent post, but the screen capture below shows the updated optimal puts, as of Thursday's close, to hedge a diversified $500k tech portfolio against a greater-than-20% market drop by December 20th.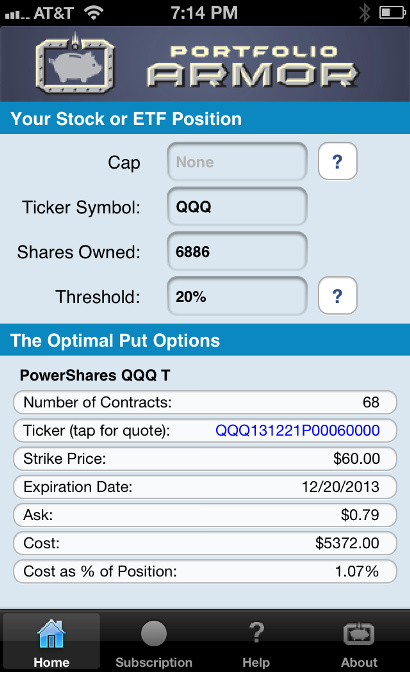 As you can see at the bottom of the screen capture above, the cost of this protection, as a percentage of position value (really, as a percentage of portfolio value in this case, because QQQ is being used as a proxy for a tech stock portfolio here) was 1.07%.
*Optimal puts are the ones that will give you the level of protection you want at the lowest possible cost. Portfolio Armor uses an algorithm developed by a finance Ph.D to sort through and analyze all of the available puts for your stocks and ETFs, scanning for the optimal ones.
**Optimal collars are the ones that will give you the level of protection you want at the lowest net cost, while not limiting your potential upside by more than you specify. The algorithm to scan for optimal collars was developed in conjunction with a post-doctoral fellow in the financial engineering department at Princeton University. The first two screen captures above come from the Portfolio Armor iOS app.
Disclosure: I have no positions in any stocks mentioned, and no plans to initiate any positions within the next 72 hours. I wrote this article myself, and it expresses my own opinions. I am not receiving compensation for it (other than from Seeking Alpha). I have no business relationship with any company whose stock is mentioned in this article.
Additional disclosure: I purchased optimal puts on QQQ as a hedge against a market drop.