Dangdang (NYSE:DANG) will report its first-quarter earning results on May 16, 2013, prior to the open of the U.S markets. Following the results, a conference call will take place to discuss the financial results at 8:00 PM (Beijing Time) and 8:00 AM (U.S Eastern Time).
Dangdang is a leading business-to-consumer e-commerce company in China. It sells books, audio-visual products and electronic publications through its Website, dangdang.com. Dangdang.com operates as a marketplace program like that of Amazon (NASDAQ:AMZN), which allows third-party merchants to sell their products alongside products sourced by the company.
After topping analysts' expectations on both the top and bottom lines last quarter, will Dangdang be able to keep up the momentum? Let's take a look at the numbers that analysts have for Dangdang.
| | |
| --- | --- |
| What Wall Street Expects | |
| Revenue: | $213.77 Million |
| EPS: | (0.18) |
| 2013 Q2 Revenue Guidance: | $248.43 Million |
So how has Dangdang performed in its past earnings reports? Below is a table that shows us what has taken place over the last year.
| Earnings History | Feb 12 | May 12 | Aug 12 | Nov 12 |
| --- | --- | --- | --- | --- |
| EPS Est | -0.24 | -0.23 | -0.26 | -0.25 |
| EPS Actual | -0.20 | -0.24 | -0.20 | -0.24 |
| Difference | 0.04 | -0.01 | 0.06 | 0.01 |
| Surprise % | 16.70% | -4.30% | 23.10% | 4.00% |
Looking over Dangdang's earnings history from the past year, we can see that it's had three positive surprises compared with just one negative surprise according to analyst estimates. Looking over the history can give investors a better idea on what will likely take place with earnings. Earnings season can be a volatile time as any surprises can send shares flying in one direction or another.
Dangdang's Ranking
Looking over the Alexa rankings (a provider of free, global web metrics) we are able to see the trends of what is taking place with Dangdang. The table below shows us Dangdang's traffic rank in the world, which tracks how many hits the site is getting.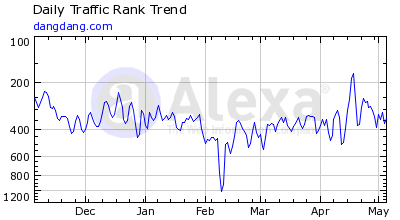 The daily traffic rank chart shows the current rank of a company's popularity all over the world. As we can see, Dangdang currently stands at 305. Looking over the charts you probably noticed right off the bat the steep drop-off from February. Investors should be reminded that is the time China celebrates the Chinese New Year or Spring Festival. This celebration is China's longest festival, which is why February has always been a slowdown period for most - if not all - Chinese companies like Baidu (NASDAQ:BIDU), Sina Corp. (NASDAQ:SINA) and Renren (NYSE:RENN) etc.
The slowdown did have some impact on some Chinese companies so far. Baidu, which reported its earnings two weeks ago, scared investors off as the company missed analyst expectations, posting weaker-than-expected revenue. However, all is not lost as Baidu's outlook for the upcoming quarter was still in line with analyst expectations. This was a very positive sign for the Chinese economy, as well as the other Chinese companies, that the economy may have bottomed and looks to be rebounding.
Flash Sales
On May 3, 2013, Dangdang announced the launch of a Flash Sales Channel. So what exactly are flash sales? Flash sales are time-limited sales of products and services, offered by retailers at steep discounts to help offload surplus. The Flash Sales Channel is designated to sell products from famous brands to fulfill the needs of Dangdang's customer base, which has relatively better education and higher disposable income.
Peggy Yu Yu, Dangdang's Executive Chairwoman said, "Dangdang's marketplace enjoys rapid growth momentum and is an important driver to help transition our brand to an integrated online shopping mall. The Flash Sales Channel is our latest initiative in further enhancing Dangdang's open platform to attract more merchants, especially well-known brands, to our marketplace."
Dangdang will look to gain an even bigger slice of the world's fastest-growing market. Online retail sales in China are expected to more than triple by the year 2015, rocketing close to $160 billion.
Vishop Holdings, (NYSE:VIPS) based out of Guangzhou China, centers its business around flash sales. Vips has proven that if run right, Flash Sales can be a very rewarding business. After all, its stock price is up more than 500% from its IPO price ($6.50 ) when it went public back in March of 2012.
Flash Sales as we can see are becoming quite popular in China with Vips setting records quarter after quarter. And just like Baidu back in the early 2000s, Vips really hasn't had much competition to deal with. However, Dangdang is hoping to change all of that with its own Flash Sales. If successful, Dangdang would take huge steps forward with its Flash sales business. After all, Flash sales would not only bring better margins, but would be bringing in tens of millions of additional revenue to the company. The growth in this area is still huge and Dangdang would benefit greatly from it.
Conclusion
Earnings can be a scary time for investors, as results (good or bad) can send shares flying in one direction or another. However, I feel that investors should feel confident heading into earnings.
I feel that shares of Dangdang, which closed at $4.35 Wednesday, are a good pick up at this point considering its cash per share stands at $3.20. This means that nearly 75% of Dangdang's stock value can be explained by its cash on hand. Meanwhile its warehouses, users, trademarks, contracts and other assets are currently being valued at less than 25% of the current stock price.
Analysts' Recommendations: Of Wall Street's recommendations the consensus on E-Commerce China Dangdang is a hold rating, with an average price target of $4.86. This would reflect almost a 12% increase from Dangdang's closing price of $4.35 on Wednesday.
Disclosure: I am long RENN. I wrote this article myself, and it expresses my own opinions. I am not receiving compensation for it (other than from Seeking Alpha). I have no business relationship with any company whose stock is mentioned in this article.
Disclaimer: Investors are reminded that this article should be considered general information and should make sure to do their own proper due diligence with regard to the stocks mentioned in this article.