Inflation protection is one of the key challenges investors and savers face. How do you protect your money from devaluing over the long term from rising prices? While cash yields next to nothing, and offers little solution, many turn to alternative assets for the answer.
A common choice for many is investing in Gold (NYSEARCA:GLD), and while there is an evident correlation between inflation and the price of gold, in recent years this has not been the case. Gold has been in a long bull run for a number of years (until recently) and has risen well above inflation. However, recently the price has declined, even with extensive money printing and an increase in inflation expectations, which begs the question of how well this asset class now works at protecting against inflation. There are also other factors affecting the price of gold, not purely inflation expectations and as a result it may not be the best protection for inflation over the long run.
Traditional index linked bonds (OTC:TIPS), where coupon and principal is linked to inflation can provide inflation protection, however these have become very expensive as inflation expectations have increased and with a break-even rate of around 2.3% (on 10-year), they are unlikely to outperform conventional Treasuries unless there is a surge in inflation.
One of the best ways to protect your portfolio from inflation over the long term would be investing in equities. Not just any equities though, specifically those that can pass on the inflationary pressures onto their consumers. These companies will typically be staples such as food, utilities, telecommunications and Tobacco.
The following companies are prime examples of how inflation has been passed onto their consumers and how they are able to scale revenue easily as a result.
British American Tobacco (NYSEMKT:BTI), a company I have talked about recently has managed to continue to grow its business over the past 10 years, despite government tax increases each year in line with inflation. With taxes increasing yearly, reflecting the price of inflation, on top of rising costs for production and distribution it has still managed to generate excellent returns. Free cash flow has increased each year and it has rewarded investors as a result.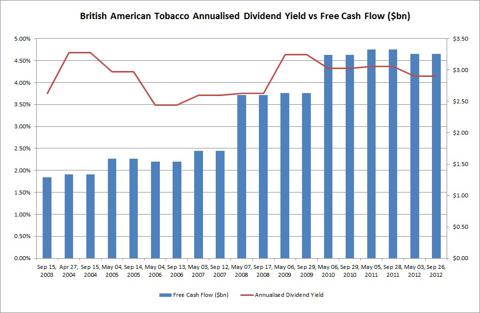 The success of the business has come down to the ability of transferring the costs onto consumers, even with 78% of revenue going to the government in tax (NASDAQ:UK), it has continued to make a profit. In 2000, an average pack of 20 cigarettes cost £3.88 [U.S.$5.96] in the UK, and today it will cost £7.98 [U.S.$12.26].
Similar businesses that equally have the ability to pass inflationary pressure to their consumers are telecommunication companies. The added bonus for them is their ability to scale revenue and predict accurately what it will be. Having a customer base already signed up through contracts for your services, it enables you to estimate revenue increases through a rise in the price of broadband or mobile phone services. In this modern day, many are dependent on internet and mobile communication, as such price rises are more easily absorbed by consumers. AT&T (NYSE:T) is an example of this; in 2012 it increased landline rental charges by nearly 25% (much greater than inflation and cost increases), and with customers on contracts there is very little option but to pay the increased charges. Its data plans were also increased by $5 in 2012, which equated to a 33% rise for the lower tiered plans.
McDonald's (NYSE:MCD) is another company that handles inflation very well. With a vast customer base, this cheap fast food retailer has grown its business over the years whilst raising prices generally inline with inflation. The chart below shows its top-selling Big Mac price change from 2002.
McDonald's Big Mac

2002 Price

2013 Price

Price Difference

% increase

$2.39

$4.19

+ $1.80

75%
Summary
The basic target for investors should be for investments to grow at least by as much as inflation, therefore the real value of their money is being maintained. In principal this should be a fairly easy strategy to execute on, however this is not always the case. One of the best ways to achieve this through equity investing is to select companies whose earnings are linked to inflation, or that have a business model that allows cost increases to flow through to consumers without significantly impacting unit sales. This should mean that even with rising costs, these companies can maintain their level of profitability.
Disclosure: I have no positions in any stocks mentioned, and no plans to initiate any positions within the next 72 hours. I wrote this article myself, and it expresses my own opinions. I am not receiving compensation for it (other than from Seeking Alpha). I have no business relationship with any company whose stock is mentioned in this article.