With natural gas just under $4 per million British thermal units, it is time to buy this commodity for the long term. Aubrey McClendon, recently ousted Chesapeake Energy (NYSE:CHK) CEO, claimed in Chesapeake's 2012 Q3 conference call, "driven by relentless supply growth for the past four years, we now expect to enjoy a multi-year rebound in natural gas prices driven by demand growth that is likely to be equally relentless."
Since the time Mr. McClendon gave this prediction, the price of natural gas has rallied from $3.70 to $4.44 before settling back down to $3.98 at the time of this writing. There are few people with more knowledge of the natural gas industry, and McClendon time and again reiterated that before the demand revolution in the United States occurred, a supply revolution must occur. This supply revolution did occur, and the price of natural gas remained depressed for years. The demand revolution is now under way. Even one of the most bearish executives in the industry is reversing his stance.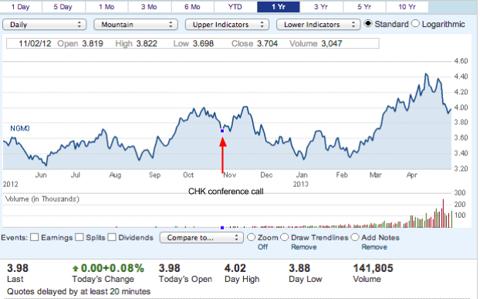 This brings us to the chief executive of EOG Resources (NYSE:EOG), Mark Papa. EOG Resources has benefited tremendously from the energy revolution occurring in North America, mainly by focusing on oil and ignoring natural gas. And even though a decrease in the price of natural gas would hurt EOG's bottom line, Mark Papa was consistently bearish on this commodity. He predicted the price could go lower even when it was at $2.50. He was right. Mark Papa has been consistently bearish and consistently right. However, in a recent interview on Jim Cramer's Mad Money, Papa now claims he is "slightly more bullish" on natural gas. With rig counts at their lowest in 18 years, he sees prices hovering between $4 and $5 for some time. If Papa, a bear, sees upside to the commodity, it is likely to head even higher than his prediction.
Natural gas prices have doubled since hitting decade-low prices. This rebound is mainly due to utility companies converting to natural gas. And even though coal is making a comeback, this trend is likely to support natural gas in the $4-$5 range. New uses for natural gas, however, will push prices beyond this range and will fuel the next leg of its rally. The ability for natural gas to be used in new and innovative ways paints a very bright future for the commodity. There are two uses of natural gas that will significantly boost its price -- natural gas as a surface fuel and natural gas as an export. Natural gas is slowly but surely gaining acceptance as a surface fuel in trucks and buses; and I believe it is only a matter of time before natural gas-powered cars become the norm. Perhaps more imminently, however, natural gas will be exported.
Exporting our own natural gas has been hotly debated. Natural gas companies want to export their product for higher prices, and manufacturing companies want to keep low energy prices in the U.S. The argument for keeping our energy in the U.S. does not hold water given that we have taken China to the WTO for limiting its exports of rare earths. Moreover, these export terminals that are required to liquefy and export the natural gas are tremendous job creators at a time when unemployment is still at large. Exporting natural gas is gaining popularity and acceptance both economically and politically -- with Cheniere Energy (NYSEMKT:LNG) at the forefront.
How to Play Natural Gas
If you are not as bullish on the domestic price of gas, Cheniere Energy is the best way to profit from natural gas. Cheniere leads the effort to export this fuel to countries where natural gas is two and three times as expensive as the United States. It has the licenses, the terminals, and the partnerships to export natural gas by 2016. Once the company at the forefront of importing natural gas, its import terminals have been outfitted to export the gas instead. Cheniere stands to benefit from the significantly higher prices of natural gas overseas, while other companies struggle domestically (in the short term). While Cheniere has rallied significantly, it should have much upside in the years to come.
I believe the best way to play a long-term rebound in domestic natural gas prices is with Chesapeake Energy. If you are looking for a company that has truly been beaten down, Chesapeake is your stock. The company was in dire straits last year with executive scandals, low natural gas prices, high interest loans, and high debt. But let's be clear -- Chesapeake is no longer on life support. Asset sales have gone as planned, short-term high interest loans have been paid off, Aubrey McClendon has left, and oil is supporting the company until gas prices rebound further. Chesapeake finds itself on increasingly solid financial footing as liabilities are falling, and a recent win in court just netted Chesapeake $100 million in savings. With a new plan at Chesapeake that focuses on its existing resources, costs have been cut, and the balance sheet is improving. Chesapeake has incredible assets that will serve it well when natural gas rallies further. In addition, activist investors, Carl Icahn and Southeastern Asset Management, will help unlock significant shareholder value.
Natural gas has pulled back after a very strong rally. I do not believe there will be many chances to buy natural gas at this price for quite some time. We are in a seasonal lull for gas; in between the winter heating season and summer cooling season. The summer cooling season, the lowest rig count in 18 years, and increased demand will push natural gas prices higher over the next few years. I would avoid the United States Natural Gas Fund (NYSEARCA:UNG), and purchase Cheniere on a pullback or Chesapeake at its current price.
Disclosure: I have no positions in any stocks mentioned, and no plans to initiate any positions within the next 72 hours. I wrote this article myself, and it expresses my own opinions. I am not receiving compensation for it (other than from Seeking Alpha). I have no business relationship with any company whose stock is mentioned in this article.
Additional disclosure: I am long APA Jan14 calls