ETF Spotlight on the Vanguard Materials ETF (NYSEARCA:VAW), part of an ongoing series.
Assets: $751.5 million.
Objective: The Vanguard Materials Fund tries to reflect the performance of the MSCI US Investable Market Index, which is comprised of commodity-related manufacturing industries, such as chemicals, construction materials, glass, paper, forest products and related packaging products, along with metals, minerals and mining companies.
Holdings: Top holdings include Monsanto (NYSE:MON) 8.0%, Du Pont (DD) 6.6%, Dow Chemical (DOW) 6.1%, Praxair (NYSE:PX) 5.2% and Freeport-McMoRan (NYSE:FCX) 5.2%.
What You Should Know:
Vanguard Group sponsors the fund.
VAW has a 0.14% expense ratio.
The fund has 135 holdings and the top ten make up 47.1% of the overall portfolio.
The stock portfolio has a price-to-earnings of 13.56.
The ETF has a 1.77% 12-month yield.
Sub-sector allocations include aluminum 1.6%, commodity chemicals 5.0%, construction materials 2.5%, diversified chemicals 19.4%, diversified metals & mining 6.3%, fertilizers & agricultural chemicals 13.6%, forest products 0.6%, gold 4.1%, industrial gases 8.8%, metal & glass containers 3.7%, paper packaging 4.8%, paper products 4.7%, precious metals & minerals 0.8%, specialty chemicals 17.9% and steel 6.1%.
VAW is up 1.0% over the past month, down 1.02% over the past three months and up 4.1% year-to-date.
The ETF is 5.4% above its 200-day exponential moving average.
"The products chemical companies produce are found nearly everywhere," according to Morningstar analyst Alex Bryan. "They are incorporated into plastics, paints, homes, electronics, cars, petroleum, industrial gas, coatings, fabrics, and agricultural products, among others. Consequently, demand for chemical companies' products is highly cyclical."
The chemical industry is largely concentrated in Western Europe, North America and Japan, with the U.S. accounting for more than 15% of the global chemical output.
The Latest News:
The materials sector has been lagging behind the other major sectors so far this year, weighed down by the weak eurozone, disappointing manufacturing data and slower activity out of China.
According to Zacks, the materials sector could do better this year on the recovering U.S. economy and hopes of a rebound in Chinese demand.
Moreover, emerging market strength, increased shale gas production and an improving housing market could also support the broad sector.
Vanguard Materials ETF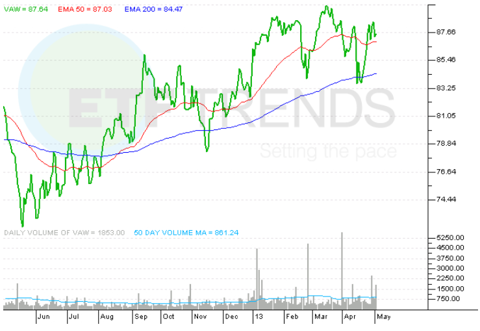 Max Chen contributed to this article.
Disclosure: I have no positions in any stocks mentioned, and no plans to initiate any positions within the next 72 hours. I wrote this article myself, and it expresses my own opinions. I am not receiving compensation for it. I have no business relationship with any company whose stock is mentioned in this article.