The S&P 500 futures experienced the biggest intraday drop in May on Thursday, May 9th when rumors that a WSJ article authored by John Hilsenrath was about to be published detailing the Fed's sooner rather than later exit strategy from its $85 billion a month QE program. Treasury prices collapsed and stocks took an abrupt nose dive. See chart from CNBC below: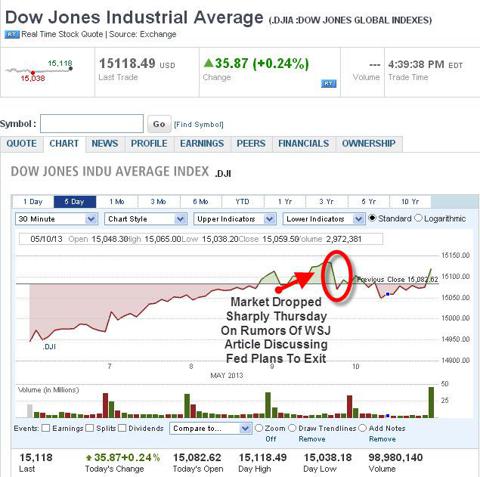 The market quickly recovered as the rumor was dismissed as merely a joke. Yet the article proved to be more than joke as it was published just after the market closed on Friday, May 10th. This is typical for these types of highly controversial articles. This way, market participants have the weekend to digest the information and hopefully, not induce an overreaction to the news.
In the article, Hilsenrath states:
"Federal Reserve officials have mapped out a strategy for winding down an unprecedented $85 billion-a-month bond-buying program meant to spur the economy -- an effort to preserve flexibility and manage highly unpredictable market expectations.

Officials say they plan to reduce the amount of bonds they buy in careful and potentially halting steps, varying their purchases as their confidence about the job market and inflation evolves. The timing on when to start is still being debated."
I have seen numerous pundits positing that the market is due for a major correction based on the fact that it has run too far too fast with no major pullbacks. Furthermore, I can not tell you how many times I have heard that the market has been on a tear due to the so called "Bernanke put." This may be just the news to give market participants a reason to hit the sell button and take profits. We will have to wait and see what happens on Monday, but if Thursday's midday reaction to the rumor is a tell, we may be in for a bumpy ride on Monday.
The Bottom Line
The Fed has been hinting it would be flexible with the program and adjust to economic conditions. With the market at all-time highs and good jobs numbers coming out last week, they may just ease off or pause the stimulus sooner rather than later. Moreover, this may be a message from the Fed to Washington that it is time to step up to the plate. Regardless of the outcome, I say strap yourselves in Monday. A potentially wild ride may ensue for the SPDR S&P 500 Trust ETF (NYSEARCA:SPY), PowerShares QQQ Trust ETF (NASDAQ:QQQ) and the SPDR Dow Jones Industrial Average ETF (NYSEARCA:DIA). Nevertheless, I believe a pullback will be healthy for the market and provide that elusive buying opportunity for all the supposed money on the sidelines.
Disclosure: I am long VXX. I wrote this article myself, and it expresses my own opinions. I am not receiving compensation for it (other than from Seeking Alpha). I have no business relationship with any company whose stock is mentioned in this article.