Activision Blizzard (NASDAQ:ATVI) is the world's largest and most successful video game developer, and is majority owned (61%) by French telecom and media conglomerate Vivendi (OTCPK:VIVHY). Vivendi has been undergoing a massive strategic review with the intent to reduce debt and unlock the value of its assets that has fueled speculation surrounding ATVI. In conjunction with this, ATVI CFO Dennis Durkin announced on the 4Q12 earnings call
we are also considering, or may consider, substantial stock repurchases, dividends, acquisitions, licensing or other non-ordinary course transactions and significant related debt financing.
On the 1Q13 earnings call, CEO Bobby Kotick indicated to listeners that
Lastly, our revised outlook does not include the impact of any potential non-ordinary course transactions or significant related financings. And we will have no further comments on these matters today.
There are three main scenarios for a major return of cash to ATVI shareholders, only two of which are likely: A dividend recap and an LBO of Vivendi's shares. Based on Vivendi's public comments, financial goals, and ATVI's actions, Vivendi's acquisition of the ATVI minority shares is not likely.
Vivendi's actions to date:
In June 2012, Vivendi floated its then $8.1 billion stake in ATVI. However, the offering was not well received as there are very few companies that could afford to take over ATVI given its large market cap. Mentioned in the article, it is very likely that there are only three possible strategic buyers with the potential interest and capability to make such an acquisition: Microsoft, Disney, and Asian internet and gaming company Tencent (OTCPK:TCEHY), which has a ~$60 billion market cap. Shortly after in August, Vivendi gave up on the sale.
ATVI's stock had been essentially flat since 2009, underperforming the market by a very large degree, and sold off following the Vivendi's failure to complete a sale. However, after ATVI's initial announcement of potential strategic transactions, the stock jumped ~25% in February 2013: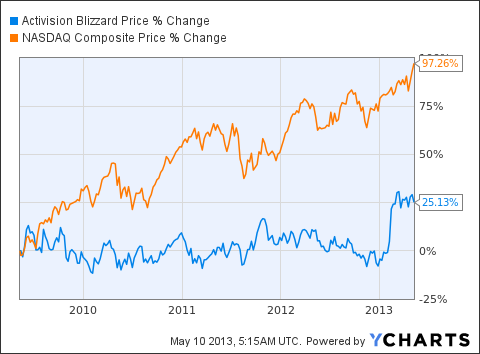 With a market cap of ~$12 billion during this time frame, ATVI typically had ~$3 billion of cash on its balance sheet and initiated a dividend in 2010. Through dividends and repurchases, the company returned $2.37 billion to shareholders from 2010 to 2012. ATVI grew earnings and built up cash during this time, but got essentially no credit from the market. This isn't entirely unexpected, given longtime Vivendi CFO Philippe Capron's comments from 2011:
We do see lots of benefits of having Activision Blizzard as a listed entity. When our games business was not listed [before Vivendi's Blizzard Entertainment merged with Activision], it was valued very, very low by all the investors and analysts and we also believe it's a good currency and it's a good way to incentivize our managers. So, I'm keen to keep Activision Blizzard as a listed company
However, after repurchasing shares worth $878mm in 2010 and $623mm in 2011 (and passively increasing Vivendi's stake), ATVI had abruptly stopped this by June 2012. Management refused to comment on this during the 3Q12 earnings call.
Why would ATVI stop repurchasing shares?
There are many possible answers to the question, but they all point to essentially the same thing: Vivendi wants access to more cash. Spending ~$750mm a year on share repurchases would increase Vivendi's earnings and stake in the company, but do nothing for the company's liquidity. Accordingly, there seem to be two major actions that would be falling under ATVI's strategic review:
A major dividend:
After only spending $50mm in 2Q12 and not repurchasing shares for 3 subsequent quarters, ATVI has accumulated $4.6 billion of cash and investments, almost 60% of which was reportedly overseas at 3/31/13. Subtracting $211mm for the annual dividend payable on May 15 leaves $4.4 billion. Per ATVI's filings, TTM EBITDA using the GAAP results was $2.04 billion. With an estimated $1.63 billion of domestic cash following the regular dividend, ATVI should be able to very easily borrow 2x EBITDA and pay a dividend of at least $5.5 billion without repatriating any foreign cash, which would be almost 35% of its market cap. ATVI would still have $2.75 billion of foreign cash following this transaction. I would speculate that ATVI would be given a BB credit rating with such a transaction and would accordingly pay ~4% interest on five to seven year debt for $160mm of annual interest expense. Following a $5/share decrease in the stock price for the dividend, the moderately levered ATVI would trade at ~$9.50 a share and lose ~9 cents per share of after-tax interest expense for a 2014 forward P/E of approximately 10 with an ongoing yield of 2%. This strategy would return $3.4 billion of cash to Vivendi.
An LBO from Vivendi:
Vivendi's 61% stake is now worth $9.75 billion on May 9 following a 1Q13 earnings beat accompanied by very cautious guidance expecting increased costs and World of Warcraft subscriber losses for the second half of 2013. Given the relative illiquidity of Vivendi's stake, ATVI may be able to offer as low as a 20% control premium, for an $11.7 billion takeout. Repatriating its overseas cash would likely provide just over $2 billion of after-tax cash to add to the $1.6 billion in the US. ATVI would then have to come up with $8 billion of debt and be levered at 4x EBITDA, which would probably bring the company down to the B+ range, implying a higher cost of debt of around 5-7% depending on structure.
In this scenario, ATVI's shares outstanding would fall from 1.11 billion to 433 million. This would increase estimated 2014 EPS from $1.03 to $2.64 while incurring ~.85 cents/share in after-tax interest expense. If the stock traded at a 10x P/E, it would imply a share price of $18, (Vivendi would be taken out at $17.25 in this scenario), EV/EBITDA would be 7.75x. These are quite reasonable valuations and is likely a win-win scenario as existing ATVI shareholders get instant capital appreciation and control while Vivendi would receive almost $12 billion in cash.
Vivendi is very unlikely to buy out ATVI completely:
Vivendi took Brazilian telecom operator GVT off the market in March 2013 after failing to agree on a price for the fast-growing business. Accordingly, the company has only one near-term source of cash, the sale of its holding in Maroc Telecom for $6 billion. The only conceivable scenario I can see where Vivendi would buy all of ATVI is if it completed that sale and used the proceeds to take out ATVI's public float, which would be $6.25 billion at May 9. While Vivendi wouldn't have to offer a control premium, a deal probably wouldn't get done below $16/share, adding likely another $750mm-$1b to the cost while being directly contrary to the company's stated strategy and public comments from both Vivendi and ATVI management. If Vivendi was interested in buying all of ATVI, ATVI very likely wouldn't have stopped repurchasing shares to further reduce the public float.
Near-term outlook:
This article was written to discuss potential strategic actions ATVI is likely to accomplish and I don't intend to comment much on the disappointing 1Q13 earnings call. Though the decline in World of Warcraft subscribers was upsetting, ATVI has a strong history of innovation and product development that is unmatched in the video game industry. ATVI is working on a next-generation version of its extremely sticky and profitable franchise (code-named "Titan"), and after its developers have gained several years of experience with its first MMORPG, I don't doubt that it will drive the company's continued success.
Long-term ATVI shareholders have two very beneficial scenarios that seem increasingly likely to occur sometime this year. Those interested in a short-term trade to take advantage of an impending transaction may consider selling ATVI puts to fund the purchase of ATVI calls that have the potential to double or triple in value should the stock go to $17-$18 or be adjusted to a materially lower strike price following a special dividend.
Disclosure: I am long OTCPK:VIVHY. I wrote this article myself, and it expresses my own opinions. I am not receiving compensation for it (other than from Seeking Alpha). I have no business relationship with any company whose stock is mentioned in this article.
Additional disclosure: I am synthetically long ATVI through the use of options.