In September 2012 I made an investment in Spirit Airlines (NASDAQ:SAVE), one of the more successful low cost carriers of the past decade in the US. At the time the company was trading at an EV/EBITDA valuation of only about 4.5, which seemed very low considering the continued strong double digit growth prospects. As the stock has appreciated more than 50% over the past 9 months and has returned to levels of nearly 8x EBITDA, I believe the growth story is priced in and now is a good time to sell. Several insider sales in the past 2 months have also triggered me to believe that now is the time to get out.
Rehashing the Story - Why was Spirit Undervalued?
There were several reasons for the undervaluation of Spirit when it caught my attention last summer. One of these was that Spirit was a relatively new public company, and one of the initial partners Oaktree Capital had sold large positions in May and July 2012 which likely put a strong downward pressure on the shares in a short period. In addition to this the airline industry traditionally has quite low earnings multiples, as it is a capital intensive industry where the major carriers always had low operating margins of 5% or less. I thought Spirit in this case was not getting enough credit in its valuation for its more lean structure and higher margins (TTM operating margin is 13%). Part of this was probably due to some uncertainty in the market as to whether the company could continue to execute its growth and maintain these margins. Having looked into the substantial growth potential of the company in terms of numerous untapped routes in the western US, as well as the confidence of management stating several times on conference calls that the current trajectory was sustainable for 5-7 years, I thought this was a worthy investment.
My thesis was that a few more quarters of steady margins and continued execution of the growth story, and the stock would return back to levels before Oaktree had dumped its shares, say 6 to 7x EBITDA.
Recent Results and Prospects
In the past 9 months or so the company has continued to execute well. On the quarterly conference call last week, CEO Ben Baldanza actually reported with enthusiasm how operating margins have increased to 14.4%, and quarterly profits increased year over year by more than 37%. The model of charging low base fares and collecting ancillary revenue from a variety of extras seems to be working well. Revenues from extras was up to 41% of the total for the quarter. Going forward, although pricing was a bit softer than anticipated, major costs including fuel prices have also come down more than anticipated, and as results the company expects to meet its projected EBITDA margin of 25-27% for the full year. On the longer term, the 6 analysts who provide estimates for the company are expecting lofty earnings growth of about 22% per annum in the coming 5 years.
Current Valuation
Spirit has come back to almost 8x EBITDA, in terms of valuation in the past year: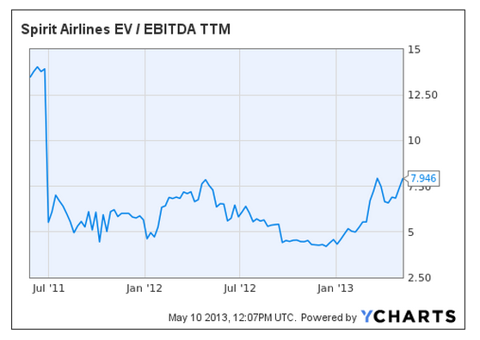 It is now trading at a similar multiple to what was seen early in 2012. On a cash flow basis, using the TTM FCF/share of $0.90, if you discount this at 10%, assume a long term growth rate of 20%, and a terminal growth rate of 3%, the valuation is just over $30/share. Despite a PEG ratio of only 0.58 and a forward P/E of 11.50, I would stay on the conservative side here and call the shares fairly valued. I am much more of a value investor than growth, and the current valuation is really assuming very high rates of double digit growth far into the future. Although the company is executing well, I would be hesitant to hold on too long. The stock could fall considerably for a variety of reasons, including an increase in competition, a spike in fuel prices, or a slight downtick in growth rates.
Insider Selling
Another important point to note on Spirit is that insider selling has increased in 2013, as the stock has risen considerably. On May 2nd it was reported that 2 officers sold a combined 15k shares, which followed a similar sale in early March. In total 3 different insiders sold shares. Although it's hard to read too much into this as insiders do sell for a variety of reasons, there have been no open market buys in the past year, and the fact that insiders appear to be taking some profits is a good signal that it might be time for retail investors to do so as well.
Conclusion
In summary I couldn't be happier with my 55%+ gain on Spirit over the past 9 months. The company has continued to execute well, and it is possible that this will continue to be a great growth story in the coming few years. This could be a case that by selling today I miss big future profits. However as stated I'm not really a growth oriented investor, and I'm not comfortable betting alone on anticipated growth here. As the stock seems to be close to fair value today, I would not recommend to buy at today's prices, and for those who have enjoyed the nice ride up over the past year I think now is as good a time as any to get out and lock in a nice profit.
Disclosure: I am long SAVE. I wrote this article myself, and it expresses my own opinions. I am not receiving compensation for it (other than from Seeking Alpha). I have no business relationship with any company whose stock is mentioned in this article.