When building our wealth we are looking for longevity. We want to invest our money in companies that have stood the test of time. After all, we want them and our money to be around in our retirement. One way to do this is look at "Old Money".
Old Money refers to the pioneers of American and World Industry. People and Families that made their mark in history; many of these businesses and their legacies have endured to this day. Through many generations of asset dilution, many of these families do not possess the money and affluence they once had. Their legacy is nothing less than enduring and the companies they started and continue to own large stakes in have lasted over a century.
Families such as the Du Ponts, the Rockefellers and Vanderbilts set the groundwork for American Capitalism. In many ways their legacies are evident today and seen as the foundations of the current business environment.
Rockefellers
Almost everyone who has visited New York has heard of the Rockefellers. In 1870 Standard Oil was incorporated. In 1911 the company was split into 90 companies some of which are considered great long term investments today. Two of the most noticeable companies are Exxon Mobil (NYSE:XOM) and Chevron (NYSE:CVX).
Exxon Mobil
Dividend - $2.52 (2.8%)
Payout Ratio - 23%
Consecutive Dividend Payout - 131 Years (Since 1882 as Standard Oil)
Chevron
Dividend - $4.00 (3.2%)
Payout Ratio - 27%
Consecutive Dividend Payout - 101 years (Since 1912 after break up)
Both companies have returned value in the way of dividends to investors for over 100 years. With low payout ratios and long history of dividends, either of these companies are a sound income investments.
Vanderbilts
The Vanderbilt Family is known for their transportation businesses. Specifically, they are known for the Railroads they helped build. Although railroads are not what they once were, they have changed into a few large and well know companies. Two companies that are current incarnations of the Vanderbilt railroads are Norfolk Southern (NYSE:NSC) and CSX Corp. (NYSE:CSX)
Norfolk Southern
Dividend - $2.00 (2.6%)
Payout Ratio - 35%
Consecutive Dividend Payout - 31 years (since 1982)
CSX Corp
Dividend - $.60 (2.4%)
Payout Ratio - 31%
Consecutive Dividend Payout - 32 years (since 1981)
The 1930's and 1970's saw a large amount of railroads fall into Bankruptcy. The above companies are the names that remain from many acquisitions and mergers of the industry.
Du Pont Family
The Du Pont family started off by selling gun powder in 1802. Over time the company has changed into one of the world's largest chemical companies, E. I. du Pont de Nemours and Company (DD).
Du Pont
Dividend - 1.80 (3.30%)
Payout Ratio - 35%
Consecutive Dividend Payout - 109 year (since 1904)
Not only has this company been around for over 200 years, one of a handful that can claim this achievement. Du Pont has paid a steady dividend for over 100 years.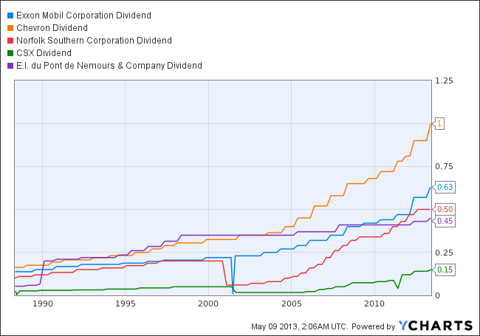 Conclusions
In order for a company to stay at the forefront and continue to succeed, the business needs to be one that does not require changing too much in order to compete. One way to determine the likelihood of receiving a dividend is to look at the history of the company. How long has the company paid out a dividend? How often does the company increase that dividend?
It is also a good idea to look at the payout ratio. Depending on whom you ask, the maximum you should accept for a payout ratio is between 60% and 80% for a non-utility or non-REIT stock.
Looking at companies that have been staples in American capitalism is a great start to find staples for any portfolio. Buying into these companies at a young age and reinvesting the dividends over a lifetime can create wealth and allow you to sleep at night. These companies have been around and evolved for over one hundred years and it does not look like they will be going anywhere anytime soon.
Disclosure: I am long IBM, KO, WMT. I wrote this article myself, and it expresses my own opinions. I am not receiving compensation for it (other than from Seeking Alpha). I have no business relationship with any company whose stock is mentioned in this article.